Charles Nungesser
1892-1927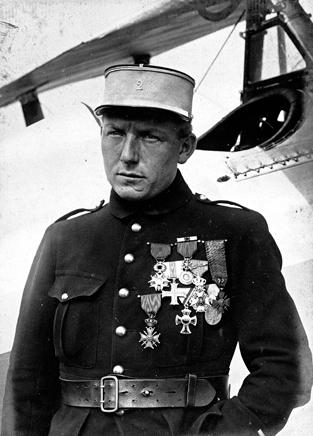 Charles Nungesser. ©SHD/Air
In May of 1927, L'oiseau blanc, the plane flown by Charles Nungesser and François Coli, disappeared over the Atlantic. This accident put an end to the life of one of the "Flying Aces" of the Great War.
Charles Nungesser was born in Paris on 15 March 1892. He was a daredevil from childhood, with a passion for mechanics, driving race cars and flying airplanes.
In 1907, after studying at the école des Arts et Métiers, Charles Nungesser travelled to South America.
He worked as a mechanic in Buenos Aires for an engine importer, participating in one of the first automobile rally raids in the Andes in 1909. He became part of the aviation world, showing off his talents as a pilot at an air show and during many flights over Uruguay and Argentina.
When the Great War broke out, Nungesser returned to France and joined a cavalry regiment.
He took part in the battle of the borders but was surrounded. He managed to get back to the French lines on 3 September 1914 after intercepting a German army staff car, killing the four officers riding in it and crossing the entire region occupied by the Germans at high speed.
This act of bravery earned him the French Médaille Militaire.
But Nungesser, who dreamt of aviation, asked to enlist in the air force. On 22 January 1915, he started training and on 8 April obtained his pilot's licence. He was assigned to the 106th bomber squadron based in Saint-Pol, near Dunkirk, and flew his first mission over occupied Flanders on 11 April, flying a Voisin 3.
On the 26th, Nungesser engaged in his first dogfight against a German Albatros. His Voisin was hit four times, but he brought the plane back to the base. He received an army commendation for his exploits.
Nungesser was named warrant officer on 5 July and went to Nancy with his wing. He shot down his first enemy aircraft in the night of 30-31 July.
Wounded, he returned to the front to continue his missions
After an advanced training course for fighter missions, Charles Nungesser joined the N65 fighter squadron, based in Nancy, in November. It was during this period that he painted the fuselage of his Nieuport with his legendary coat of arms: a black heart with a silver skull and crossbones above a coffin with burning torches on either side.
During the Battle of the Somme in September 1916, Nungesser achieved the feat of shooting down three enemy planes in the same day. In December, his twentieth victory earned him an army commendation and the Military Cross.
Wounded and discharged, he nonetheless received an authorisation to continue flying and shot down two enemy planes on 1 May 1917. On 16 August he scored his thirtieth victory. But due to his injuries, his health began to fail, notably after he was seriously injured in a car accident in which Pochon, his mechanic, was killed. Nonetheless, Lieutenant Nungesser was back on the front in December.
When he shot down his thirty-sixth plane on 5 June 1918, he received another commendation as well as France's Legion of Honour, declaring, "After this, I can die now!"
After another hospital stay, Nungesser returned to the front on 14 August.
On the 15th, he scored his forty-fifth and last victory.
When the war was over, Charles Nungesser agreed to set up a flight school in Orly. But this great athlete and daredevil had in mind a project to fly across the Atlantic.
On 8 May 1927, L'oiseau blanc, the plane flown by Nungesser and Coli, a comrade in arms, took off from Le Bourget, headed for the North American continent. He was never seen again.