China in the First World War

Near Blangy, Pas-de-Calais, arrival of Chinese workers. May 1918. Source: Photographer: Albert Moreau. ECPAD
Corps 1
China between 1914 and 1918
A Republic since 1912, China proclaimed itself neutral on 6 August 1914, in a war that concerned its territory insofar as foreign powers owned interests there. On 2 September, the Japanese, allies of the French and English, seized some of Germany's possessions in Shandong.
The country thus found itself in the hands of the "War lords". The latter united, depending on their interests, with occasional support from foreign countries. This chaotic context, which weakened central authority, became worse when Yuan Che Kai died: in June 1917, General Zhang Xun tried, in vain, to restore Pu-Yi "the last Emperor"; on 25 August in the same year, Sun Yat Sen, the founder of the Republic, created a military government in Canton, which started a civil war which lasted until the end of 1918.
In this context, with the National Assembly just dissolved and an acting President appointed, Feng Guozhang, China entered into war alongside the Allies, guided by Prime Minister, Duan Qirui.
Duan Qirui, head of the government in 1913, 1916, 1917 and 1918, and acting head of State from 1924 to 1926. Source: Public domain.
On 14 August 1917, China declared war on Germany, using the submarine war led by the Imperial German Navy as a pretext.
In exchange, the Allies granted economic facilities to China, but maintained their hold (in November 1917, the Americans acknowledged, with the secret Lansing-Ishii agreement, Japan's rights over Manchuria).
Chinese workers in the First World War
While China's entry into war had no military consequences, it allowed the French and English to intensify recruitment of workers.
In fact, in Europe in 1915, the war looked as if it would be long. This had consequences on military strategies as well as on the organisation of labour, with thousands of workers and farmers fighting at war.
In France, foreign workers were recruited from Spain and North Africa. It wasn't long before more distant sources were explored. So, in the same year, the French authorities embarked on negotiations with the Chinese government - a country where France owned an enclave, the territory of Guangzhouwan, and a number of concessions, offices, etc. - to recruit workers.
On 14 December 1915, a mission, led by lieutenant-colonel Truptil, was sent to Beijing to negotiate recruitment and to control embarkation of workers for France. On 14 May 1916, negotiations ended in the signing of the agreement known as the "Truptil-Huimin contract", from the name of the private company (or rather trade union) set up by Chinese officials who organised recruitment operations in exchange for remuneration for each recruit. These workers were assimilated to colonial workers.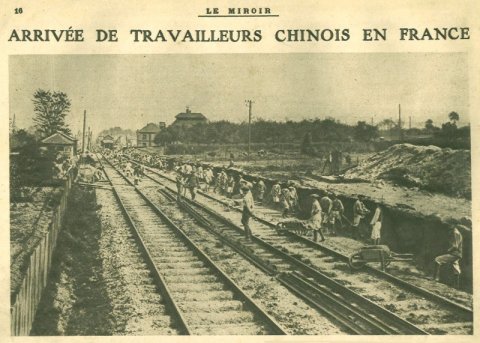 Source: Le Miroir, No. 237, Sunday 9 June 1918.

Aged between 20 and 35, the Chinese workers mainly came from the provinces of Shandong, Hebei and Jiangsu. The recruitment contracts, valid for five years, were signed or finger-printed by the workers.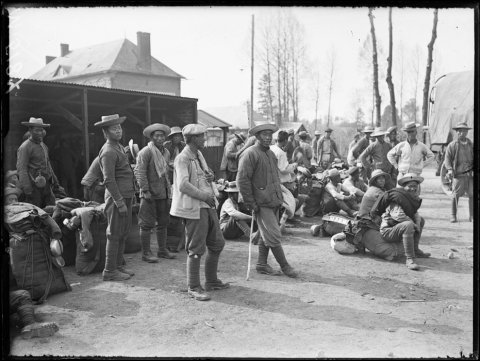 Near Blangy, Pas-de-Calais, arrival of Chinese workers. May 1918. Source: Photographer: Albert Moreau. ECPAD
This recruitment was not without complications: in 1916, anti-French demonstrations erupted in Laoxikai and Tianjin.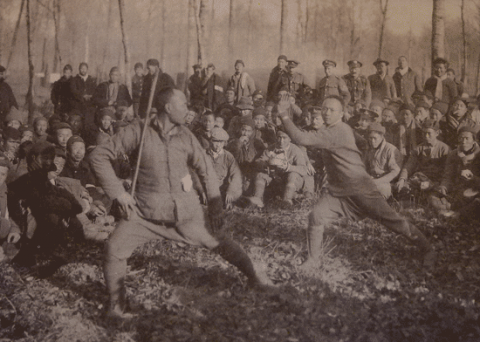 Chinese workers of the Great War practising Kung-Fu Wushu in Crécy forest. Source: Public domain.
Corps 2
A total of nearly 140,000 Chinese workers joined the West European front. Around 96,000 were employed on behalf of the English army, 37,000 on behalf of the French army, while the others were given to the American expeditionary corps towards the end of the war.
Oudezeele, Nord, Chinese workers setting off to work on roads and trenches. June 1918. Source: Photographer: Lorée. ECPAD
The Chinese were posted to the military zone and the interior zone to carry out handling operations in ports, metallurgy workshops and factories, stations, weapons companies or to build ammunition warehouses, roads, etc.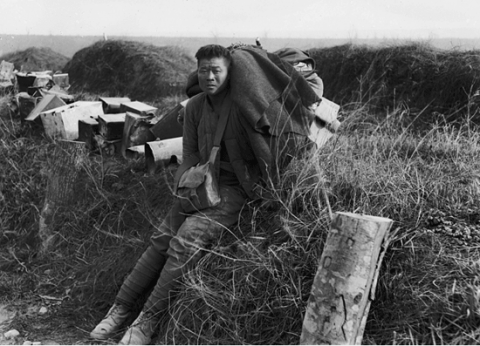 A Chinese worker near the front in 1917 taking a rest. Source: Public domain.
After the Armistice, they worked in the liberated regions, notably in rebuilding. A large number took part in burial searches on the battlefields and in building military cemeteries.
The contract issued to them should have taken them back to their country in 1921.
Around 3,000 Chinese workers chose to stay in France. In Paris, many of them settled near the Gare de Lyon area (12th arrondissement), where they set up the first Chinese district in Paris. A plaque on Rue Chrétien de Troyes acts as a reminder of this settlement.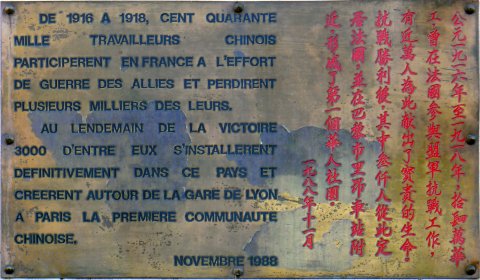 Commemorative plaque in memory of the Chinese who died for France between 1916 and 1918. Source: Licence Creative Commons.
Here are just a few of the Chinese workers who died for France: Wang Tsuen Sing, died on 18 October 1918 in Fontainebleau hospital, aged 29; Tien Tchen Yen, born in Tchou Man Tsoung, seconded to the Bouchet gunpowder factory, died on 16 September 1917 in Villemain military hospital in Paris, aged 26; Li Kouang Chan, born Tien-Tsin, seconded to the Châtellerault arms factory, died on 8 October 1918 in Châtellerault hospital, aged 24.
80 of these workers are laid to rest in French military cemeteries, of which 43 in national cemeteries, like Choloy (Meurthe-et-Moselle) or Dunkirk (Nord).
Chinese fighters in the French army
Six Chinese men enrolled in the French army for the duration of the war, through personal choice. They fought under the flag of the Foreign Infantry Regiment.
One of them "died for France", Legionary Ma Yi Pao.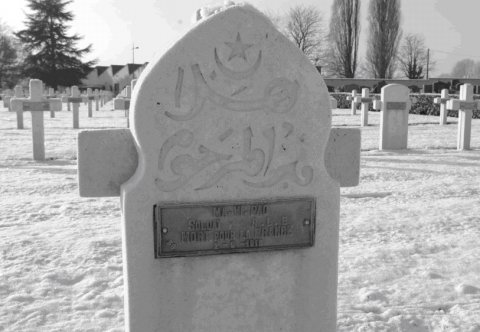 The body of Ma Yi Pao rests in the national cemetery in Vic-sur-Aisne, oddly underneath a Muslim tombstone. Source: Association Soissonnais 14-18
Born in 1894 in Kunming (Yunnan province), Ma Yi Pao "died for France" on 2 September 1918. He rests in the national cemetery in Vic-sur-Aisne (Aisne), square F, tomb 59.
A student of Nankin military school, the young man graduated as an Officer of the Army of the Chinese Republic in 1913.
In 1917, aged 23, he went to Hanoi (Tonkin), where he enrolled in the French army as a volunteer for the duration of the war. As a foreigner, he was incorporated as a simple legionary in the Foreign Infantry Regiment (R.M.L.E.). After a tour in Morocco and Algeria, where he did his training, he arrived at the front in 1918.
During the battles of the Ancre, in the Somme, in March 1918, he received a head injury. Once he was better, he returned to his unit to take part in the Battle of the Oise, in June, where he was gassed and evacuated. He was looked after in Paris and received the Croix de Guerre military decoration.
He returned to the front and succumbed to new injuries in ambulance 3/55 in Jaulzy, in the Oise, on 2 September 1918.