Edgar Faure
1908-1988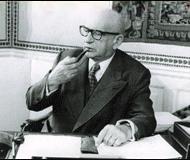 Portrait of Edgar Faure. Source: www.edgarfaure.fr
Edgar Faure was born in Béziers on 18 August 1908. His father was an army doctor, so the family moved often and Faure grew up all over France. He attended middle schools in Verdun and Narbonne and Janson de Sailly and Voltaire high schools in Paris, graduating at the age of 15. His inquiring mind led him to take an interest in many different things: he earned a law degree and graduated from the School of Eastern Languages with a diploma in Russian. When Faure was admitted to the Paris bar in 1929, he was the youngest lawyer in France. His passion for politics led to a brief flirtation with Action Française before he joined the radical-socialist movement. At the same time, Faure wrote and published several detective novels under the pen name Edgar Sanday. In 1931 he married Lucie Meyer, who founded the review La Nef with Raymond Aron.
In 1942, fearing the Vichy regime's exclusionary measures, Faure joined Louis Joxe and Pierre Mendès-France in Algiers, where he headed the legislative services of the presidency of the French Committee for National Liberation and, later, served as deputy secretary-general of the Provisional Government in Algiers in June and July 1944. Back in Paris after the Liberation, he worked with Pierre Mendès-France at the economy ministry. Faure resigned from that post to replace Paul Coste-Floret as the French counsel for the prosecution at the 1945 Nuremberg trials. Faure launched his political career in October 1945. He was the radical-socialist deputy of the Jura from 1946 to 1958, deputy of the Doubs from 1967 to 1980 and senator for the Doubs from 1981 until his death in 1988, president of the National Assembly from 1973 to 1978, Franche-Comté regional council president from 1974 to 1981 and from 1982 to 1988, Jura general council president from 1949 to 1967, mayor of Port-Lesney (Jura) from 1947 to 1970 and from 1983 to 1988, mayor of Pontarlier from 1971 to 1977, senator from the Jura, between 1959 and 1966, and chairman of the Franche-Comté and Territoire de Belfort Economic Expansion Committee in 1951 and of the Franche-Comté Regional Economic Development Committee from 1964 to 1973. At the same time, Faure wrote books, taught at Dijon Law School and held many ministerial posts. He was a two-time prime minister (1952, 1955-1956), minister of finances (1949-1951, 1953, 1958), justice (1951), foreign affairs (1955), agriculture (1966-1968), national education (1968-1969) and social affairs (1972-1973). He was also a representative at the Assembly of European Communities from 1979 to 1984.
Five points sum up Faure's action in government: reforming the economy, balancing the budget, building Europe, strengthening France's diplomatic standing in the world and conducting French colonial policy in North Africa. In budget matters, Faure wrote a draft resolution asking the government to foresee the possibility of having the Bank of France float bonds (15 January 1948), as well to balance the budget by attaching the Mayer economic recovery plan to the 1950 budget. In 1952, during his first term as prime minister, he formed a government, which the press dubbed "Ali Baba and the 40 thieves", that reformed nationalised companies, and had a law passed on 28 February 1952 setting up the sliding wage scale before resigning the next day when the Assembly refused to raise taxes. As Prime Minister Laniel's finance and economic affairs minister, on 4 February 1954 he put forward an 18-month expansion plan. In March 1955, during his second term as prime minister, Faure obtained special economic powers to deal with the Poujadists' protest movement.
In 1952 Faure campaigned for the European Defence Community (EDC) and managed to stay in the government despite the Assembly's objections to his ideas on France and Europe. In 1954 he ended France's war in Indochina and, although the EDC project had been dropped, promoted the idea, in Messina, of a European atomic community. As the world split up into two blocs, he wanted France to pursue an independent foreign policy and established diplomatic relations with the USSR and China. The issue of North Africa permeated Faure's terms as head of government and brought out his ambiguities and contradictions. In 1952, he stepped up France's military presence in Tunisia to quell the unrest there while at the same time talking about "internal autonomy". Then, he appointed François Mitterrand, a minister without portfolio, to propose a reform plan, which the French colonists rejected. In May 1955, Faure partially settled the conflict in North Africa by negotiating the Franco-Tunisian conventions, which granted Tunisia internal autonomy and freed Habib Bourguiba. In the same vein, after the Aix-les-Bains conference he formed a Council of the Throne in Morocco chaired by Mohammed V, who had returned from exile in November 1955. However, it was also under his leadership that the Algerian conflict degenerated. When the massacres in Constantine on 21 August 1955 sharpened the hostility between the communities, Faure responded by sending more troops and declaring a state of emergency. On 8 June 1978, Faure was elected to André François-Poncet's seat in the French Academy, where the Duke of Castries received him on 25 January 1979. He owed his election not to his long years of government service, but to his culture and Republican tradition. Faure wrote several books, including Pascal, le procès des Provinciales (Pascal, the Trial of the Provincials, 1931), Le Serpent et la Tortue (The Snake and the Turtle, 1957), La politique française du pétrole (French Oil Policy, 1961), La disgrâce de Turgot (Turgot's Disgrace, 1961), Pour un nouveau contrat social (For a New Social Contract, 1973), La banqueroute de Law (Law's Bankruptcy, 1977) and Mémoires (Memoirs, 1983-1984). As a man with a vision of history, after the Assembly of the provisional government passed law no. 46-936 on 7 May 1946, he proposed a bill (20 April 1948) to make 8 May a national holiday to commemorate the victory over Nazism in 1945 in order to fulfil the wishes of veterans' and deportees' organisations. As national education minister after the events of May 1968, he responded to student demands with the "Faure Law" on the orientation or higher education. The text, which appeared in the Journal Officiel on 13 November 1968, instituted the State's participation in universities.