René Quillivic
1879-1969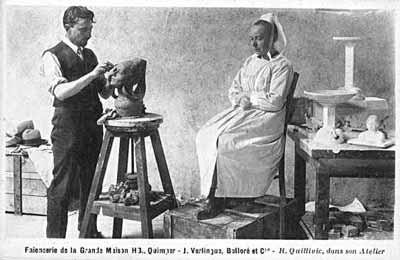 René Quillivic in his studio. Source ibretagne.net
René Quillivic was born in Plouhinec in Finistère in 1879, the son of a peasant fisherman.
He began training as a sculptor, although he had not been born into it, at the workshop of a carpenter and joiner in his village. He managed to secure a study grant, thanks to Georges Le Bail, the MP and later, senator for Finistère, and went on to the National School of Fine Arts in Paris. During his years of training, he always tried to portray a certain cultural tradition, which he very soon realised was unique.
Even before the war, he was already familiar with funeral commemoration. But it was particularly in a post First World war context that René Quillivic became one of the most famous sculptors of Brittany. Almost all of Quillivic's commemorative monuments are in Finistère. René Quillivic found special ways of using the traditional methods of the statue makers of Brittany in the 15th and 16th centuries. He increasingly used kersantite in creating his pieces, under the aegis of Donnart, a stone mason and tombstone maker from Landerneau. Kersantite (wrongly called Kersanton Granite) is a rock found in northern Finistère, around Brest harbour. It has a closely packed grain, a sombre grey colour that is almost black in the rain and is not susceptible to erosion. "In fact, as his monumental creations appeared, kersantite quickly became the symbolic rock for Breton commemorations, because very few materials are quite so closely associated with the land and the history of a country, as well as for its lasting quality." wrote Sylvie Blottière-Derrien, Secretary of State for ex-servicemen and victims of war in "Monuments de Mémoire - Monuments aux morts de la Grande Guerre, Mission permanente aux commémorations et à l'information historique" (in "Monuments of Remembrance - Monuments to the dead of the Great War and the permanent Mission for commemorations and historical information") in 1991. René Quillivic's choice of themes for his works had a regional context, close to the heart of Bretons. His models are familiar, well known and easily recognised by people. Thus, at Bannalec, people from the village recognise the sister of the glorious aviator, Le Bourhis in Quillivic's funeral monument. In the same way, in Plouhinec, the portrait of his own mother is set in stone. "René Quillivic knew how to promote a commemorative sculpture that is specifically Breton."
The monument to the dead of Pont-Scorff (Morbihan) The initiative for this work came from Princess Henri de Polignac who wanted to pay tribute to her husband who was killed on the 25th September 1915 at Auberive in Champagne. This work was created by René Quillivic under the supervision of the architect Charles Chaussepied and the stone mason and tombstone maker, Donnart.
The monument of Saint-Pol-de-Léon (Finistère), inaugurated in 1920 is a work commissioned by the mayor of the commune, created by the sculptor Quillivic in conjunction with the architect Charles Chaussepied. The recumbent statue represents a "poilu" (foot soldier). Four country women are depicted on the corners of the funeral stone: one of them wearing a large mourning headdress, another wearing a country headdress, the third a town headdress and the last one is dressed as a middle-class woman in mourning. Through these choices, "all social groups and ages are represented: the first is aged about 50 or 60, the second a widow of 30 or 35, the third is a very young widow and lastly, the young middle class woman symbolises a fiancée."

Finistère
Saint Pol de Léon
Roscoff
Guiclan
Châteaulin (on Jean Moulin)
Pont-Croix - Plouhinec
Plouyé - Scaër
Banalec
Coray
Ile de Sein
Côtes d'Armor
Morbihan