Roland Garros
1888-1918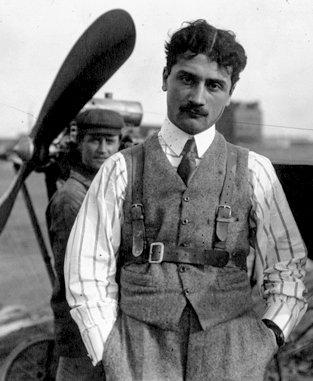 Roland Garros, the unknown celebrity
There are some names that everyone knows, yet less well known is the fate of those who bore them. Roland Garros is perhaps one of the best examples, given that the success of the tennis tournament that bears his name is such that it has subsequently almost completely eclipsed the extraordinary trajectory of this aeronautical pioneer, who was lost in the final weeks of the Great War.
Born 6 October 1888 in the French overseas department of Réunion, Garros grew up in Saigon before leaving for boarding school in Paris at the age of 12. In fragile health, he continued his schooling in Cannes, then in Nice where he discovered a passion for sport. Cycling and football occupied much of his energies, though he did not neglect his studies.
With a degree in Business Studies, Garros opened a car dealership, even offering a sports model he had equipped himself. Following rapid commercial success he treated himself to his own aeroplane in which he taught himself to fly in the Spring of 1910. The fascination he had experienced a year earlier at an air show in Reims for the fragile canvas-covered birds he had seen stayed with him. Ending his motor business, he subsequently committed himself entirely to aviation.
It all took off quickly – that summer he won his first paid contracts at provincial shows, before training in the United States with the aviator John Moisant and heading off on tour with Moisant's aerial circus. Returning to France in 1911, Garros participated in the great air races that were in fashion at the time, and then, tireless, set off at the end of the year for another tour in Brazil.
Having only recently returned to Paris, in mid-June 1912, he secured a spirited victory at the Grand Prix de L'Aero-club de France, donating his aircraft, a Blériot XI, to the army, which entrusted it to Captain De Rose, the first officer to earn a military pilot's licence.
The fates of these two men, founding fathers of pursuit aviation, were persistently intertwined from that point onwards. Although we do not know when they first met, we know that they swiftly became friends and colleagues, working throughout that year on the problem of synchronising machine-gun fire and propellers. At the same time, Garros continued to rise to new challenges, chasing the world altitude record at the controls of his Morane-Saulier, followed by a triumphal crossing of the Mediterranean on 23 September 1913. Competitions right across Europe followed while Garros, just like Pégoud, uncovered the secrets of looping the loop.
When war broke out, he could not be mobilised, but he made all haste to sign up and on 4 August was enrolled as a pilot into MS 23 Squadron. He flew many missions while securing permission that autumn from his commanders to continue his research on guns and propellers, supported by Captain de Rose. Assisted by Jules Hue, his faithful mechanic, Garros was able to perfect a system of deflectors for propeller blades, with which he brought down his first aircraft on 1 April 1915.
Unfortunately, 18 days later he took damage to his plane and was forced to land behind German lines. His aircraft, which he was unable to completely destroy, fell into enemy hands. Three long years in prison followed, over the course of which this man of letters and friend of Jean Cocteau wrote his memoirs.
On 15 February 1918 he managed to escape, accompanied by Lieutenant Marchal, and arrived back in France after a long journey. Refusing the technical post he had been offered, he immediately asked to be reassigned to his unit, the MS 26. In May he left for retraining in Pau to acquire new fighting methods on the SPAD XIII, before rejoining his unit on 20 August. Little by little, he recovered his touch and, even if his failing sight worried him, he eventually won a victory on 2 October. Three days later he disappeared, his machine having been brought down in flight by a Fokker patrol.
Marie-Catherine Villatoux, Service historique de la défense/DAA.