Passing on memory to young people

© Juno Beach Centre
Interview with Marie-Eve Vaillancourt
Corps 1
At the age of 19, Marie-Eve began working as a schools outreach officer in the education departments of the Canadian War Museum and Canadian Museum of History, where she was involved in both designing and implementing the education programmes. She went on to give training courses on how to put such programmes together, which set her thinking about what were the keys to an effective, coherent education programme. She then went to university to study Canadian history, with a focus on Canada's military history in the 20th century. It was on a study trip to the Canadian battlefields of France and Belgium, in 2001, that she developed a passion for tactical and operational history. Upon returning home, a meeting with a veteran of the Battle of Normandy made her realise the importance of passing on the history and memory of the war, as a form of gratitude towards those who fought in it. From 2011 to 2017, as head of the Juno Beach Centre's history department, she was able to observe the expectations and behaviour of different groups, in order to get a better understanding of how to pass on history and memory. By designing temporary exhibitions and their programmes (digital applications) for families and school parties, Marie-Eve wanted to test those programmes with young people to find out their views and feelings, in particular through the exhibitions Grandma, what was it like during the war? The lives of Normans and Canadians from Occupation to Liberation and From Vimy to Juno: memory of the Canadians in France. She advocates producing the programmes at the same time as the exhibitions, rather than afterwards, so that the programme is linked to the exhibition layout and programme and exhibition develop in tandem.   To remain relevant in the eyes of the public, history museums must focus more on young people and develop programmes that cater for the contemporary expectations of the public.
THE CHALLENGES OF PASSING ON MEMORY TO YOUNG PEOPLE
Marie-Eve believes it is essential to analyse how the concept of remembrance has evolved over recent decades. One of the key challenges, in her view, is to combat indifference and the "remembrance vacuum", in particular with regard to the two world wars, caused by the deaths of the last remaining eyewitnesses of the conflicts. Eyewitnesses and their actual experiences do often provide the answers to the challenges of passing on memory, yet this strong dependence can also bring with it certain weaknesses. Other ways therefore need to be found to make history accessible to young people today. In Marie-Eve's opinion, it is essential to give young people the desire to learn: not all educational approaches need necessarily be linear or chronological (as is often the case in military museums); young people must be confronted with a plural history, complete with its inconsistencies and opportunities for debate, in order to encourage critical thinking and analysis. If their participation is not required, they risk losing interest. It is therefore crucial for a new approach to be taken - namely "differentiated instruction" - that will enable young people to grasp the complexity of history, and to debate and discuss it according to their own knowledge and understanding. Meanwhile, she believes it is important for there to be a correspondence between the history of conflicts and everyday life, by encouraging young people to question those around them, for instance, and to delve into their own personal history; in other words, to interrogate experience in order to give a real, concrete, tangible face to the past and reconnect it to the present.
This poses another challenge: to find a means of presenting contradictions in a harmonious way, so as to open up the discussion, set out the different aspects of the story and present their complexity to young people, who will be encouraged to look for the answers to the questions raised.
COLLABORATION WITH THE JUNO BEACH CENTRE + INITIATIVES
Since leaving the Juno Beach Centre, Marie-Eve has acted as a freelance consultant on their exhibitions and education programmes. She is currently working on two exhibition projects.
UPCOMING PROJECTS
Renewal of permanent exhibition tours for young people and creation of three new apps tied to the new layout, which are more fun and accessible to young people (interactive devices, questions and comparisons with today's world).
 
Updating of the "Contemporary Canada" room, which has not been altered since its creation in 2003 and has therefore not been brought up to date.
 
Exhibition on 12 Canadian and European women in the Second World War, produced in conjunction with the Canadian War Museum, to present the diversity of their experiences and their self-denial, and also to show the bond created between Canada and France through the French "war wives" who emigrated to Canada at the end of the war (provisional title: Great Women of 1939-1945).
Juno Beach Centre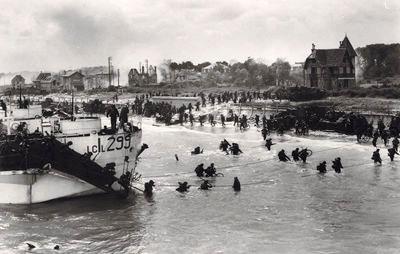 The 9th Canadian Infantry Brigade landing from LCI(L) 299 on 'Nan White' Beach on D-Day. 
(© G. Milne/Library and Archives Canada/PA-137013)
Infantrymen of the Régiment de la Chaudière resting behind a Universal Carrier in a low ground position along the Normandy beachhead, in June 1944.
(©Lt. Ken Bell/Canadian Department
of National Defense/Library and Archives Canada/PA-140849)