Antoine de Saint-Exupéry
1900 - 1944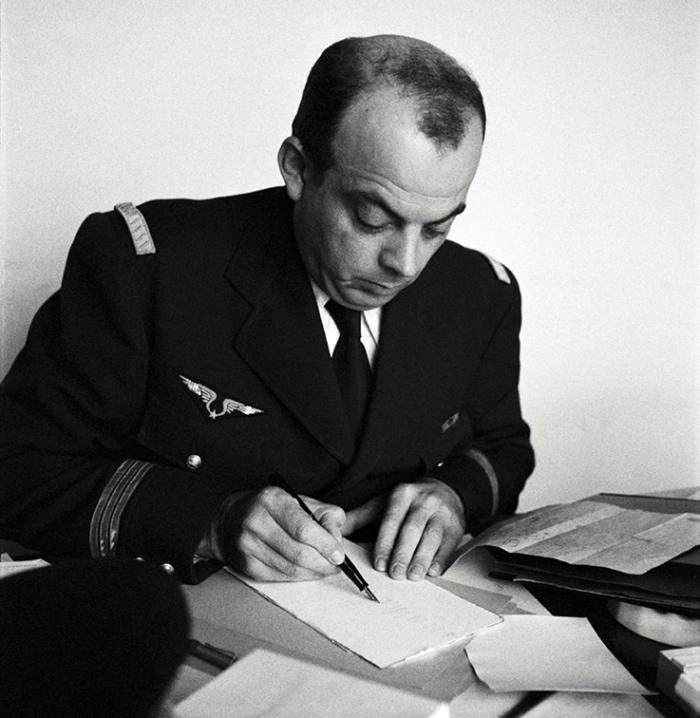 Antoine de Saint-Exupéry, the aviator-writer. Photo collection DMPA
Antoine de Saint-Exupéry was born on 29 June 1900 in Lyon, and received a classical education in a series of religious schools. Would he best be described as an aviator-poet, or perhaps as a writer-pilot? The life of one of the most legendary men and women who "died for France" during the World War 2 was short but exceptionally full. The writer and the poet On the eve of his first flying experience, the young Antoine, aged twelve at the time, presented one of his teachers with a poem about areonautical exploits, the first sign of the unusual duality of his destiny. Throughout his childhood, Antoine de Saint-Exupéry wrote short texts, mostly in verse. In 1926, the author definitively adopted prose and his first story "L'aviateur" ("The Aviator") was published in a magazine. He went on to write "Courrier sud" ("Southern Mail") in 1929 in Morocco, the first of a series of five novels that would secure the legend of Saint-Ex, even before his tragic disappearance. In 1931, "Vol de nuit" ("Night Flight") won the 'Prix
Femina' (a French literary prize awarded by an exclusively female panel), which foreshadowed the resounding success of "Terre des hommes" ("Wind, Sand and Stars"), published in 1938. During his period in exile in the United States, Antoine de Saint-Exupéry published his last two literary works: "Pilote de Guerre" ("Flight to Arras") in 1942, and "Le Petit Prince" ("The Little Prince") in 1943. In 1948, the unfinished "Citadelle" ("The Wisdom of the Sands"), which he wrote in the months before his disappearance, was posthumously published. Many more of his letters and writings would be published later, including essays, correspondence, and press articles. As well as his literary genius, Antoine de Saint-Exupéry was also a visionary in the world of cinema, turning out several film scripts in his lifetime.
The inventor and technician
From a very young age, Antoine de Saint-Exupéry showed extraordinary ingenuity, and spent much of his time experimenting with technical innovations with the help of his brothers and sisters. Consequently, from 1934 to 1940, his scientific curiosity and his piloting skills led him to register a series of patents with France's National Institute of Industrial Property, all relating to his inventions in the field of aviation. These discoveries were dedicated to creating materials that would improve piloting performance, or to developing procedures for more accurate navigation in the air. Two of these patents proposed a new system for safely 'blind' landing planes (i.e. in extremely poor or no visibility), accompanied by plans for the necessary mechanisms and equipment. Like the other innovations registered by Saint-Ex, these ideas were never followed up.
The pioneer of civil aviation
Called up for military service in 1921, Antoine de Saint-Exupéry was assigned to the 2nd Regiment of Chasseurs in Strasbourg, where he obtained his pilot's licence. In 1926, this qualification gained him a place as mechanic and subsequently as an air mail pilot for the commercial postal airline Aéropostale owned by Pierre Latécoère . Saint-Exupéry was appointed director of the Cap Juby airfield in Morocco, and was responsible for securing this section of the Toulouse-Dakar route. In 1929, he joined Mermoz and Guillaumet in Buenos Aires, and became director and pilot of Aeroposta Argentina, a subsidiary of Aéropostale. His task was to create the flight route to Patagonia. The Aéropostale story came to an end in 1933 when the various civil airlines were grouped together under the name Air France. After a spell working as test pilot and surviving several serious accidents, Antoine de Saint-Exupéry joined the external relations department of the new company, and took part in a series of conferences on the subject of aviation from 1934.
The intrepid military pilot
Mobilized in September 1939, Reserve Captain Saint-Exupéry was assigned on his request to the reconnaissance group 2/33 based in Orconte in the Haute-Marne, and took part in missions over Germany and Belgium, then over occupied nothern France. In March 1943, he was called up a second time and he rejoined the group 2/33, then based in Morocco. Despite his age, he persuaded the military authorities to allow him to fly and found himself in the line of fire once again.
Neither Vichy supporter nor Gaullist
After the armistice in 1940, Saint-Exupéry wanted no part in the national Vichy 'revolution' and left for the United States, where he kept his distance from the rest of the French community in exile. The now greatly-respected author could not find his place in a Manichean universe split between supporters of General de Gaulle and those who preferred to collaborate with the enemy. Both sides tried vainly to secure his support, but Saint-Exupéry refused to commit to either, preferring to extol the need for national reconciliation in a country divided by defeat and occupation. A man of letters who refused to remain silent in defeat, in 1943 he published his "Lettre à un otage" ("Letter to a Hostage") addressed to his friend Léon Werth who had remained in France, and urging the French to unite in the fight for the respect of human rights .
The mysterious disappearance
Finally, he decided to act and joined the Free France resistance movement in 1943. On the morning of 31 July 1944, he took off from Borgo in Corsica at the controls of his P-38 Lightning fighter plane as part of a reconnaissance mission in preparation for the Allied landing in Provence. He would never return. On 7 April 2004, some sixty years after his disappearance, France-Presse released news of a discovery made by the French Underwater Archaeological Department in Marseille. A diver had deciphered four figures on the left wing of the wreckage of a plane resting 70m deep on the seabed off the coast of Marseille. These four figures correspond to the civil manufacturing number of Saint-Exupéry's Lockheed P-38 Lightning. Sixty years underwater means that we will never be able to identify the exact reasons behind the disappearance of the 'father of the Little Prince'. The mythical poet of aviation has definitively entered into legend. As someone who, in both his writings and actions, rose above life's chance happenings in his search for what is essential, many see him as one of the brightest stars of the 20th century.
Resistant, deported to Buchenwald in 1943 and several times Minister under General de Gaulle, Pierre Sudreau tells the story of his extraordinary encounter with the legendary pilot in "Au-delà de toutes les frontières"