The Gembloux Medal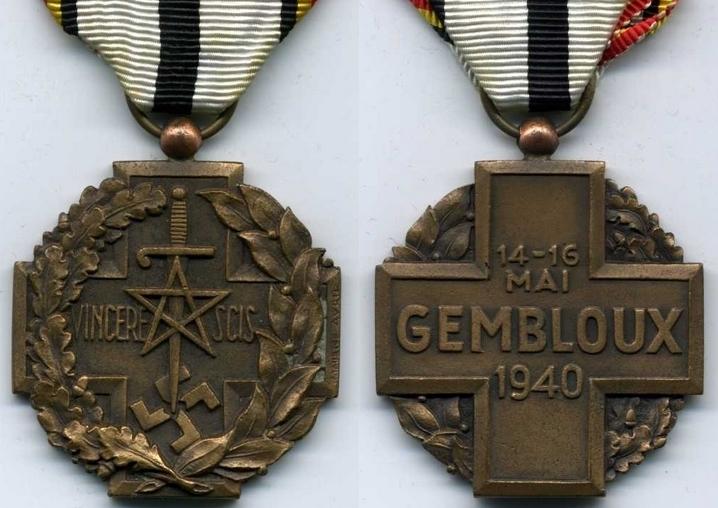 Maurice Bleicher collection
On 10 May 1940, the launch of the German offensive in the west led the French First Army and the British Expeditionary Force to come head to head with the enemy in Belgium, as part of the Dyle-Breda manoeuvre.

At Hannut first, then at Gembloux, the French troops put up stiff resistance against the 3rd and 4th Panzer Divisions. Yet while the French may have won a tactical victory, with the breakthrough at Sedan the Germans were soon threatening to surround the Allied troops, forcing them to retreat towards the Channel ports, in a prelude to the Dunkirk evacuation.
The Gembloux Medal was established on 7 April 1956 by the municipal authority of this Belgian commune, in response to a proposal by the Franco-Belgian Committee for the Commemoration of the Battle of Gembloux, the Association of Veterans of Flanders-Dunkirk and the Friends of the Veterans of the 1st Moroccan Division.

It was intended to be awarded to veterans of the French First Army, in particular to members of the 1st Moroccan Division and 15th Infantry Division, which, from 14 to 16 May 1940, halted the German offensive and did not retreat until ordered to do so.
Struck in bronze, the medal presents a cross encircled by a wreath of laurel and oak leaves. On its obverse, it bears the motto Vincere scis (You can triumph), the Moroccan star to evoke the part played by the 1st Moroccan Division in the fighting, and a bayonet plunged into a broken swastika. The reverse is inscribed with "Gembloux" and the dates of the fighting, 14-16 May 1940.
It is suspended from a black and white ribbon, the colours of the town of Gembloux, edged with the Belgian tricolour.