Josephine Baker
1906 - 1975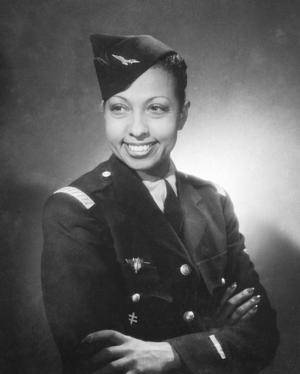 Photo (C) Ministère de la Culture - Médiathèque du Patrimoine, Dist. RMN-Grand Palais / Studio Harcourt
< Joséphine Baker in 1948.
Josephine Baker entered the Pantheon on 30 November 2021 at a ceremony presided over by the French president, Emmanuel Macron. The American-born music hall legend who was a member of the French Resistance and an anti-racist activist fought for every cause. The perfect embodiment of the role of women engaged in the struggle led by Free France, she received full honours from her adoptive homeland.
Born on 3 June 1906 to Carrie McDonald and Eddie Carson, Baker grew up in a poor neighbourhood of St. Louis, Missouri. At the age of 13, she left home and worked as a waitress. She first started dancing in small dance troupes before joining the Jones Family Band that performed from Washington to St. Louis. She moved to New York at the age of 18 where she performed in various productions including the Folies Bergère and the Revue Nègre.
In 1925, her troupe performed in Paris at the Théâtre des Champs-Elysées. The young artiste swiftly won the hearts of Parisian audiences where jazz was all the rage. A cabaret dancer, she performed a dance number named the 'Danse Sauvage'. A year later, she was headlining revues at the Folies Bergère. She danced there sporting her famous belt of bananas and took to singing too. In 1930, she performed her revue at the Casino de Paris, hers following the show of another legendary music hall artiste, Mistinguett, including the song 'J'ai deux amours'. In Europe, she notched up success after success: she was named queen of the Paris Colonial Exposition in 1931, starred in films 'Zouzou' with Jean Gabin and 'Princesse Tamtam', performed at the Casino de Paris in 'Si j'étais blanche' and in 1934 put on 'La Créole', an operetta by Offenbach.
The following year, Josephine Baker was back in the US where she presented her show to mixed reviews. She returned to France where, in 1937, she married a Frenchman and became a French citizen.
When war was declared, she was still able to perform at the Folies Bergère and the Casino de Paris alongside Maurice Chevalier. Faithful to her adoptive country, Josephine Baker joined the Resistance, working for Free France's intelligence service serving as a sub-lieutenant in the Women's Auxiliary of the Free French Air Force. It was Daniel Marouani who suggested to Jacques Abtey, head of the military counter-espionage unit in Paris, to enlist her. During the phony war (September 1939 to May 1940), Josephine Baker gathered intel on the location of German troops from officials she would meet at parties. At the same time, she performed at the Maginot Line fortification to raise the troops' morale. However, from summer 1940 onwards, the Maginot Line was breached and, due to the racist laws instated by the government, she was banned from the stage. Scheduled anyway to go on tour around Portugal and South America, accompanied by Abtey, she smuggled intelligence to Portugal written in invisible ink on her music scores. She revived 'La Créole' as a means to resume contact with Captain Paul Paillole, chief of the French secret service, in Marseille before rejoining Abtey in Portugal, then a neutral country, and heading over to North Africa. En route for Morocco, she helped Solmsen, a German-born film producer, and her friend Fritz to leave France.
Settling in Marrakesh, she fostered political relations: Moulay Larbi el-Alaoui, the sultan's cousin, and Si Mohammed Menebhi, his brother-in-law, son of the former Grand Vizier, and Si Thami el-Glaoui, the Pasha of Marrakesh. From 1943 onwards, Josephine Baker was a true ambassador of Free France. In the spring, she went on a long tour of North Africa, Egypt and the Mashriq. For the occasion, she was officially appointed sub-lieutenant of the Women's Auxiliary of the Free French Air Force. Baker's resistance activities were made public in 1949 in a book published by Jacques Abtey (La Guerre Secrète de Joséphine Baker) accompanied by a letter from General de Gaulle.
Official recognition was received on 18 August 1961: General Valin awarded her the Cross of the Legion of Honour and the Croix de Guerre with palm.
Remarried to Jo Bouillon, she was an active defender of civil rights and came to the aid of war victims, hosting a series of charity galas. Her charity work ended up eclipsing her entertainment career from which she retired in 1949. She bought a château in Milandes, in France's Périgord region, and adopted 12 children.
After ending up in financial strife, she resumed her world tours performing in theatres where cabaret had stopped being such a huge money-earner. Her dogged determination brought her back to the Bobino stage in 1975 for a show that took a look back on her life. The success was short-lived since she died four days after the premier following a short illness.
Sources : Abtey J., 2e Bureau contre Abwehr, Paris, La Table Ronde, 1966 - Abtey J., La Guerre secrète de Josephine Baker, Paris, Siboney, 1949
Bilé S., Noirs dans les camps nazis, Editions du Serpent à Plumes, 2005
For more information: