Joséphine Baker
1906 - 1975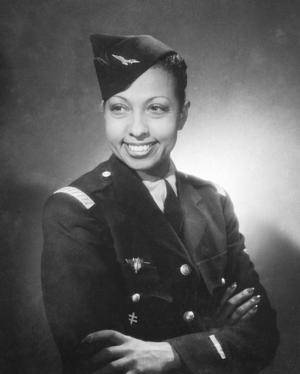 Photo of Josephine Baker. Source: www.doctormacro.com
Born the child of Carrie McDonald and Eddie Carson on 3 June 1906, she grew up in the poor neighbourhoods of Saint-Louis, Missouri. At the age of 13, she left home and became a waitress. She began her career as a dancer in small troupes, then joined the Jones Family Band, a troupe that performed all over the country, from Washington to Saint Louis. At 18 she started over in New York, where she was part of several productions, including the Folies Bergères and the Revue Nègre. In 1925, her troupe put on a show at the Théâtre des Champs-Elysées in Paris. The young artist quickly won over the public in a city where jazz was all the rage. As a cabaret dancer, she performed an interpretation of the painting "la danse sauvage". One year later, she was the principal dancer at the Folies-Bergère. It was here that she danced wearing little else but her famous banana skirt; it was also here that she began to sing. Her show followed Mistinguett's at the Casino de Paris in 1930, and it was there that she sang "J'ai deux amours." Her success in Europe knew no bounds: she was named Queen of the Colonial Exposition in 1931, had a major role in "Princesse Tamtam" and "Zouzou" with Jean Gabin and appeared at the Casino de Paris in "Si j'étais blanche."
The following year, Josephine Baker brings her show back to the US, where it receives a lukewarm reception. She moves back to France and, in 1937, marries a Frenchman and becomes a French citizen.
When the war breaks out she is still performing at the Folies-Bergère and the Casino de Paris with Maurice Chevalier. Ever-loyal to her adopted country, Josephine Baker gets involved in the Resistance, working for the Free France information services as a pilot officer in the auxiliary women's corps. Daniel Marouani suggests her to Jacques Abtey, the military counter-spying chief in Paris, and during the "phoney war" (September 1939 to May 1940) Josephine Baker collects information on the location of German troops from the officers she meets on the social circuit. At the same time, she puts on a show at the Ligne Maginot to raise troop morale. But from the summer of 1940, with the Ligne Maginot having been taken and the new racist laws of the Vichy government, she is no longer allowed to appear on stage. She is supposed to go on a tour of Portugal and South America, and leaves with Abtey, bringing with her written approval of her musical work. She puts on "La Créole" so that she can get back in contact with Paillole in Marseille, before going back to Abtey in the then-neutral Portugal and continuing on to North Africa. While she is leaving for Morocco, she helps Solmsen, a French filmmaker of German origins, and his friend Fritz to leave France.
Once she has settled into Marrakech, she makes political connections: Moulay Larbi el-Alaoui, the cousin of the sultan, Si Mohammed Menebhi, his brother-in-law and son of the former Grand Vizier, and Si Thami el-Glaoui, the Pasha of Marrakech. From 1943 on, Josephine Baker becomes a true ambassador for the Free French. In the springtime, she undertakes a major tour of the Maghreb, Egypt and Machrek and officially becomes a pilot officer of the auxiliary women's corps of the French Airforce. Her resistance activity is made public in 1949 in Jaques Abtey's book, La Guerre secrète de Joséphine Baker, published alongside a letter from the General de Gaulle. She is officially thanked on 18 August 1961, when General Valin awards her the Legion of Honour as well as the Croix de Guerre with bar. She gets married again, this time to Jo Bouillon, and gets involved in the defense of civil rights, coming to the aid of war victims, putting on a series of charity galas. Her charity work takes over from her career, and she retires in 1949. She buys a castle at Milandes in Périgord and adopts several orphan children. She starts touring again because of financial difficulties, but the world of the stage has changed and cabaret no longer pulls in the crowds. In 1975, she bitterly goes back on stage at Bobino for a retrospective show that looks at her career. The show turns out to be a short-lived success -- Josephine Baker dies of illness four days after the premiere.