Émile Gilioli
1911-1977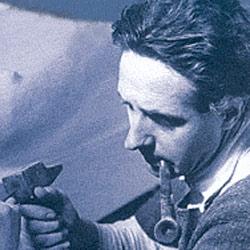 Portrait of Émile Gilioli
Émile Gilioli was one of the foremost figures of lyrical abstraction in 1950s French sculpture, alongside Brancusi and Arp. He designed the Resistance Memorial on the Glières plateau (Haute-Savoie).
Gilioli was born on 10 June 1911 in Paris, into a family of Italian shoemakers living on the banks of Canal Saint-Martin. He learned the blacksmith's trade as a child, during holidays spent at the paternal family home near Mantua.
At the end of the First World War, the Gilioli family moved closer to Italy, setting up home in Nice. The young Émile worked in the family business and at the same time took classes in the town's decorative arts school. In 1928, he was apprenticed to a sculptor, for whom he worked for two years before winning a scholarship for the École des Beaux Arts in Paris. He frequented Jean Boucher's workshop where, like many artists of his generation, he was influenced by the work of Charles Malfray.
Drafted in 1939, he was sent to Grenoble, where he stayed until Liberation. There, he made friends with Andry-Fracy, curator of the museum from 1919 to 1949, who passed on his interest for cubism and introduced him to the painter Closon, a pioneer of French abstraction. It was in Grenoble that he had his first solo exhibition, at Gallery Laforge in 1945.
Returning to Paris, he ran the new abstract School of Paris with Poliakoff and Deyrolle, and exhibited work at Gallery Breteau in 1946. He went on to take part in most French and foreign art events, including the Salon des Réalités Nouvelles in 1947, frequently shows at the Salon de Mai, and the Salon de la Jeune Sculpture. The Palais Galliera featured an exhibition of his work in 1968. The same year, he set out his concept of art in La Sculpture (published by Robert Morel).
The simplicity of his art, in which form and material are mutually dependent, inspired by Archaic Greece, Ancient Egyptian statuary and Cubism, earned him many public commissions, particularly in the department of Isère, where he designed the Voreppe Memorial in 1946, the Memorial to the Deportees of Grenoble in 1950, the Chapelle-en-Vercors monument in 1951, the recumbent statue of Vassieux-en-Vercors in 1952, and the Resistance Memorial on the Glières plateau in 1973.
An insatiable worker, Gilioli created Prière et Force, a concrete sculpture which he worked on from 1959 to 1963, La Mendiante (1962), Apparition de la Vierge à Bernadette (1964) and a fountain for Grenoble town hall (1968). His bronze works include his Compositions and Formes, Cadran Solaire, Soleil sur la Montagne, Histoire Crétoise, Divinité and Tête Siennoise. Working with marble, he sculpted Abstraction, L'Homme Oiseau, Chloe, Tabernacle and Forme Abstraite.
His gouache and watercolour paintings reveal a Composition for the Glières monument, from the series Compositions. Also worthy of note are Composition Bleu, Rouge et Noir (collage), Vitesse (steel), Composition Transparente (mesh) and Portrait de Femme (charcoal).
The works of Émile Gilioli are exhibited all over the world, most notably at the: Musée National d'Art Moderne in Paris, Tate Gallery in London, Musée de Sculpture de Plaen Air de Middelheim in Antwerp, Museu de Arte Moderna in São Paulo, Museum of Modern Art in New York, Bezabel Museum in Jerusalem, Musée de Peinture et de Sculpture in Grenoble, Fine Arts Museum in Ostend, Musée National d'Histoire et d'Art in Luxembourg, Centre Georges-Pompidou in Paris, Musée de Sculpture de la Ville de Paris, Museo de Bellas Artes in Caracas, Musée des Beaux-Arts in Dunkirk, Musée des Beaux-Arts in Rouen, Museo dei Bozzetti in Pietrasanta, Kunsthaus in Zurich and Musée Fabre in Montpellier.
One of his workshops, his "attic", in a building bought by the municipality of Saint Martin de la Cluze in 1997, has remained untouched since his death and is today open to the public.
Sources: Benezit E., Dictionnaire des peintres, sculpteurs, dessinateurs et graveurs, vol. 6, 1999; and Ragon M., in: Nouveau dictionnaire de la sculpture moderne, Paris, Hazan, 1970.
To visit
Atelier Gilioli - museum and library 38650 Saint Martin de la Cluze Tel: +33(0)4 38 92 00 96