Mont-Mouchet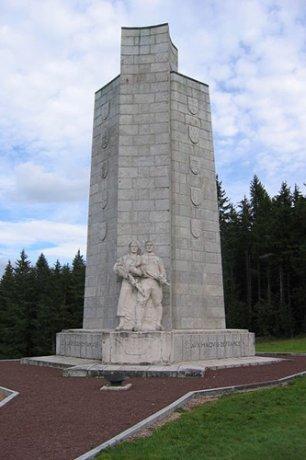 The Mont-Mouchet Memorial. Source: www.margeride-truyere.com
Set in grandiose and stunning countryside, at the heart of the Margeride forest, stands a museum in honour of the Auvergne Resistance
Mont-Mouchet can be found in grandiose and stunning countryside, at the heart of the Margeride forest, 1335 metres above sea level, between the départements of Cantal, Haute-loire and Lozère. It was here, from 20th May 1944, that one of the five major Maquis in France was established, under Colonel Gaspard, Regional Commander of the F.F.I for zone R6. On 2nd June 1944, it was attacked for the first time by a German battalion. Then, on 10th and 11th June, 2,200 Wehrmacht soldiers, unleashed fierce fighting here against the Maquis fighters. Forced back to the "La Truyère Reduit", the maquisards suffered an even heavier assault on 20th June, forcing them to lose contact. After the fighting at Mont-Mouchet, the reconstituted F.F.I. companies, split into 20 guerrilla warfare zones, harried the Nazi troops almost everywhere throughout the four Auvergne départements until the Liberation of France. Throughout the sector, losses were severe on both the F.F.I and German sides. Several villages were destroyed. With the approval and support of General de Gaulle, the National Monument to the French Resistance and Maquis was erected here and inaugurated on 9th June 1946, the work of Parisian sculptor Raymond Coulon. Each year at the end of June, a major Remembrance Gathering is held at the foot of the monument.
The first museum was established in the Forestry Centre, rebuilt after the Liberation on the site of the one destroyed in the fighting, which had housed the General Staff of the F.F.I. This was replaced by a new building, financed by National and Regional Government and opened on 8th May 1989. This museum to the Resistance houses a fascinating collection of material and documents recalling the situation in which France found itself in 1939, the four years of German occupation, Pétain's doctrine, the Gestapo, Deportation, the Resistance, etc. A video details the fighting at Mont-Mouchet, Saugues and La Truyère. Tour duration approx. 1 hour.

Musée de la Résistance du Mont-Mouchet 43300 Auvers Tel.: +33 (0) 471 74 11 28 / 11 91 Fax: +33 (0) 471 74 11 91 p.koller@haut-allier.com
Opening times From April 1 to September 30: daily except Monday in May, June and September from 10:00 to 12:30 and 14:00 to 18:00.
Group visits welcome during the week by appointment
Prices children under 10 : free Children aged 10 and over, school groups: €2 Age 15 and over: €5 Groups (minimum 20 people): €4
> Return to results
Practical information
Address
43300
Auvers
Tél : 04 71 74 11 91 Fax : 04 71 77 19 14
Prices
Enfants (+ de 10 ans) et groupes scolaires: 2 € Adulte et enfant (+ de 15 ans) : 5 € Groupes (20 personnes minimum) : 4 € Gratuit : Enfant (- de 10 ans)
Weekly opening hours
Du 28 avril au 30 septembre 2012 : tous les jours sauf le lundi en mai, juin et septembre, de 10h à 12h30 et de 14h à 18h
Bereiten Sie Ihren Aufenthalt vor
Read more