Musée de la Batellerie
Détail d'une des maquettes. Source : Office de Tourisme d'Auvillar
This museum tells the story of inland shipping along the Garonne River from antiquity to the 19th century - and the story of a day when there were no bridges across it.
The Musée de la Batellerie spans two storeys of the Tour de l'Horloge (Clock Tower), and a loudspeaker system around the themed exhibits provides background information about ships and shipping on and around the Garonne. The Garonne river basin has served as a trading route since ancient times. The Garonne river proper, however, dominated the local transport business until the mid-19th century (the land by the river running parallel to it was damp, boggy, derelict and wildlife-overridden, and hence unviable from November to July every year). Colbert, the mastermind behind France's naval supremacy, built several vessels in this area (and hence hiring local hands). Auvillar locals enlisted and set off for the American campaign between 1790 and 1792. Demand from the military side sagged in the 18th century, nudging local seafarers into shipping. Growth in the French West Indies earned Bordeaux a prominent place among France's merchants ports. There were two types of ports - which were also called passages or cales (docks): the ones for where merchandise was loaded and unloaded, and the ones where port workers lived.
Auvillar was one of the latter. There were 49 families of sailors living there in 1789. Auvillar port grew around an old toll (the taille foraine or travers, which documents dating back as far as 1204 mention). Local viscounts were entitled to levy a tax on goods travelling on foreign vessels or through Auvillar port. Fermiers shuttled people from one bank to another. Regulations stipulated that they were not to carry more than 50 people or to use their ferries between dusk and dawn. They did well (all the more so as Auvillar did not have a bridge until 1841).
Boat mills date back to the dawn of our age, and stretched to most French rivers (and indeed rivers across Europe) in the Middle Ages. They stood astride two vessels (12-metre-long boats) and had a paddle wheel in the middle. As they were on the rivers, however, they got in boats' ways. A number of bylaws dating back to 1792 cornered them into specific spots and limited repair work. A 5 May 1835 edict by Ponts et Chaussées (the road and bridge authority) banned repair work on them altogether, and they predictably disappeared.
Inland sailors were gutsy and enthusiastic. They were completely at home on the rivers and commanded considerable respect. Their motto was something like "I may be foul on dry land, but over the waters I lord". They spent 12 to 16 hours a day on their boats and slept in riverside inns after dark. They had their own chapels in every port they called at. Most of those churches were dedicated to Saint Catherine, the patron saint of river-farers and philosophers. They bought or made their own votive offerings, many of which ended up in these chapels. Most of them depicted war vessels. A number of them are in Auvillar Museum today. A painting of Sainte Catherine of Alexandria from the old town chapel is another attraction there.
Musée de la Batellerie Open weekends from 1 May to 31 October. Mairie (Town Hall) Place de la Halle 82340 Auvillar Tel: +33 (0) 563 39 57 33 Office de Tourisme (Tourist Office) Place de la Halle 82340 Auvillar Tel: +33 (0) 563 39 89 82 Fax: +33 (0) 563 39 89 82 Email: office.auvillar@wanadoo.fr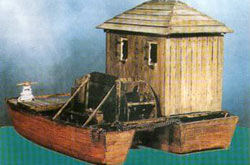 > Return to results
Practical information
Address
Place de la Halle 82340
Auvillar
Tél.: 05.63.39.57.33 Office de TourismePlace de la Halle82340 AuvillarTél. 05.63.39.89.82Télécopie : 05.63.39.89.82Email : office.auvillar@wanadoo.fr
Weekly opening hours
Ouvert les week-ends du 1er mai au 31 octobre.