Philippe Viannay
1917-1986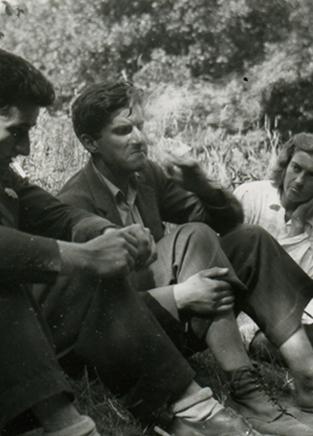 Philippe Viannay (au centre). ©Fondation de la Résistance, AERI, coll. Défense de la France DR
Nothing had prepared him to confront the war and join the Resistance. Yet at 25 Philippe Viannay became the undisputed leader of one of the main resistance movements in the north. We go back over the life of a freedom-loving man who was a pioneer in many areas.
In the galaxy of the great leaders of the French resistance, Philippe Viannay has a unique position. Although he directed Défense de la France (DF), a leading movement in the north, Philippe Viannay is less well known than many of his counterparts - Frenay, Bourdet or the Aubrac couple to name just a few. His young age - just 23 years old in 1940 - his refusal to go into politics after the war, the posthumous publication of his memoirs... all these elements go to explain this relative silence. Yet everyone who met him - in undercover night-time operations as in the Journalists Training Centre (CFJ), the Jean Moulin club or the Glénans centre - all keep a fond memory of a highly charismatic personality. Whatever his merits, we do not want to give idolising biographical details of this resistance fighter's life but rather explore the uniqueness of a prominent leader in the Army of shadows.
Philippe Viannay was born in 1917 in a conservative family: his father was close to Colonel de la Roque's PSF movement and his mother had a nobles of the robe background. He also felt that his family belonged to "an honourable bourgeoisie" that despised money while having a small amount of it. After a year of hypokhâgne at Louis-le-Grand secondary school, he began studying philosophy while considering the priesthood - a vocation he abandoned in 1938 to resume his studies at the Sorbonne.
After fighting bravely in 1940, he returned to Paris, determined as the saying goes "to do something". Indeed, in October 1940 he considered publishing an underground newspaper, an idea given him by the boss of a friend, Marcel Lebon. Backed by a former classmate, Robert Salmon, and a student he met in the Sorbonne, Hélène Mordkovitch, whom he married in 1942, he launched an underground newspaper, Défence de la France with the first issue being published on 14 July, 1941.
Can you escape from your roots? The answer to this question is neither black or white when considering Philippe Viannay's life. Coming from a conservative Catholic family background, in many ways his opinions reflected those of his upbringing. In fact, up to 1942, DF adopted a Petainist line, wrongly crediting Petain with resistant tendencies. Similarly, the apprentice philosopher built his fight on an ethical basis. He did not try to fight against the occupier militarily but mainly focused his efforts in calling for a moral uprising.
Simultaneously, Philippe Viannay moved away from his milieu. Far from blindly following Petain, he considered the fight against Germany as a burning priority. And thanks to Hélène Viannay, DF became a patchwork where rather right-wing bourgeoisie elements mingled with more left-wing Russian migrants.
Through his charisma, sense of organisation and open mind, Viannay then influenced the line taken by the movement. As he came to realise the obvious, the paper gradually abandoned Petain and supported de Gaulle after an initial Giraud period. Above all, DF gradually embraced the idea of an armed struggle, setting up corps-francs then maquis groups in Burgundy-Franche-Comté and Seine-et-Oise in particular. But he failed to win over fighting France. While getting funds that enabled him, among other things, to finance a false ID papers workshop, the movement was not a part of the National Council of the Resistance. Viannay was probably a much better organizer than he was a politician! In fact, he preferred in 1944 to fight in Seine-et-Oise - where he was severely wounded - than go to Paris to prepare the now open publication of Défense de la France / France Soir .
Albert Bernier, Philippe Viannay (centre) and Françoise de Rivière, the Seine-et-Oise maquis in August 1944.
©Fondation de la Résistance, AERI, coll. Défense de la France DR
Although a member of the Consultative Assembly, at the Liberation Viannay abandoned both his political career and France-Soir . However, anxious to train journalists who he had found lacked professionalism before the war, he set up the CFJ, invested in the newspaper France-Observateur, and created the Glénans nautical centre. In this he remained faithful to his ideas. While remaining interested in public affairs through the Union of the Socialist Left and the Jean Moulin club, he preferred to get involved in civil society - the common link between his clandestine commitment and his investments in calmer times in a restored Republic. He died in 1986, aged 69.

Olivier Wieviorka, author of Une certaine idée de la Résistance, Seuil, 1995, reprinted. 2010. In Les Chemins de la Mémoire, 240/November 2013