11 November Ceremony, 2015
Focus on Paris
Young people from three agricultural colleges in Auvergne concerned by the future interdepartmental protocol between the Ministries of Defence, 
National Education and Agriculture made a special trip to Paris to attend the ceremony.
The 11 November ceremony at the Arc de Triomphe:
At the Arc de Triomphe, they commemorated the memory of those who died for France and met up with the President of the Republic, François Holland and Secretary of State for Veterans and Remembrance, Jean-Marc Todeschini. 
In the afternoon, after lunch at the École Militaire, they were received at the headquarters of the Ministry of Agriculture on Rue Varenne by Ms. Mireille Riou Canals, Director General of education and research and Annick Baille, Counsellor in charge of agricultural education at the ministry.
Reception at the Ministry of Agriculture:
Under the leadership of Sonia Rougier from the Auvergne DRAAF, pupils from the Combraille, Saugues-Brioude and Velay agricultural secondary schools presented their educational projects on defence education and citizenship in the presence of educational affairs representatives from the ministries concerned: for the Ministry of Agriculture DGER, Joelle Guyot and Maryvonne Isaac de Lemos, Mr Lévèque for the Ministry of Defence/DMPA, Hélène Pradas-Billaud, head of the Office for Educational Actions and Information and Marie-Christine Caubet, in charge of developing BAPI partnerships and Clément Meunier, representing the academic "Trinôme" of Auvergne, (Academy of Clermont-Ferrand).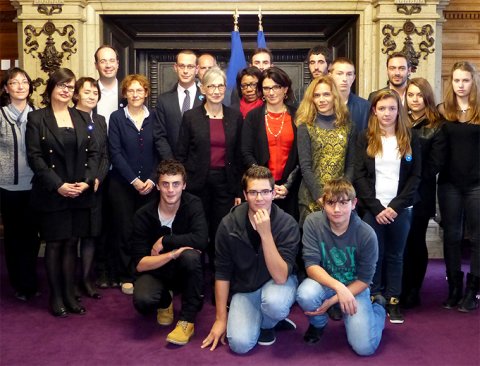 Promoting citizenship and remembrance work:
The projects from these pupils (boys and girls) were very interesting because they were based on a dual citizenship/remembrance approach that stressed personal commitment.
Example of projects supported by the students:
- For the Saugues site of the Brioude-Bonnefont forestry secondary school, the pupils from 2nd year "Nature- Gardens Landscape - Forest" vocational classes won the first regional prize in the 2013/2014 'Resistance Memory' comic design contest organized by ONAC and they then visited the Resistance Museum in Mont-Mouchet.
- last year 3rd year pupils from Combreille school participated in Centennial ceremonies and worked with the Gendarmes as part of their training for dog professions. On this occasion, they met all of the town hall defence correspondents brought together by the departmental military service.

- the Velay agricultural secondary school organized a day of prevention with the gendarmes in close connection with the Education ministry and organised an exhibition on the great war in partnership with the Yssingeaux public education centre.
For some pupils this was their first trip to Paris and this special day will remain in their memories for a long time
but will also be a structuring step in their journey as citizens and future professionals in the agricultural and forestry world. 
Ministry of Defence - SGA/DMPA/SDMAE/BAPI - Report: Marie-Christine Caubet