The future of commemorations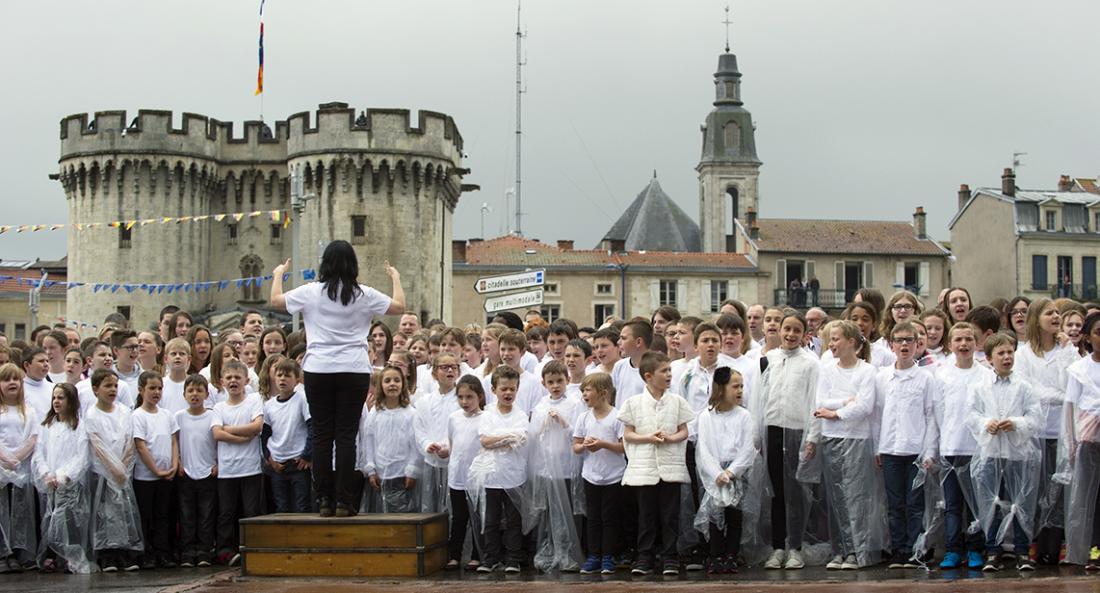 School students take part in the Battle of Verdun centenary ceremony, 21 June 2016. © A.Karaghezian/ECPAD
Although France may be "the country that commemorates the most", attendance at commemorations is decreasing inexorably. This is primarily of concern to remembrance sites, whose vocation it is to promote historic heritage and pass on knowledge to the public, as well as to hold a certain number of commemorative ceremonies. Today, they are at the heart of a discussion about the future of commemorations.
Corps 1
The Network of Holocaust Remembrance Sites in France, founded in 2016 and comprising 13 organisations, wanted to carry out an interdisciplinary analysis to understand the issues and limitations of commemorative practices, and to sketch out their future.
To that end, a working group was set up to hear the views of a variety of personalities, including historians, a film director and representatives of public institutions, the religious community and voluntary organisations. The passion demonstrated by each participant shows how current, how sensitive and, in many ways, how urgent the issue of commemorations actually is. Hélène Mouchard-Zay and Frédérique Neau-Dufour, the chairs of the working group, assisted by Olivier Lalieu, presented their report on 13 December 2017. Below are their main findings.
Ceremony to mark the 75th anniversary of the liberation of Auschwitz, 27 January 2020. © Dimitri Papamitsos
The principle of commemorations
For a long time, the role of commemorations was clear: they were for the survivors of conflicts and their descendants, whom they provided with a space for consolation and contemplation, within a community of suffering. Immediately after the two world wars, that community spanned the nation.
As the decades passed, the last remaining survivors of the First World War were lost, while those of the Second World War became fewer and fewer. Yet the commemorations have gone on, according to the same rite. Moreover, they have increased in number: today, "there are 14 commemorative days enshrined in law and presidential decree", according to Serge Barcellini. "Of those 14 days, eight were established since 1993." Is that increase a sign of renewed interest in commemorations? Or is it accompanied by an inexorable loss of meaning?
Some of those interviewed lean towards the first option, like André Kaspi, for whom commemoration today offers "a way into history", attracting young people's attention to past events. But the reality on the ground tends to suggest the second hypothesis. Very often, commemorative ceremonies involve restricted circles of participants, who attend out of obligation or because they are directly concerned by the subject of the commemoration. There has been a patent loss of interest among the general public, which is symptomatic of a deeper ill, since commemoration involves a particular vision of the present and our shared values. "Remembrance has to do with national cohesion and identity," says Raphaël Esrail. Our inability to perform remembrance together anymore is an acknowledgement of failure, recognition of a fractured, inward-looking society that is no longer able to think universally and sees the world only in terms of private interests. Philippe Allouche laments the fact that many people believe Holocaust remembrance to be a concern for Jews alone, when it actually has a universal dimension. France's Chief Rabbi notes that "the history of the Jewish people makes them particularly sensitive to human suffering, without a spirit of competitiveness".
This incapacity to think collectively about the past is not without consequences for the present. In a unique context, despite the commemorations and the accompanying educational work, there has been a marked rise in antisemitism and Holocaust denial, note Annette Wieviorka and Claude Bochurberg. This makes it more necessary than ever to have a discussion about the way we commemorate.
Which commemorations should be given priority in the future?
The large numbers of commemorations in France stand in stark contrast to the lack of enthusiasm they inspire. Does that mean some ought to be scrapped? A number of those interviewed address this sensitive issue in a straightforward way, like Ariane Mnouchkine: "The first sacrilegious question to ask is how long should Holocaust remembrance go on for? What will that remembrance amount to when there are no longer any survivors left with a physical link to those events? At what point will that remembrance become as abstract as that of the Battle of Valmy?" That is what it boils down to: the meaning given to a commemoration is what justifies it. So if a ceremony no longer relates to anything, "I think we need to accept that it should be dropped," says Annette Wieviorka. "When something isn't alive anymore, it should be mourned." Serge Klarsfeld holds a similar view, though he draws a distinction between remembrance, which ought to last, and commemorations, which are a manifestation of it. In his view, we can abandon commemorations without abandoning remembrance: "I can foresee our commemoration of Vel d'Hiv on 16 July stopping too. Or it will take another form: people will remember it as they pass the garden and the statue, so it will be a daily commemoration."
Apart from France's Chief Rabbi, who considers all the national commemorative dates to be necessary, those interviewed agree with Inspector-General Tristan Lecoq that "too many commemorations kill commemoration". A reorganisation of the commemorative calendar would seem necessary, including a drastic reduction in the number of official dates. Of course, that prospect raises an infinite number of questions, to which everyone offers their own answers. Which ceremonies to keep? Which to drop? Since the Kaspi Report in 2008, this wide-reaching and potentially controversial subject has so far prompted little enthusiasm from political leaders.
As things stand, the report suggests the consolidation of 27 January as the main date for Holocaust remembrance, both nationally and internationally.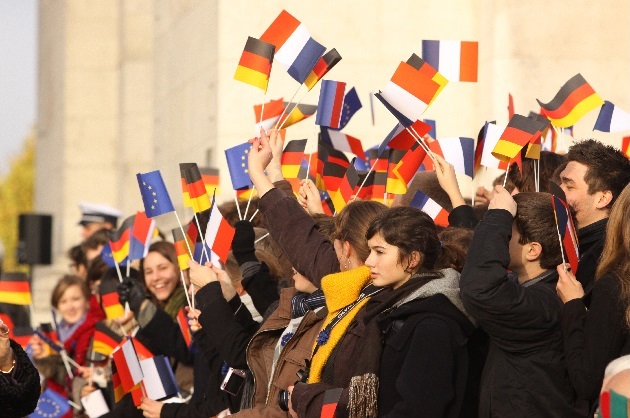 Ceremony of 11 November 2009 to commemorate Armistice Day and Franco-German reconciliation. © CCH Christophe Fiard / DICoD
Putting the meaning back into commemoration
Besides their number, what should be the content of commemorations? Their vocation as a learning tool is by no means a given. The ceremonies are in fact quite distinct from the teaching of history, as a time of contemplation and emotion. History is taught in class or on visits to remembrance sites, by a teacher or educational officer, using established sources and scientific methodology. But while commemorations may not be meant as a resource for the learning of history, it is crucial to "back them up solidly in the school curriculum", insists Tristan Lecoq, for the interchange between the two can be fruitful: commemoration becomes "an opportunity to do things", says Annette Wievorka.
Commemorations offer another important aspect of learning to students, not academic, but civic: that of the republican ritual. Alongside officials, service personnel and veterans, young people take part in civic life and experience how "commemorating means standing up for the Republic" (Haïm Korsia). However, respect for tradition should not be allowed to conceal its inherent failings, namely the fact that spectators are often passive onlookers to streams of speeches with at times limited reach. It is not easy for foreigners to feel a part of our rigid, highly codified ceremonies. German historian Arndt Weinrich notes that, in France, "commemorations are highly military. [...] I would be shocked to have a military presence for Holocaust remembrance."
The report therefore proposes that the republican ritual should be kept, but that its meaning should always be explained and its strict formality, unchanged since 1919, should gradually be made more flexible. The careful introduction of current issues should not be forgotten, since that is what gives meaning to the act of remembrance.
Encouraging people to get involved in the ceremonies
How to preserve a century-old commemorative tradition while at the same time adapting it to a society that has changed considerably, is participatory, accustomed to an infinite multimedia offering and is no longer willing to put up with tedium or lectures? How to cater for a younger generation no longer content to play the role of guarantor so often assigned to it in the ceremonies? How to get away from moralising about "never again" and the "duty to remember"? How, in Laurent Bellini's words, to "stir up the desire to attend a commemoration"? It is a considerable challenge. "In the face of a crime on the scale of the Holocaust, the real issue is how to preserve its absolute singularity and avoid going down a path that, over time, could end up trivialising and relativising it," warns Philippe Bélaval.
The First World War centenary offered some promising avenues to explore, in particular the fact that commemoration is possible without eyewitnesses. It also showed the keen interest of the population, who felt involved and relevant: "The impetus came from the regions, schools, sites, the genealogical drive. What underpins the commemorations is the sites, the interest, schools. Cultural memory gradually supplants veteran memory," says Joseph Zimet. For all that to work, you need to know how to "sell" your product. Since the annual recurrence of commemorations makes them somewhat sterile, it is important to come up with something new each year, working closely with historians. "Research needs to lead the way, pointing up the latest advances to a media grown weary, who need to be informed of changes in the bibliography. The media love being the first to be told, and to have processes, and thus history, explained to them."
Remembrance sites have a part to play in this renewal, as they "renew, expand and complement the commemoration. They outlive the commemoration, they create a density around D-Day, keeping the past alive," says Zimet. Most sites have already experimented with new ways of commemorating. These require a considerable financial and human investment, which cannot be made for all dates. However, all aim to get participants actively involved in the ceremonies, through readings of first-hand accounts by school students, stage performances, singing, photographic displays or talks.
The use of new digital technologies, in a measured way, can enable certain innovations, catering for the expectations of a population that needs to see and touch: "Let us bring back beauty and truth, in a world of social media dominated by lies and vulgarity," suggests Philippe Bélaval. In this area, there is much experimentation going on in France and elsewhere. The advantage of the European-wide commemorations, like 27 January, is precisely that they facilitate the crossing of borders. Less subject to national tradition and outward-looking by nature, they can be a laboratory for renewing commemoration.
Ceremony of 23 June 2019 at the former Natzweiler-Struthof concentration camp. © CERD-Struthof
Taking it a step further, perhaps it would be fruitful to depart from our habits and follow the path suggested by Ariane Mnouchkine, of a liberatory impulse, detached from compunction, timidity and censure. For the playwright, sorrow need not be the only acceptable sentiment when we talk about the dead. "It seems to me that if we could turn this moment of gravity, of bowing-down before suffering, into a moment of joy, it would be a good thing (...). We need to show our resistance in the face of adversity. We need to have the lightness to jump over the hellish boundary and return to a former time of joy. We need both: the inevitable heaviness, the cold stone of graves; and lightness. Through the senses, music, smell, the expression of joy, cookery, we need to show what has survived and what was targeted by the Nazis as much as bodies: philosophy, history, dance. Their bodies were martyred, but their world was not destroyed. That's what we should be thumbing our noses at: it's the triumph of life."
In its conclusions, the report therefore encourages citizens' involvement in the ceremonies. Young people's participation should gradually replace the excessive number of official speeches. Forms of expression also need to evolve: artistic interventions, already incorporated, are a clever way to get the messages across while avoiding burdensome formality.
A commemoration without a long-term educational strategy makes little sense. That strategy must involve students throughout, and not just make them play a walk-on part for an hour. It can also lead into subsequent discussions.
One interesting suggestion would be for the planning of each commemoration to be entrusted to a steering committee comprised of representatives of a remembrance site, representatives of the education department, veterans' associations, officials and young people.
That change, already implemented by some members of the Network, involves considerable human input. Yet it is better to have the right impact on a smaller number of students, than to impose a ceremony on vast numbers of them, and risk being counter-productive.
What is the outlook in the medium term?
The urgent economic, social and climate issues facing the State over the coming decades, coupled with falling revenues, might prompt concern over the gradual withdrawal of investment in the commemorative sphere. That trend could be exacerbated by the deaths of the last remaining survivors of contemporary conflicts and the weakening of the major remembrance organisations. It is important to anticipate those changes, which are already underway. With that in mind, Serge Barcellini encourages "civil society to take over the issue. The strategic State could drive the commemorations, but our remembrance policy cannot remain national." It must find its vitality at local community level, as well as expanding to European level, especially since the memory of the Holocaust and the world wars goes beyond our borders.
As the Second World War centenary (2040-45) approaches, we must consider those changes now, collectively. 2033, the centenary of Hitler's rise to power, will mark the beginning of a new commemorative cycle. To prepare for it, Joseph Zimet suggests the Network should take over the issue, since there is no longer any national working group to carry out this future-oriented work. A white paper on the Centenary of Deportation and the Holocaust could be drafted, presenting a calendar of key dates, current events reflecting the theme, the infrastructure to be developed, international connections to be made, sites to be promoted and the editorial, artistic and architectural production to be envisaged.
Commemoration is a living issue that involves civic challenges, debates on interpretation, republican values and educational ambitions. Provided it is made to come alive and is carried by a shared ambition, it can become a tool for bringing people together and helping them make a shared past their own. The Network of Holocaust Remembrance Sites in France hopes to contribute to developing commemoration, with rigour yet without debasing it. The contributions gathered for this report are a first step in that direction.
Frédérique Neau-Dufour, historian
Hélène Mouchard-Zay, founder, CERCIL, Musée-Mémorial des Enfants du Vel d'Hiv
Olivier Lalieu, historian, Mémorial de la Shoah