The Netherlands commemorate the 75th anniversary of their liberation
Among the guests at the launch of the 75th anniversary commemorations of the liberation of the Netherlands was a French delegation with, among its ranks, the veteran French paratrooper Achille Muller, who took part in the operations of 1945.
Corps 1
On 31 August this year, King Willem-Alexander of the Netherlands launched a whole series of events to mark the 75th anniversary of the Netherlands' liberation. The wartime Allies were invited to this first event. Among them, France was represented by Geneviève Darrieussecq, state secretary to the Minister for the Armed Forces, and Vice-Admiral Schricke, representing the French armed forces. Also part of the French delegation was a man most certainly deserving of a place at the ceremony. Colonel Achille Muller was one of those who took part in the liberation of the country.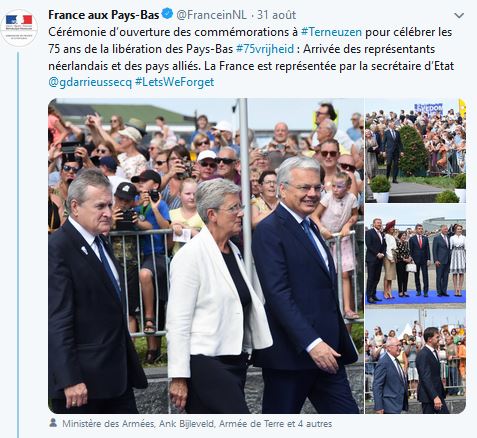 Twitter @FranceinNL
Parachuted into the thick of war
Operation Armhest was a turning point in Dutch history. On 7 April 1945, on the initiative of British brigadier Mike Calvert, 700 French paratroopers belonging to the 3rd and 4th SAS (Special Air Service) landed in the Drenthe region of the Netherlands, tasked with capturing Dutch canals, bridges and airfields. The operation was a success. Among the 700 volunteers was Achille Muller. In 1943, this young man in his early twenties had escaped to England. There, he met General de Gaulle and was trained as a paratrooper. In 1944, he took part in the liberation of first Vannes, then Rennes, then Paris. After the war, he continued his career in the army, rising to the rank of colonel. Today, he is one of the last remaining survivors of those battles. He is also one of the most decorated soldiers, having been awarded, in 2016, the Grand Croix and the Order of the Legion of the Honour. So it was only natural that he should be present at this event.
Fifteen thousand Dutch present at Terneuzen
With the Netherlands' most senior political and military representatives in attendance, together with the Allied countries and their veterans who took part in the liberation – Belgium, Canada, USA, UK, Poland, Norway and France – all invited by the royal couple, the commemorations of the country's liberation got under way at Terneuzen before a large crowd. Fifteen thousand people from all over the Netherlands attended this first ceremony. After the king had rung a bell to signify the symbolic liberation of the country, each Allied representative lit a torch as a tribute to their decisive involvement in the fighting 75 years ago. The ceremony was rounded off by a gun salute and an aerial and naval review, in which the French Navy anti-submarine frigate La Motte-Picquet participated. The Dutch commemorations are set to last a whole year, with a large number of ceremonies and an important role for France in this remembrance cycle.
Corps 2
---
Ministry of the Armed Forces/DPMA/SDMAE/BAPI (Office for Educational Actions and Information) – Text by Thomas Chevalier