"Insurrection of 1944": the mixed reality visit by Colonel Rol-Tanguy at the Musée de la Libération in Paris - Musée du Général Leclerc - Musée Jean Moulin - - © © Pierre Antoine
Summary
SUBJECT: Remembrance tourism
OBJECTIVE: Digital innovation
STAKEHOLDERS: Remembrance sites, especially museums
Digital has slowly crept into our museums over the last thirty years. While the Covid-19 pandemic has certainly quickened the pace of this trend, "remembrance tourism 2.0" provides us with a clearer understanding of history while also increasing the appeal of remembrance destinations and sites linked to contemporary conflicts.
An important theatre of war during the world wars that took place in the 20th century, France today has a relatively high density of museums, memorials and fortified structures. The commemorative cycles marking World War One and World War Two have roused a great deal of public interest in remembrance sites to which visitors from France but also overseas are flocking in growing numbers.
In 2019, for instance, remembrance sites recorded 15.2 million admissions. It is clear that remembrance places and sites are drawing in large crowds of people keen to learn more about the past. To meet this demand, a number of different visitor and educational tools and aids are being implemented, including an innovative and expanding range of digital solutions.
Pioneering places
The first digital technology emerged in the late 1980s, offering several devices that made it easier to disseminate knowledge and information and so, in this sense, were of particular benefit to cultural and remembrance policies. Digital also gave members of the public access to museum databases. Next, interactive terminals were installed at cultural and heritage sites that brought an educational dimension to their cultural actions. Digital technology spawned other media such as CD-ROMs. Thanks to digitisation, testimonials on contemporary conflicts could be stored and catalogued in quantities never seen before. These achievements were the first step towards the introduction of new cultural and tourism practices in direct connection with remembrance.
The digital boom opened up numerous opportunities for remembrance sites and stakeholders. At most places of remembrance, the first educational multimedia tool that appeared was video, typically played on a standard screen attached to the wall or built into exhibition displays. For instance, film clips of resistance members recounting their personal stories were played in the entrance to the Musée du Général Leclerc de Hauteclocque et de la Libération de Paris – Musée Jean-Moulin when the museum commemorating the liberation of Paris was situated close to Montparnasse train station. Remembrance sites raise awareness of contemporary conflicts among visitors in fresh and interesting ways. Other installations make use of more advanced technology such as at the Juno Beach Centre. This museum was one of the first to install innovative interactive equipment, allowing visitors to "experience" the Normandy landing as if they were actually there in the Courseulles room. Members of the public get to sit in a recreated boat and watch a film. Images of the war, battalion training exercises and D-Day are projected on the walls while Canadian soldiers and their families voice their thoughts and opinions from that time in history. By integrating innovative and often impactful education tools into the museum visit, remembrance places are not only able to raise awareness of history but ensure it is passed on to future generations.
These digital devices that emerged relatively early at some remembrance places contain fairly simple technologies to offer visitors experiences that are immersive but also very poignant. Powerful tools for transmitting history, they also serve as a source of development for local areas and sites associated with contemporary conflicts, diversifying the remembrance tourism offering and catering more closely to the needs of visitors, those from the younger generations in particular.
Mapping history
Since 2010, remembrance places have upped their game in terms of innovative technology to boost their appeal to tourists. The past decade has seen a vast improvement in cultural mediation since more modern mechanisms for spreading knowledge have been welcomed into institutions. Drawing on innovative geotracking, virtual reality and immersive technologies, these tools make for valuable visitor aids but also increase the attractiveness of sites for stakeholders such as local authorities. The departmental council of Ardennes, for example, launched in 2016 the "Ardennes, land of remembrance" mobile app. Designed as a history trail, the app guides tourists to different sites in the local area that were affected by the wars in our recent history. At each site, the visitor can open various descriptions in the app accompanied by extensive content, ranging from presentations to city walking tours and even games.
Innovative mediation tools meet the needs of remembrance stakeholders whose work it is to pass on history and the memory of contemporary conflicts. Digital technology certainly makes this easier by offering a number of functions such as geotracking, augmented reality, immersive reality, video and audio content.
In addition to guiding tourists along their visit, digital devices also relay knowledge in a way that is fun and entertaining, in particular via mobile apps. They have become extremely popular and some have been developed by remembrance institutions such as the Musée de la Résistance in Limoges with "The Resistance in your pocket" aimed at a young audience (ages 8-12). With the app. kids can independently and at their own pace follow three children as they explore the museum. This type of app, known as a serious game (a game designed for a learning or educational purpose with an entertainment aspect), is also being created for other remembrance sites. These kinds of digital media – that are in constant development since the Covid-19 health crisis appeared – are helping anyone and everyone learn about the history of contemporary conflicts.
Digital in a crisis
The recent pandemic has prompted cultural institutions to reinvent how they operate and come up with new digital tools. Closed during the consecutive lockdowns, remembrance destinations have implemented different solutions to continue the work they do. First leveraging existing content then looking to innovation to reach out to more internet users, these sites have stayed in touch and even strengthened their connection with their usual visitors and also increased interaction with new audiences. One of the great benefits of the digital offering is that it can be tuned to every type of visitor, both people who regularly frequent remembrance places and everyone else.
The general idea was to cater more specifically to the needs of each category of visitor (veterans, parents, children, teachers and anyone curious just to know more) guided by several objectives: commemorate, remember, discover, amuse, learn and teach. Remembrance places and sites have promoted their content via numerous operations conducted on social media, on the model of the "Stay onboard, let the sea come to you" programme organised by the Musée national de la Marine, France's national naval museum. In addition to a variety of information resources uploaded to their websites, they have also shared learning tools.
Public audiences were also invited to participate in a series of weekly events on social networks, engaging in innovative and more interactive forms of educational activities. With the same goal in mind, the Musée de l'Ordre de la Libération partnered up with Nota Bene, a Youtuber with over a million subscribers, to publicise its collections and pass on the history of France's liberation to younger audiences.
New ways of approaching remembrance tourism also came about during the pandemic. Given that the public were unable to come to the institutions, the institutions came to them by creating virtual visits. Anyone with an internet connection was thus able to explore the major national remembrance sites associated with France's armed forces ministry via 360-degree tours posted on YouTube during the periods of lockdown. Furthermore, many of the commemorations that took place were conducted in smaller formats, with remembrance places and their partners urged to come up with alternative ways to commemorate historic events. To give members of the public the opportunity to watch remotely, events, including most of France's national ceremonies since the start of the year, were streamed on the social pages and accounts (Facebook, Instagram, YouTube and others) of several institutions, such as the Mémorial de la Shoah, France's Holocaust museum, Mont-Valérien, the memorial to "fighting France", as well as the French ministry of the armed forces. Lots of virtual visitors have therefore discovered various memorial sites on these occasions and had their curiosity piqued to go there physically in person.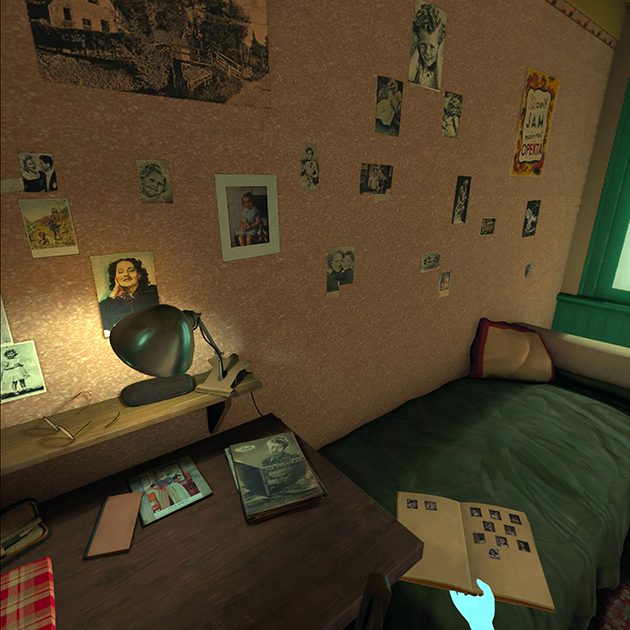 Image from the "Anne Frank House VR" experience. © FeelU
What digital future?
The Covid-19 pandemic has of course changed how we travel, which has had a knock-on effect on remembrance tourism. Local tourism has become more popular than ever and remembrance sites are obviously included in this. To satisfy the curious minds of a growing clientèle, we are seeing new and innovative ways of doing things.
For instance, the Musée de l'Armée has developed a mobile app designed for families with games providing a fun way to discover France's national museum of the armed forces. The Historial de la Grande Guerre de Péronne – Thiepval has done something similar. Using superimposition-based reality technology, the museum of the Great War brings World War One to life for visitors through the history of prominent figures. The Normandy region meanwhile has introduced the "TimeTravel" app that presents the heritage found in the Bay of Mont-Saint-Michel by taking users back in time to different eras.
Remembrance places are therefore connected to other historic monuments and promote slow tourism, tourism that focuses on getting to know a country or region in a way that is kind to the environment via various digital innovations. New forms of virtual visits are on the drawing board in the interests of slow tourism so that visitors overseas can get to discover these sites without increasing their carbon footprint in the process. The aim is to adapt the new expectations of visitors by drawing on the power of digital to give them fresh experiences.
Younger visitors in particular are on the lookout for more exciting, more authentic experiences. For this reason, experiential tourism is booming and much appreciated by travellers who seek a more engaging and memorable experience. Indeed, remembrance tourism plays on our emotions that can be triggered by digital means. New technologies are therefore being harnessed by operators in this sector to give travellers a unique and more meaningful time. By way of example, Musée Jean et Denise Letaille – Bullecourt 1917 supplies visitors with augmented reality headsets so they get to learn all about the Battle of Arras. It is therefore important for remembrance tourism operators to get to grips with the changes that new technologies are bringing about. To stay on top of these changes, France's ministry of the armed forces, a key actor in and partner of remembrance tourism, is providing its support to professionals in the sector through a range of actions including professional development seminars, calls for proposals for innovative digital services and the like.
The development of innovative digital tools at remembrance sites is now one of the main priorities of the restructuring policy being pursued by the remembrance tourism sector. France is establishing itself as a remembrance and history destination appealing to younger visitors and competing with other countries. Tools developed by remembrance sites are more and more multidisciplinary, often bringing visitors (younger ones especially) on board before physically coming to the site as well as integrating the sustainable dimension and the objective of creating a network for all the stakeholders involved. The recent pandemic is also raising questions on funding practices. Monetisation is a big topic of discussion. While the general public are interested in remembrance places, they are far less interested in paying to visit them.
This is an observation shared by most remembrance sites which are developing various economic models to finance these kinds of digital tools that often come with a high price tag. And it has to be acknowledged that while the biggest memorial institutions have the ways and means to create these tools, smaller organisations might struggle to acquire them. On top of the digital support costs, the sites also have to call on help from a variety of professionals such as historians, actors or developers, who of course need to be paid. Not to mention that digital equipment has to be kept up to date so it doesn't become obsolete. To bring down the expenditure, digital devices can be included in the admission price or be covered by public grants. More than focusing on profit, the aim of these tools is to draw in audiences and keep them coming back for more. Of course, this also implies a phase of evaluating these digital tools to best meet the needs and wants of users and the latest technological advancements.
---
A remote visit of the Musée de la Grande Guerre in Meaux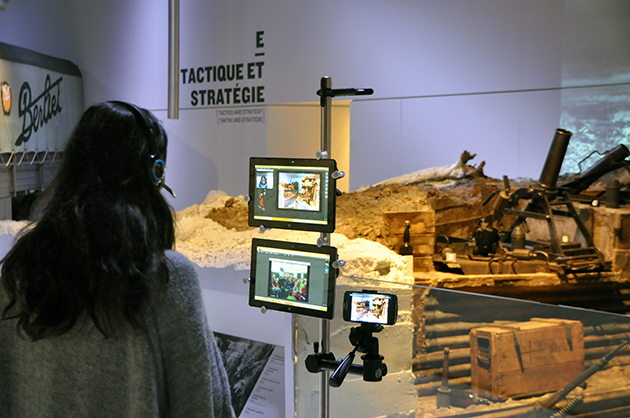 © Musée de la Grande Guerre, Meaux
In 2014, the Musée de la Grande Guerre in Meaux started to offer school groups a guided tour of the museum dedicated to the Great War via a platform that students could access from the web as well as an interactive digital board (or video projector). Led by a cultural mediator, the visit takes in the whole of the vast permanent exhibition covering 3,000 square metres. Equipped with fixed cameras as well as cameras embedded in a moving support, the system was even designed to interact directly with the students on the other side of the screen. Remote guided tours were also organised for the general public during the pandemic.
---
The immersive audiovisual experience at the Mont-Faron Memorial
© Patrick Palmesani
A key national memorial overseen by the French ministry of the armed forces and situated in the mountains around Toulon (Mont-Faron), the memorial to the landing and the liberation of Provence has had a new museum since 2017. The permanent exhibition is composed of various innovative devices including a larger-than-life immersive audiovisual installation. On a big screen 17 metres long, this educational film immerses visitors in the heart of the combats, from the first day of the landing to the liberation of Provence. This 10-minute immersive experience projected simultaneously on to multiple screens is designed to help viewers understand the challenges and the military events that led up to the liberation of Provence.
---
The InstaLive from the Mémorial de la Shoah
© Photo Florence Brochoire/Mémorial de la Shoa
During the consecutive lockdowns, the Mémorial de la Shoah decided to keep up its cultural programme by adapting it to the communication channels not compromised by the pandemic. Along with conferences held over Zoom and YouTube and films broadcast on its website, the Holocaust museum live-streamed some thirty or so virtual events (InstaLives) where prominent figures were invited to read aloud texts from the archival collections. The programme was such a success that it has become an occasional fixture in the museum's calendar.
Author
Lise Denis - "Remembrance tourism" unit at the Directorate for Heritage, Remembrance and Archives (DPMA)