Thiepval Visitor Centre,
Détail gravé et entouré de lauriers. - Vue du mémorial côté cimetière © Ecpad
You can see the Thiepval Memorial (Mémorial Franco-Britannique) and 45-metre-high Ulster Tower (Tour d'Ulster), the Irish monument commemorating the Battle of the Somme, from miles around.
Thiepval hill, village and (now disappeared) chateau - along with Hamel - were one of the German defence lines' strongholds north of the British flank in 1916. This natural bastion was protected by the Ancre marshlands below and by numerous deep tunnels underground. The Leipzig Salient - as this mainstay was called - saw the British Forces endure catastrophic losses on 1 July that year: Britain lost 58,000 troops (20,000 of whom died) in what became the biggest tragedy in Great Britain's history - and an event that will always be associated with Thiepval. Fighting for control over Thiepval began on 1 July and ended on 26 September 1916.
The 36th Ulster division controlled the area from the skirts of Thiepval Forest to the village of Hamel. And it was the only division that fulfilled its objectives that 1 July. But those ill-fated soldiers got caught between the advancing British artillery and enemy machine-gun fire when German gun crews emerged from the underground passageways in Souabes redoubt. That division lost more than 5,500 men in a few hours and had to be evacuated the following morning.
Thiepval Visitor Centre opened on 1 July 2004, by the Great War's most emblematic and busiest memorial. The Somme General Council and the Thiepval Project group (which ran a fundraising drive across Great Britain) worked together on this project, which likewise secured European Union funding. This centre counts a number of amenities (an information desk, shop, projection room, vending machines and toilets) and an exhibition area casting light on the Battles of the Somme and on the events that befell Thiepval throughout WWI. There are also displays presenting the CWGC (1), Lutyens, reconstruction work, and the debt of remembrance. Open daily from 10:00 am to 6:00 pm 1 May through 30 November and from 9:00 am to 5:00 pm 1 December through 30 April. Closed mid-December through mid-January.
This troubadour-gothic style tower was erected in 1921 following a public fundraising drive. It is the exact replica of the tower on the 36th Ulster Division's training grounds outside Belfast. (The 36th Ulster Division was trapped in German and British crossfire on 1 July 1916). It is Ireland's monument commemorating the Battle of the Somme and a memorial to all the Ulster soldiers killed during the Great War. Visitor facilities on site. In the park, you will find a plaque that the Royal Irish Rangers laid to the memory of the 36th Ulster Division soldiers and to the nine Victoria Crosses. At the back of the park, you will also find a gate leading though to a smaller memorial to the Irish of the Orange Institution, inaugurated in 1994.
Overview You will find a visitor information centre, an audiovisual library, a shop and a cafeteria at Ulster Tower. Open Tuesday through Sunday from 10.00 am to 5:00 pm (and 10.00 am to 6.00 pm from 1 May through 30 September).
The British Government decided to erect this Memorial in 1932. It was designed by Sir Edwin Lutyens, an architect, in 1923. Its sheer monumental magnitude is the first thing that hits the eye. The great arch towers 45 metres above ground and stands on 16 pillars. It stands to the memory of the 73,367 British who died between July 1915 and March 1918 and have no known grave. Their names are engraved on white Portland stone under laurel wreaths listing the Battles of the Somme. This monument reminds visitors that the French and British armies fought side by side. At the foot of the memorial, facing the valley, you will find the Franco-British cemetery. There, 300 unknown British soldiers and 300 unknown French soldiers are buried as a sign that both countries sustained comparable losses. This cemetery was inaugurated on 31 July 1932 by the Prince of Wales in the presence of then French President Albert Lebrun.
Thiepval Memorial (Mémorial franco-britannique) 80300 Thiepval Phone +33 (0) 322 746 047 Fax +33 (0) 322 746 544 Ulster Tower (La Tour d'Ulster) 80300 Thiepval Phone +33 (0) 322 748 111 Fax +33 (0) 322 748 068 e-mail : sommeassociation@btconnect.com e-mail : teddy.colligan@orange.fr Somme Tourist Board (Comité du Tourisme de la Somme) 21 rue Ernest-Cauvin 80000 Amiens Phone +33 (0) 322 712 271 Fax +33 (0) 322 712 269 e-mail: accueil@somme-tourisme.com The Somme Tourist Board will be happy to provide any information you might require about the Somme battlefields and Circuit du Souvenir (remembrance events, directions, transport, private and group tours, helicopter flights, accommodation, etc.). CDT also publishes a series of Memorial Tourism brochures.
Note: (1) The CWGC is responsible for the upkeep of graves of Commonwealth soldiers in the world.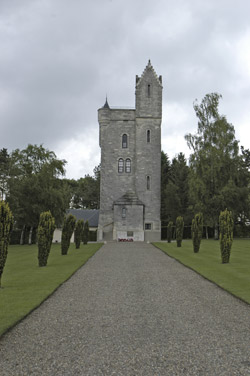 > Return to results
Practical information
Address
D151 80300
Thiepval
03 22 74 60 47
Weekly opening hours
Ouvert tous les jours du 1er mai au 30 novembre de 10h à 18h et du 1er décembre au 30 avril de 9h à 17h. Fermé de mi-décembre à mi-janvier.
Read more
Related articles
Commemorative sites