Spahis Museum in La Horgne
Spahis Museum in La Horgne. ©jleporcq
This museum is dedicated to the history and important contribution of the Spahis in France's military past.
Set up on the initiative of the Spahis Association, the Spahis Museum in La Horgne (Ardennes) shows the importance of the North African troops, and the Spahis in particular, in French military history.
Its site also has significance. Between 13 and 15 May 1940, in the village of La Horgne, the 3rd Mounted Spahis Brigage, held back the 1st Armoured division of the German army in Gudérian.
The museum is split into six key displays:
Horses, man's bestfriend, in life and at death; the men in the Spahi regiments, their origins, culture and different faiths; the sociability of the Spahis who forged a commendable community; the Ardennes in 1940 and the start of the Second World War; the Battle of La Horgne, a dramatic but symbolic episode in the missions undertaken; the memory and recognition of the sacrifice of these soldiers.
The museum also displays fighting uniforms and ceremonial dress of the Spahis, an officer's saddle, a variety of everyday objects used by the Spahis, weapons and military decorations.
Opening times
Saturday, Sunday and public holidays from 15 May to 15 September.
Every day in Jult and August from 10 am to 12 pm and 2-7 pm.
History and Learning Centre – Spahis Museum
08430 La Horgne
Tel: +33 (0)3 24 35 68 42 / 24 57 32 04
Le Burnous – Spahis Association
18, rue de Vézelay 75008 Paris, France
Email: le.burnous@wanadoo.fr
Sites and sources: http://crdp.ac-reims.fr ; http://legioncavalerie.free.fr ; http://perso.wanadoo.fr/le.burnous ; http://www.ardennes1940aceuxquiontresiste.org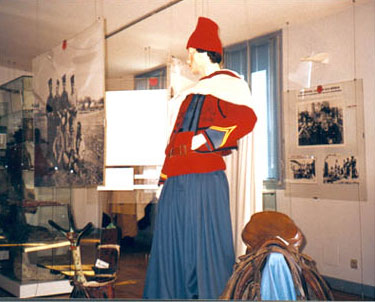 > Return to results
Practical information
Address
8430
La Horgne
03 24 35 68 42
Weekly opening hours
From 15 May to 15 September: Saturdays, Sundays and public holidays Every day in July and August from 10 am to 12 pm and 2-7 pm.
Read more
Related articles
Commemorative sites