Chestres National Military Cemetery in Vouziers
Nécropole nationale de Chestres à Vouziers. © Guillaume Pichard
Pour accéder au panneau d'information de la nécropole, cliquer ici
The Chestres National Military Cemetery contains the remains of 2,902 soldiers and civilian casualties who died during the two World Wars. The cemetery was created in 1919 after the battles of Vouziers in 1918, and was expanded between 1922 and 1935 to take bodies exhumed from temporary cemeteries and isolated graves in various municipalities in the Ardennes department.
From the First World War this cemetery holds 2,484 French soldiers including 1,337 in an ossuary, 110 British soldiers, 282 Czechoslovakian soldiers including 122 in an ossuary, 124 Russian civilian prisoners, ten Belgian civilian prisoners and three British. This national military cemetery is also the resting place of two soldiers who died for France during the Second World War.
There is a monument in the cemetery to two Czechoslovakian soldiers. This monument, erected in memory of the soldiers in 1925, bears an epitaph in Czech that means: "To the memory of the legionnaires of the 21st and 22nd Czechoslovakian regiments who fell in 14-18 alongside their allied comrades in arms fighting for Freedom".
The cemetery is next to a German cemetery where 1,843 soldiers who fell in battle in the summer of 1914 and died in hospital in Vouziers, or who died during the offensives in September and October 1914, are buried.
The municipal cemetery in Vouziers has a military section containing the remains of French and Russian soldiers, along with one British and one Romanian soldier. Among these soldiers lies aviator Roland Garros in a private grave surmounted by a monument erected in his memory.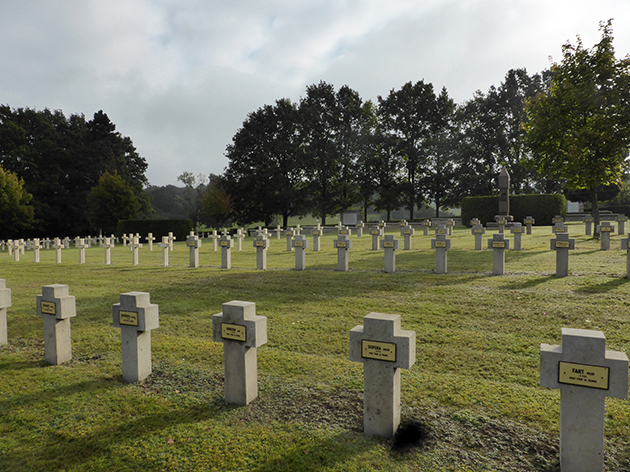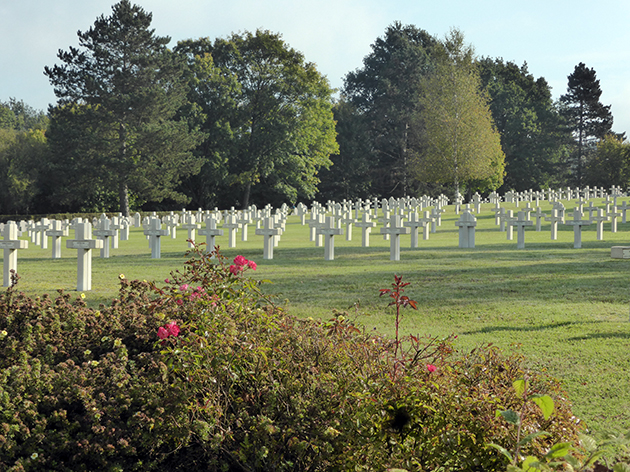 > Return to results
Practical information
Address
Vouziers
À 30 km de Rethel. À la sortie nord de Vouziers, sur la D 947

Weekly opening hours
Visites libres toute l'année
Eléments remarquables
Monument aux morts des 21e et 22e régiments tchécoslovaques 1914-18
Read more
Read more
Office de tourisme de Reims
2, rue Guillaume Machault
51100 Reims
Tél : 03 26 77 45 00