Vailly-sur-Aisne national cemetery
Vailly-sur-Aisne cemeteries - British on the left and French on the right. Source: SGA/DMPA - JP le Padellec
This cemetery mainly houses the bodies of soldiers who fell in the Chemin des Dames area.
Vailly-sur-Aisne national cemetery is located beside the D925 road, adjoining a British cemetery. On the site rest mainly the bodies of soldiers who fell in the Chemin des Dames area. Due to its location next to a first aid post, it was used as a cemetery as early as 1917, following the Nivelle offensive. Work was carried out on the cemetery between 1922 and 1925 in connection with projects to bring together bodies buried at Nanteuil-la-Fosse, Jouy, Allemant, Laffaux and Bois-Morin.
The cemetery covers an area of 9,141m² and is located 13km east of Soissons and 18km south of Laon. It brings together the bodies of 1,576 French service personnel, including 17 from the Second World War, in individual and grouped graves.
There are two monuments on the site. One of them, erected by the National Union of Veterans of Vailly-sur-Aisne, is dedicated to "the memory of our comrades who died for France". The other was built in homage to Félix Germain Jacquinot of the 120th infantry battalion who died for France on 8 July 1917 and to the memory of his comrades, all of whom lie in the cemetery: "Jacquinot Félix Germain, born in Villery (Aube) on 15 June 1895, awarded the Military Cross, sergeant in the 120th infantry battalion, 3rd company, killed at Chemin des Dames (Panthéon battle) on 8 July 1917".
British Cemetery
Moving towards the Marne front, the British 3rd division crossed the Aisne River at the village of Vailly-sur-Aisne on 12 September 1914.
The village had fallen under German control in 1915, despite determined allied resistance. It was taken back at the start of the Nivelle offensive in the Chemin des Dames area on 18 April 1917. It was lost again in June 1918 during the imperial counter-offensive, and freed on 15 September 1918. Due to the heavy price paid from the time hostilities began, once the war was over the British decided to site a military cemetery at Vailly-sur-Aisne, close to the French national cemetery.
Most of the service personnel buried on the site were killed in September 1914, while a few others gave their lives for freedom in 1918. There are 677 bodies: 674 British, 1 Canadian, 1 German and 1 French. To date, 328 graves remain anonymous. The Vailly-sur-Aisne British cemetery is run by the Commonwealth War Graves Commission.

Direction interdépartementale (D.I.)
Chef du secteur Nord-Pas de Calais
Cité administrative
Rue de Tournai 59045 Lille Cedex
Tel: +33.(0)3.20.62.12.39 Fax: +33.(0)3.20.62.12.30
Email: diracmetz@wanadoo.fr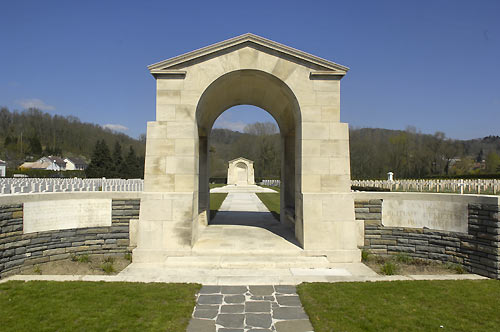 > Return to results
Practical information
Address
2370
Vailly-sur-Aisne

Weekly opening hours
Accès libre
Read more