La Caverne du Dragon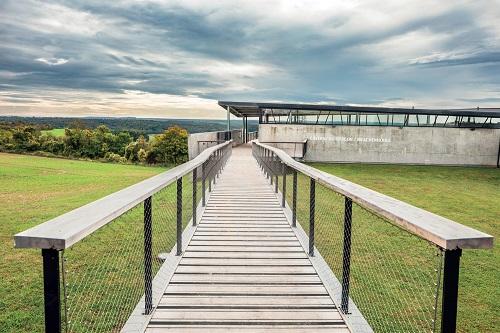 La Caverne du Dragon. Source: http://sapigneul.superforum.fr/©beatrice
La Caverne du Dragon, Oulches la Vallée Foulon.
Nicknamed the Dragon's Cave ('Drachenhöhle') by German soldiers, this former quarry dates back to the 16th century and was operated until the 19th. In January 1915, German units began converting it into a complete underground barracks with both firing and command posts.
But the cave was much more than that; it provided the soldiers with a haven of peace, a place where they could rest and relax away from the fighting above ground. It included dormitories, a first aid post and a chapel. It was fitted with electricity and water, for basic comfort and hygiene. From mid-September to 2nd November 1917, German and French troops both lived in the cave. Walls built during the German Occupation to prevent access to the cave and defend against gas attacks separated the two sides inside the cave.
The new building overlooks the Aisne Valley, offering breathtaking views. Converted into a Remembrance Museum, the Dragon's Cave recreates the daily lives of the soldiers through modern animation methods, objects, sounds, videos and archive images. Now enlarged and brought to life by the staging design, the Cave's secrets are ours to share.
The Dragon's Cave
Chemin des Dames 02160 Oulches-la-Vallée-Foulon
Tel.: +33 (0) 3.23.25.14.18 Fax: +33 (0) 3.23.25.14.11
E-mail :caverne@cg02.fr Visiting dates and times
The Dragon's Cave can only be visited as part of a guided tour.
Reservations are strongly recommended for weekends and public holidays.
Opening times
February - December: 10am - 6pm
July and August (every day): 10am - 7pm
Tours begin every half-hour:
February - December: 10am - 4.30pm
July and August (every day): 10am - 5.30pm
Length of tour: 90 mins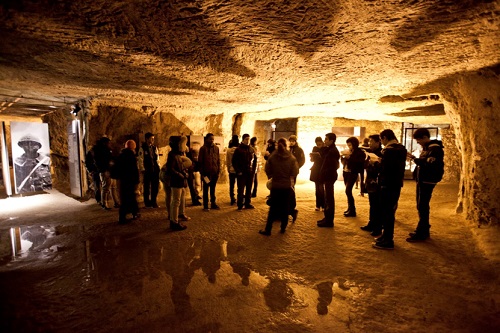 > Return to results
Practical information
Address
Chemin des Dames RD 18 CD 2160
Oulches-la-Vallée-Foulon
03.23.25.14.18
Prices
Adultes : 6€ Jeunes (de 6 à 18 ans) : 3€ Militaires, enseignants, étudiants, demandeurs d'emploi : 3€ Passeport famille (2 adultes et 4 enfants maximum) : 15€ Gratuit : Anciens combattants, handicapés, enfants de moins de 6 ans, membres du Conseil International des Musées (ICOM), journalistes, adhérents de l'association française des conservateurs
Weekly opening hours
De février à décembre : 10h à 18h En juillet et en août ( 7j/7 ) : 10h à 19h
Fermetures annuelles
Tous les mardis matin
Read more