The citadel of Lille
Vue aérienne de la citadelle de Lille. Source : Photo ECPAD
The citadel of Lille and the museum of the sedentary gunners.
Known as the queen of citadels, the citadel of Lille was the first great personal creation of Vauban. Started in 1670, it is in the shape of a regular pentagon, reinforced with powerful interior bastions, from which the buildings are positioned according to a radial layout with a large central courtyard. A much cherished part of Vauban's court, this showcase fortification can be visited by contacting the Tourist Information Office. Of special interest are the Royal Gate and the Arsenal.
On leaving the citadel and going straight ahead in an easterly direction, via the Boulevards following the old fortifications destroyed during the Second Empire, not to be missed are the relief maps of the 17th century towns, including that of Lille, at the palais des Beaux-Arts and, further on, what remains of Fort Saint-Sauveur in the square du Réduit, not far from the Porte de Paris built by a man from Lille, Simon VOLLANT, a partner of Vauban, as a tribute to Louis XIV. Close by, the remains of the Noble Tower, erected by the Duke of Burgundy, Philippe le Hardi. Around Lille, the forts of Bondues to the north and Seclin to the south are good examples of so-called Séré de Rivières fortifications.

This historic monument, now owned by the Ministry of Defence, belongs to a Culture and Defence protocol, signed on 17 September 2005. Click here to see the list of other buildings...
Office du Tourisme de Lille Tel: +33 (0) 320 30 81 00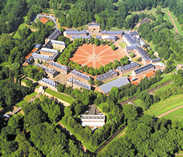 > Return to results
Practical information
Address
avenue du 43ème régiment d'infanterie 59000
Lille
03 28 36 13 50
Weekly opening hours
Accessible toute l'année
Read more