Condé sur l'Escaut
Condé sur l'Escaut, the ramparts and the étang de Chabaud Latour. Source: http://lesjoyeuxgodillots.fr
The fortifications of Condé sur l'Escaut.

Only some 350 m of the medieval walls on either side of the Vautourneux Gate remain, comprising earthen ramparts doubled with a ring of towers and curtain walls that protected Condé until the middle of the 17th century. On one side, at the two ends of the earthen rampart wall, Archers Tower and Plovière Tower overlook the Nervien ditches. On the other side, the less impressive wall was defended by the Capucins Tower, rebuilt in 1623 and equipped with cannon firing ports strangely placed at ground level. Further on, the Touquet bartizan is set in an inside corner. We should also mention the so-called "Arsenal" fort and the Hotel de Bailleul, dating from the 15th century, with 4 turrets.
La fortification bastionnée remonte à l'époque des Pays-Bas, des conquêtes espagnoles et la décision prise en 1654 d'ériger la cite en place forte pour faire face à Louis XIV. Les Espagnols commencent à établir une fortification bastionnée au nord puis au sud et au sud-est. En 1674, les travaux étaient terminés, bastions, courtines, fossés et glacis, tout cela en terre, il est vrai mais en 1676 les quatre principaux bastions étaient muraillés.
Après la prise de Condé par Louis XIV en 1676, des améliorations sont apportées par Vauban : construction de contre gardes, renforcement de la redoute du Jard mais surtout il s'employa à murailler ce qui ne l'était pas encore. Le canal du Jard servait en partie de fossé de fortifications, en partie de canal d'inondation.
The bastioned fortification dates from the Netherlands period, the Spanish conquests and the decision taken in 1654 to make the city a stronghold against Louis XIV. The Spaniards began with a bastioned fortification to the north, and then to the south and southeast. The work was completed in 1674, with bastions, curtain walls, moats and glacis, all in earthenwork, but in 1676 the four main bastions were walled off.

Vauban made improvements after Condé was taken by Louis XIV in 1676, building counterguards, reinforcing the Jard redoubt, but he especially worked to build walls in areas that had not yet been walled off. The Jard Canal was partially used as a fortification moat and partially as a flood canal.

Today there remain eleven hectares (27.5 acres) of fortifications including the Jard, Solre, la Teste (or Royal) and Tournai bastions with ravelins and counterguards. Under the glacis of the Tournai ravelin there are countermines dug by the Austrians in 1794. The stronghold was decommissioned in 1901 and dismantled in 1913. Walking paths have been laid out to visit the ramparts and the Tourism Office organises guided tours. The city is a member of the association for fortified cities of the Nord-Pas-de-Calais region.


Valenciennois Tourism Office
"Le Beffroi" 26, place Pierre Delcourt 59163 Condé sur l'Escaut
Tél : 03 27 28 89 10
Fax : 03 27 28 89 11
Courriel : otduvalenciennois@wanadoo.fr
Quizz : Forts and citadels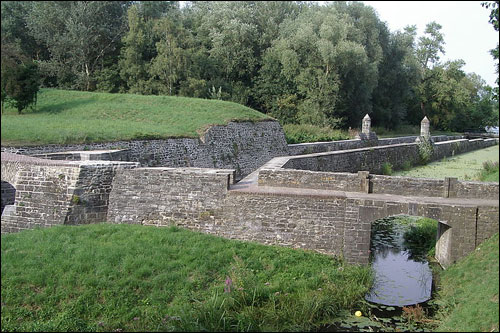 > Return to results
Practical information
Address
59163
Condé-sur-l'Escaut
Tél : 03 27 28 89 10Fax : 03 27 28 89 11
Weekly opening hours
Accessible toute l'année
Read more