Entreprise Marius Berliet et Fils

CBA, camion 3,5 tonnes Berliet,1913. Source : conservatoire du Montellier
Corps 1
Marius Berliet was born in 1866 in the industrial quarter of Croix-Rousse. His father's family came from Nord Dauphiné, where countless generations had worked as farm labourers. His grandfather left the countryside in the early 19th century and found a job as a tulle worker in Lyon. His father set up a small fabric workshop which made hat linings. His mother, Lucie Fabre, was from the south.
The Berliets and the Fabres both belonged to the Petite Église, a Catholic denomination which did not accept the terms of the Concordat of 1801. Marius was the oldest of seven children.
In 1881, having completed his schooling and been apprenticed to a weaver, a fifteen-year-old Marius Berliet began working in his father's workshop. He took night classes in mechanics and English at the Société d'Enseignement Professionel du Rhône. Aged 24, he added synthetic leather and fabric embossing to his father's activities, and invented a ribbon-winding machine.
Obsessed with mechanics, he built his first motor in 1894 and his first motor-car in 1895. In 1899, he bought a premises of 90 sqm at 56 rue Sully, Lyon; then, in 1900, he rented a workshop of 450 sqm at 1 rue Paul-Michel Perret. In 1902, he purchased the Audibert and Lavirotte factories (5 000 sqm), which would become the Berliet plant of Monplaisir.
Corps 2
Marius Berliet in 1915, aged 39. Source: Fondation Berliet
In 1905, the sale of the licences for three motor-cars - 22hp, 40hp and 60hp - to the American Locomotive Company (Alco) gave him the means for rapid industrial expansion. The steam locomotive manufactured by Alco became the Berliet emblem. The School of Apprentices was founded in 1909. Exports accounted for 50% of sales in 1912. That year, a German crew won the Monaco rally in a Berliet production model. In 1913, 3 500 cars were produced by the Monplaisir plant, which occupied an area of 48 000 sqm.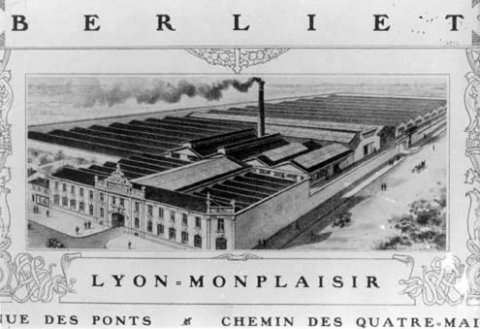 The Lyon Monplaisir plant. Source: Fondation Berliet
In 1914, Berliet produced 6 000 shells per day, then lorries (40 CBAs per day in 1916) and Renault tanks (1 050 in 1918).
In 1916, Marius Berliet bought 400 hectares of land in Vénissieux/Saint-Priest; within two years, he had up and running an integrated manufacturing plant, which did everything from steel production to vehicle assembly.
Despite filing for bankruptcy in 1921, the firm, which had become a public limited company (société anonyme) in 1917, got back on its feet, switched to diesel engines in 1930, launched the first Saharan expeditions (1926-32) and moved over to the exclusive production of heavy goods vehicles. During the Second World War, Berliet produced wood-gas-powered vehicles for the southern zone up until late 1942; after that, the occupier treated it like any other manufacturer in the northern zone. Despite its political significance, the firm was returned to its owners in 1949, the year of Marius Berliet's death.
In keeping with the principles of the Petite Église, he chose the head of household who would succeed him: his second youngest child, Paul, born in 1918. Paul took the reins in 1950, together with Émile Parfait, chairman of Automobiles Marius Berliet.
From 17 lorries per day in 1950, production rose to more than 120 in 1974.Berliet focused its efforts on exports within Europe and on developing a policy of industrialisation in developing countries to cater for their own domestic demand, from 1958 onwards. Key events include: the founding of Berliet Algeria in 1957 and the opening of its first assembly line the same year; the founding of Berliet Morocco in 1958; technology transfer in China for the manufacture of four kinds of heavy goods vehicles in 1965; a turnkey contract for a bus factory in Cuba in 1969; a turnkey contract for the manufacture of a range of seven vehicles and the construction of an industrial complex in Algeria in 1970 (an area of 300 hectares, employing 10 000 people); a contract for the production of the PR 100 bus in Poland and the construction of a plant to manufacture 25 units per day in 1972, accompanied by a large-scale training programme.
Meanwhile, a regional decentralisation policy was successfully implemented, involving the construction of a number of plants within a 60 km radius of Lyon:
an assembly plant in Bourg-en-Bresse (Ain), in 1964; in Saint-Priest (Rhône) and Andrézieux-Bouthéon (Loire), in 1970, plants for the manufacture of axles and gearboxes; in Chambéry (Savoie), in 1971, for the production of fire equipment; and in Arbresle (Rhône), also in 1971, for small mechanical parts.At the same time, a policy of streamlining methods and processes was implemented across the company.
Two strategic decisions marked the 1960s: in 1962, a research centre was set up for product management; and in 1967, a capital agreement signed with the Michelin Group led to the transfer of Citroën lorry production to Automobiles M. Berliet.
In 1975, Automobiles M. Berliet had a workforce of 24 000. It was taken over by State-owned Régie Renault. In 1978, Berliet became Renault V.I. after taking over Saviem. In 1980, Renault abandoned the Berliet and Saviem brand names.