Félix Eboué
1884-1944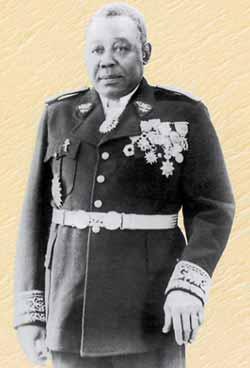 Félix Eboué. Photo DMPA
Adolphe Félix Eboué was born on 26th December 1884 at Cayenne (in Guiana), fourth in a black family of 5 children. His father - originally a gold-washer - ran a grocery from 1898 onwards with his wife. In 1901 he received a limited scholarship to continue his education in Bordeaux. Achieving his baccalaureat in 1905, he attended the colonial school in Paris from where he graduated in 1908. Very quickly he became attracted to black Africa and its civilisations from which he derived his Creole status. He thus became interested in the administration of the African colonies, and in 1909 he was appointed Chief Administrator in Oubangui-Chari (now the Central African Republic) where western influence was not yet complete. He remained in the post until 1933, frequently returning to Guiana to spend his leave. There he married Eugénie Tell in 1921. In Black Africa, Félix Eboué developed his own brand of colonial policy, attempting to reconcile modernisation of material life, whilst maintaining African culture. This explained his support for the production of new crops such as cotton and the development of road and rail infrastructure. At the same time he fought to preserve food crops, learned local languages and extended his research into traditions...
A supporter of the association - and not assimilation - of colonised peoples, he frequently clashed with his superiors who were unimpressed with his membership, in 1928, of the Ligue des droits de l'homme (Human Rights League). In fact, Félix Eboué wanted to strike the delicate balance of being both a strict colonial administrator and an uncompromising humanitarian. In 1934, he moved to French Sudan (now Mali). With the support of the black élites, he strove to develop the banks of the Sudan and encouraged the nomadic peoples to adopt a sedentary lifestyle cultivating the land. In between times, in 1932 and 1933, he was Secretary-General of Martinique, where he sought to develop the island and improve conditions for the worst off and reduce antagonism between White, Mixed Race and Black peoples.
Recalled from Sudan, he was given responsibility in 1936, for applying the policy of the Front Populaire in Guadeloupe. Finding this divided island in crisis, he opened negotiations and introduced a plan to provide credit-assistance, professional training, the building of housing, and to clean up public finances. On 4th January 1939, he was appointed Governor of Chad, a new and newly-pacified colony. Aware of the country's strategic importance, with the Italian threat in the region becoming clearer, he began major infrastructural development. On 6th June 1940, news of the defeat of the French army and the armistice reached Fort-Lamy. General de Gaulle's appeal several days later was also heard. In Brazzaville, after initial hesitation, Boisson, the Governor-General of French Equatorial Africa, pledged allegiance to Marshall Pétain. On 29th June, Eboué, who viewed the armistice as depriving his motherland of the values that he had always defended, cabled his determination not to implement its terms. Although its geographical isolation put it in a difficult position, Chad remained in a state of war. On 16th July, a telegram from General de Gaulle gave him the support of the leader of Free France, whose emissaries arrived on 24th August. On 26th, a proclamation declared Chad's alliance with Free France. Cameroon and Congo followed its example: Eboué had given the signal for African dissidence, providing outstanding support to the cause of the France that was still fighting.
Relieved of his post and condemned to death in absentia by the Vichy Government, Félix Eboué was appointed Governor-General of French Equatorial Africa on 13th November by General de Gaulle, and the seat of the Council for the Defence of the Empire. Chad became the base for French people re-entering the fighting: it was from here that Leclerc launched his legendary raid on Koufra in March 1942, and the F.F.L. (Free French Forces) attacked the Italians at Fezzan, then in Tripolitania. At the same time as providing supplies to these troops, organising a wartime economy and rebuilding trade, Eboué sought to bring civil peace to French Equatorial Africa, easing the tensions raised in 1940 between Gaullists and supporters of Pétain. At the same time, he was convinced that French rule could not be maintained in Black Africa in the long term without a profound reform of colonial policy.
This was the tone of his circular of 8th November 1941, promoting the observance of customary law, the association of African Councils of Administration, training for native top civil servants, the extension of contracts of employment, etc. In July 1942, General de Gaulle signed three decrees in a similar vein. On 30th January 1944, the leader of Free France opened a conference on the future of French African Territories in Brazzaville. Tackling topics dear to Eboué, such as native involvement in administration and the redistribution of regions according to ethnic affiliations, the conference's recommendations left him unsatisfied as they rejected any long-term autonomy, instead suggesting elected representation of the African Territories. Tired, Eboué took some leave and left in 1944 with his family - who joined him from France in 1942 - in Egypt. He used this opportunity to work on diplomatic relations between Egypt and the provisional government of the French Republic. On 17th May 1944, he died after suffering a pulmonary embolism. On 19th May 1949, Félix Eboué's ashes were transferred to the Panthéon in Paris. At the ceremony, Gaston Monnerville, President of the Senate, recalled that "it was a message of humanity that guided Félix Eboué, and all those of us who fought in the Resistance overseas, at a time when brutish fanaticism threatened to extinguish the light of the spirit, and where freedom was at risk of falling like France." Félix Eboué's memory is today honoured through several monuments and commemorative plaques. Furthermore, in Paris, a Metro station is named after him and Daumesnil.