La Ville-aux-Bois British cemetery
Cimetière britannique de La Ville-aux-Bois. Photo Garitan
This cemetery is situated at La Musette on the road to Berry-au-Bac and contains 564 graves.
This cemetery is located beside the N44 towards Berry-au-Bac at La Musette. Of the 564 bodies in the cemetery (563 British and 1 from New Zealand, and additionally a British pilot and a French soldier from the Second World War), 413 have not been identified. The cemetery was constructed after the Armistice by bringing together the graves, isolated or in small cemeteries, of soldiers killed in 1918.
The village of La Ville-au-Bois was captured in April 1917 by French troops during the bloody Chemin des Dames offensive. The sector was held by the British 50th Division on 27 May 1918 when the Germans launched their third spring offensive, which brought them to Château-Thierry. During the battle, the 2nd Devons and the 5th battery of the 45th Brigade of the Royal Field Artillery were wiped out and received the Military Cross for their sacrifices.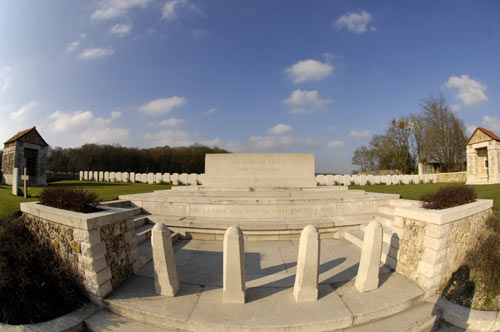 > Return to results
Practical information
Address
la Musette 2160
La Ville-aux-Bois-lès-Pontavert

Read more