Mametz
Le Mémorial à la division galloise. ©Michael Yare
The Welsh Division memorial in Mametz, the Dragon, depicts Wales protecting France from the Germans.
Welsh Division Memorial (Mémorial à la division galloise )
The 7th British Division skirted Fricourt Salient by the south and took the village on the afternoon of 1 July 1916. But the name Mametz has remained associated with the woods on the north east. This pocket of resistance handicapped efforts to advance eastward but fell (almost completely) into the 3rd Welsh Division's hands on 12 July 1916 after eight days of fierce fighting that took a brutal human toll. A plaque affixed to the memorial in 1994 remembers the Manchester regiment. The Welsh Division memorial. A memorial to the 38th Welsh Division was inaugurated on 11 July 1987, which sustained heavy losses between 3 and 12 July 1916 in Mametz Wood. The monument - a red dragon flapping its wings, spitting fire and crushing barbed wire - is of course Wales' emblem. This mythical creature is ambivalent; it may be good or evil, and angelic or demonic. At Mametz, it symbolizes Wales protecting France against the Germans.
Somme Tourist Board (Comité du tourisme de la Somme) 21 rue Ernest-Cauvin 80000 Amiens, France Phone +33 (0) 322 71 22 71 Fax +33 (0) 322 71 22 69 e-mail: accueil@somme-tourisme.com The Somme Tourist Board will be happy to provide any information you might require about the Somme battlefields and Circuit du Souvenir (remembrance events, directions, transport, private and group tours, helicopter flights, accommodation, etc.). CDT also publishes a series of Memorial Tourism brochures.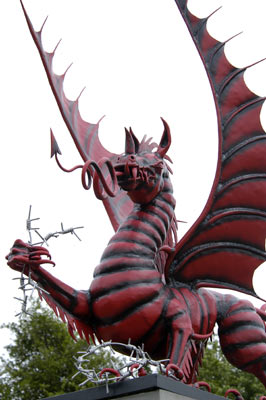 > Return to results
Practical information
Address
80300
Mametz
03 22 71 22 71
Weekly opening hours
Accessible toute l'année