Mayenne Deportees Memorial
©Mémorial des Déportés de la Mayenne
The programme of upcoming events at the Mayenne Deportees Memorial (starting in October 2020).
Entitled Destins Brisés (Broken Destinies), this original programme will look at the Holocaust, the Jews arrested and deported from Mayenne during the Second World War, and antisemitism. A series of public talks and special events on these themes are planned for later in the year and 2021. Poster - Presentation booklet - Programme
Currently showing: temporary exhibition "Imaginer pour résister" (Imagining to resist)

Remembrance is essential to building the present and the future. Learn about deportation through the first-hand accounts of the deportees of Mayenne.
---
View the Memorial's educational offering >>>
Opened in 2012, the Mayenne Deportees Memorial is a visitors' site that pays tribute to the people of Mayenne who were deported to the Nazi concentration and extermination camps during the Second World War.
This remembrance site is also a learning centre and a place of artistic expression and sharing.
The Memorial consists of two complementary spaces:
the Remembrance Area and the Vigilance Area. Objects collected from the camps, exhibitions, timelines, a wall of names, and written and oral accounts of deportees are presented in a unique and accessible setting.
Through the Memorial, the organisation that manages the site hopes to raise the awareness of present and future generations about the values of tolerance and respect, human rights and fighting all forms of discrimination.
The Memorial's permanent exhibition, "Souffrances et Espoirs" (Suffering and Hope), takes its title from the eponymous book by Mayenne deportee Marcel Le Roy. The exhibition is split into three parts: "Before arrest", "In the camp" and "Freedom and hope".
First-hand accounts, extracts from deportees' memoirs and photographs will take you down the long road to the hell of the camps. A tribute is also paid to the Righteous Among the Nations, who put their lives in danger to hide Jews. The last part of the exhibition looks at Europe and the Universal Declaration of Human Rights. This part is the link with the Vigilance Area, which seeks to raise people's awareness about current events.
Maps and timelines explain the context of the period and provide an introduction to the visit.
The Association pour le Mémorial de la Déportation organises a variety of activities (conferences, temporary exhibitions, readings, etc.) throughout the year.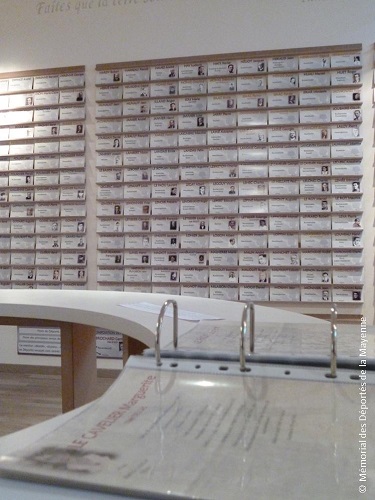 > Return to results
Practical information
Address
23 rue Ambroise de Loré - 53100
MAYENNE
02 43 08 87 35
Prices
Full price: € 5 per adult (unguided visit) or € 6 (guided tour) Young people and jobseekers: € 3 (unguided visit) or € 4 (guided tour) Adult groups: € 4 per adult (unguided visit) or € 5 (guided tour) Free for children under 12 May'N Pass: adults € 4.50, children € 2.50 Combo ticket with the chateau: €7
Weekly opening hours
Tuesday to Saturday and the first Sunday of the month, 2 pm to 6 pm
Fermetures annuelles
Bank holidays, Christmas holidays and in January (except for groups). Local tourist office: Halte Fluviale, Quai de Waiblingen - 53100 Mayenne - Tel.: +33 (0)2 43 04 19 37
Read more
Related articles
Commemorative sites