Battle of Colmar pocket Memorial Museum

© Musée Mémorial des Combats de la Poche de Colmar
The walls of the charming medieval city of Turckheim reveal nothing of the horrific battles which took place here towards the end of the Second World War.
Turckheim is set at the heart of the "Pocket of Colmar", the last bastion of Germany in French territory. From Mulhouse to the south of Strasbourg, from the Crête des Vosges to the Rhine, behind a front which stretched 100 miles, the battles that raged from November 1944 to February 1945 devastated the entire Alsace Plane and its foothills. After already waiting four years to be liberated, the population of Alsace were forced to show a further test of patience and sacrifice during these three months of warfare, aggravated by polar temperatures.
Today, an 18th century cellar used as a shelter by some Turckheim residents for 10 weeks, living without any water or electricity and sleeping on the floor, is now a unique museum in Alsace, dedicated to the liberation of the Colmar Pocket and all those involved.
Originating from a project started in 1988 (by the "memories and respect for the Battle for Freedom - Colmar Pocket - Winter 44-45" association and founded by young people with a passion for history), the Memorial Museum was inaugurated on 11 November 1993 and extended in 2001. Today it offers two exhibitions rooms with a total 300 sq.m of display space.
A museum for peace rather than war, the place celebrates the memory of all the civilian and military victims on whichever side they fought, in the name of a single value: liberty.
It presents a testimony to the several months of hell around Colmar, through the participants in this confrontation and the military equipment of the time. It is the only museum dealing with this theme in Alsace.
Visitors to the Memorial Museum can see a magnificent collection of objects (such as this authentic uniform once worn by Maréchal de Lattre), aeronautical equipment and a wide variety of weaponry, all on display in protective cases organised by theme. The origins of almost every piece exhibited is known and has allowed the history of each object to be retraced with great precision.
The soldier in combat is brought to life through faithful reconstructions in meticulous detail. The exhibition is complemented by many photos and posters as well as a film from the time which depict each phase of the battle, not forgetting the outcome for the civilian population.
The Battle of Colmar Pocket Memorial Museum is a cultural and educational centre founded with the intention of passing on a page of our local history and our national heritage to young people today and tomorrow. As such, the museum hosts a large number of school groups every year.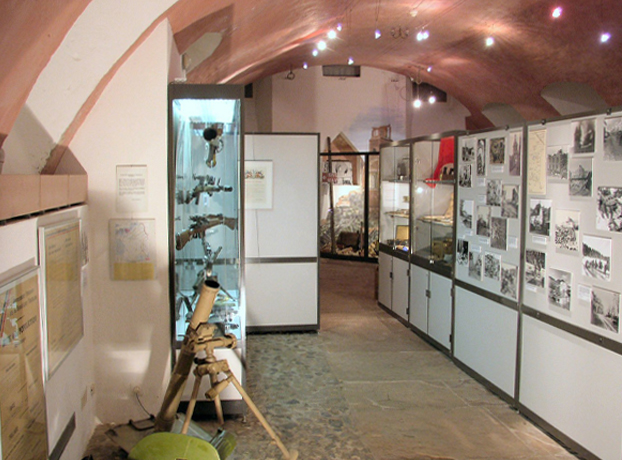 > Return to results
Practical information
Address
25, rue du Conseil - 68230
TURCKHEIM - mmcpcolmar@orange.fr - 03 89 80 86 66
03 89 80 86 66
Prices
ADULTS : € 4,0 CHILDREN : From 8 to 16 years old : € 2,0 Under 8 years old : free GROUPS : 20 people minimum : € 3,0 per visitor CONCESSIONS : Veterans, military, students, Ircos card holders, 'Gîtes de France', 'Guide du routard'....€ 3,0 Additional charge for audio guide : € 2,0
Weekly opening hours
Open from 1st April to 31st October OFF SEASON Monday to Saturday : 02:00 PM to 06:00 PM Sunday : 10:00 AM to 12:00 AM and 02:00 PM to 06:00 PM JULY and AUGUST Monday to Wednesday : From 02:00 PM to 06:00 PM Saturday and Sunday : From 10:00 AM to 12:00 AM and 02:00 PM to 06:00 PM
Fermetures annuelles
Group bookings available all year, please enquire.