Official opening of a French burial plot in Ethiopia
© Ambassade de France en Ethiopie
On 16 December 2018, three cenotaphs in memory of Free French airmen were unveiled by ambassador Frédéric Bontems, in the French plot of Gulele military cemetery, in Addis Ababa, Ethiopia.
Corps 1
In June 1940, many French airmen decided to go to Africa to fight for the Free French Forces. By 8 July 1940, three French squadrons had been constituted. Among them was the 1st Bomber Squadron, later nicknamed the Aden Squadron, which comprised two Martin bombers. The squadron was tasked with carrying out reconnaissance missions and attacks over Eritrea and Ethiopia, as part of the East African Campaign, which pitted Allied troops against Italian forces, between June 1940 and November 1941. From mid-July, the squadron was based in Aden, Yemen, from where it conducted its operations over Eritrea and Ethiopia. Sadly, on 8 September 1940, bomber 82 was shot down. Bomber 102, in turn, was brought down on 16 December 1940, while on a reconnaissance mission of the Italian airbase in Dire Dawa. This marked the end of the Aden Squadron.
© Ambassade de France en Ethiopie
In memory of the crew of the 102 who lost their lives on 16 December 1940, three crosses were installed in the military cemetery of the Ethiopian capital. The cenotaphs were set alongside the graves of the crew of bomber 82. As part of its policy of development of remembrance sites and military cemeteries, the Ministry of the Armed Forces Directorate for Heritage, Remembrance and Archives (DPMA) funded the installation of the crosses. Thus, 78 years on, all members of the Aden Squadron who were killed in action on 8 September and 16 December 1940 have finally been united in this French burial plot.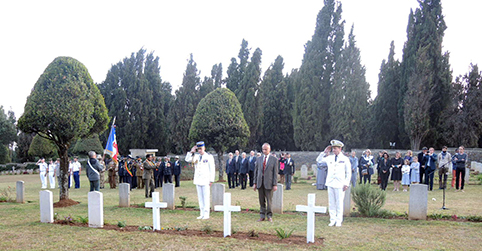 © Ambassade de France en Ethiopie
On 16 December, the three tombs were unveiled by the French ambassador to Ethiopia and the international relations officer of the French general staff. The ceremony was attended by representatives of the French community and French and Ethiopian patriotic organisations. As well as paying tribute to these early combatants of Free France, the ceremony also acknowledged the successes of the Free French Orient Brigade in the Horn of Africa between July 1940 and August 1941. The brigade will celebrate its 80th anniversary in 2020, and will be one of the main themes of the French embassy's defence mission activities over the next two years.
© Ambassade de France en Ethiopie
Corps 2
Ministry of the Armed Forces/DPMA/SDMAE/BAPI (Office for Educational Actions and Information) – Text by Enola Dallot