Seclin
Fort de Seclin. Source : https://fortseclin.jux.com
Seclin fort, cavalry and artillery museum.
Apart from the architectural masterpieces of the old hospital and the collegiate church, the town of Seclin also boasts a Séré de Rivières Fort that was part of the fortifications designed to protect the City of Lille and the surrounding area. But it could not keep pace with the development of late 19th century artillery and could not withstand the effects of the new projectiles. Occupying a commanding position in the Mélantois area, overlooking the valleys of the Marque and the Deûle, to the West it could rely on support from the Englos Fort above the Deûle and to the East on the fort at Sainghin en Mélantois that overlooked the Marque; but the distance of almost 10km between each of these forts was less than ideal in putting this principal effectively into practice. However, intermediate fortifications were supposed to link these forts and form advance strongpoints outside the Lille area: Enchemont, Vendeville, Noyelle, Houplin, Haubourdin (Moulin Neuf). To complete the system, mobile and fortified batteries were to be installed above the intermediate batteries that were protected by earth fortifications. The final fortifications were built in 1894. None of the required modernisation and finishing touches were carried out. This led, on 4th August 1914 to Lille being declared an open city.
After 1918, Seclin Fort was used to store artillery ammunition. Bondues was used as a barracks, and Englos as a fuel depot. In 1939, an anti-aircraft battery was stationed at Englos. Throughout the Second World War, these forts were the scene of resistance operations against the occupying forces, the history of which are recorded on stele. Seclin Fort has now been gradually and skilfully restored by the private owners, who have built up a collection of artillery and gun carriages.

Fort Seclin F-59113 Seclin Tel: +33 3 20 97 14 18 e-mail: museum@fortseclin.com Open: Weekends except holidays 2-6pm Other times by appointment (min. 5 people) Prices: Children €4, adults €5 Seclin Tourist Office Tel: +33 3.20.90.12.12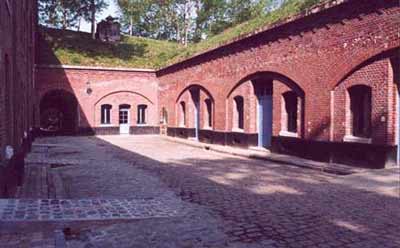 > Return to results
Practical information
Address
Chemin du petit fort 59113
Seclin
Tel : 03 20 97 14 18 La Maison du Tourisme de SeclinTel :03.20.90.12.12
Prices
Tarifs : 4 €/enfant - 5 €/adulte
Weekly opening hours
Week-ends sauf jours fériés 14h/18h Autres moments sur RDV (min de 5 pers)
Read more
Related articles
Bibliography