William Birdwood
1865-1951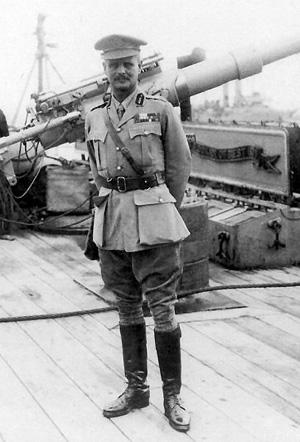 William Birdwood.
Source: Wikimedia Commons - copyright-free
William Ridell Birdwood was born in Kirkee in India on the 13th September 1865.
After studying at Clifton College in Bristol and at the royal military college at Sandhurst, in 1883 he began his career in the Royal Scots Fusiliers. Appointed to the cavalry in 1885, he served with the 12th lancers, the 11th lancers and the Viceroy's Bodyguard in India, where he took part in operations on the North-Western border. In 1899, he was posted to South Africa and General Kitchener's general staff, during the Boer war led by the colonists against the British sovereignty. Returning to India, he was promoted to Major General in 1911 and became Department Secretary in the Indian army the following year. In November 1914, Kitchener, then the British Minister of War, put him in charge of training an army corps of Australian and New Zealander troops, who underwent training in Egypt before being sent to the Western Front. This corps, known as Anzac (Australian and New-Zealand Army Corps), took part in its first operation on landing on the Gallipoli peninsula on the 25th April 1915, with the objective of taking control of the Dardanelles straits linking the Aegean Sea and the Black Sea via the Bosporus straits. During the campaign, he briefly replaced Ian Hamilton at the head of the Mediterranean Expeditionary Force, before being promoted to Lieutenant General in mid-November 1915 and taking command of the British army in the Dardanelles, then comprising Anzac, the 8th British corps and the 9th corps.
In March 1916, following changes within Anzac, he took command of the 1st Anzac corps, formed from the 1st and 2nd Australian divisions and the New Zealand division, which was sent to the French front. Made General on the 23rd October 1917, he was in charge of the Australian corps when, at the turning point of 1917-1918, the five Anzac divisions were combined into a single corps. He took command of the 5th British Army on the 31st May 1918, and led them in the last offensives, which gave victory to the Allies. At the end of the conflict, he commanded the Northern Army in India until 1925, when, promoted to the dignified position of Marshal he became Commander in Chief of the British army in India. On retiring from the army in 1930, he had aspirations of becoming Governor General of Australia, but was never to achieve the position. He died on the 17th May 1951 at Hampton Court Palace. In 1916, he was made Baron Birdwood of Anzac and Totnes in Devon and became a Peer in 1919. For services rendered during the First World War, he was a holder of the Cross of War and the Belgian Cross of War; he was decorated with the Order of the Crown by Belgium and the Order of the Nile by Egypt.