11 November 1918 commemorated around the world
Commemorative ceremony, with the French Ambassador to Belgium – Source: Website of the French Embassy in Belgium
For the 101st anniversary of the First World War armistice, France's overseas embassies organised or took part in commemorative ceremonies, which this year centred on tributes to those killed in overseas operations.
Corps 1
Like in France, ambassadors and consuls commemorated this day, which celebrates the victory of peace and remembers all those who died for France. At the French embassies, as in Cambodia, Ecuador or Lebanon, or before war memorials – as in Egypt, at the Old Cairo Cemetery, or Iceland, near the graves of French sailors in the old cemetery of Reykjavik – the French representatives paused in contemplation of the memory of these men. Local officials and representatives of the former belligerent nations, in particular Germany, the United States and Italy, were invited to these ceremonies. In Serbia, the French ambassador invited his foreign counterparts to a ceremony at the French cemetery in Belgrade, before going on to pay his respects at the Russian and British military plots. In Belgium and the United Kingdom, the French ambassadors decorated Belgian and British soldiers for their cooperation with France on military missions.
Meeting between students and veterans in Niger, as part of the commemorations – Source: Website of the French Embassy in Niger
These ceremonies are not only a means of sharing in remembrance with other countries; they are also a medium for passing on the memory of past events to young people. Some embassies held the ceremonies at the French lycées, for instance in Jakarta, Indonesia, or Baku, Azerbaijan. Many school classes were also invited to the different ceremonies, to read out letters, sing songs and lay wreaths at the memorials to the soldiers. In Niger, students of the French lycée and the military training school had the chance to meet veterans a few days before Armistice Day. At the event, organised by the French embassy, the students heard about the veterans' experiences, as part of their "duty to remember".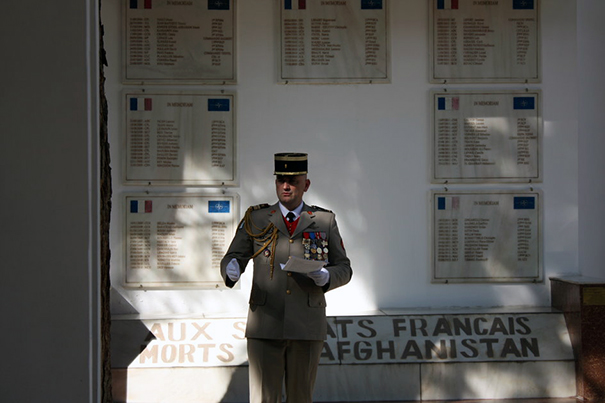 State secretary Geneviève Darrieussecq's speech is read out at the Armistice Day commemorations at the French Embassy in Afghanistan
Source: Website of the French Embassy in Afghanistan
This year, the ceremonies honoured those killed in overseas operations, following the inauguration that day, in Paris, of the Memorial to French soldiers killed in overseas operations. State secretary Geneviève Darrieussecq's message was read out by many ambassadors. In Afghanistan, where 90 soldiers were killed in operations, a glowing tribute was paid to them by French representatives.
Ministry of the Armed Forces/DPMA/SDMAE/BAPI (Office for Educational Actions and Information) – Text by Thomas Chevalier