The Château d'If
The chateau d'If. Source: ECPAD
Twenty minutes by sea off the coast of Marseille, on the smallest island in the Frioul archipelago, the island of If displays its three hectares of limestone rock...
Twenty minutes by sea off the coast of Marseille, on the smallest island in the Frioul archipelago, not far from the islands of Pomègues and Ratonneau, the island of If displays its three hectares of limestone rock. Until the 16th Century, If was a wild islet, an occasional refuge for pirates and smugglers, or fishermen caught out by storms. In 1516, François 1st became aware of the place's strategic importance and decided to build a fortress there as an outpost of the town, designed to control entry into the Phocean port. Work began in 1524 and was completed in 1531. The fortifications consisted of ramparts erected on the white rocks, and a keep flanked by three round towers, linked by high walls and equipped to house a defensive system composed of heavy artillery.
The structure still retains the oppressive appearance of a feudal chateau of pre-bastion craftsmanship, but it is definitely a fortress, most notably because of its corner towers, which are more compact than medieval towers. Housing canons whose range was no more than 150 metres, the château d'If could not fulfil its defensive duty during the siege of Marseille in 1536 by Charles Quint's troops. Having never experienced war, the fortress was converted into a state prison at the end of the 17th century. From 1689 onwards, many protestants died within the damp walls of its terrible dungeons, whilst more favourable conditions of imprisonment were offered to eminent prisoners, wayward women or the bad boys of the family, such as the young Mirabeau.
The insurgents of 1848, the communards: the château d'If held political prisoners before losing its prison status in 1890, when it was opened to the public. Today, within the compound's walls, commemorative plaques still evoke the memory of the thousands of protestants and political internees of 1848. Contrary to the legend, the Iron Mask and the Marquis de Sade were never incarcerated at the château d'If. Between myth and reality, the château d'If also conjures up images of Alexandre Dumas' "Count of Monte-Cristo", although José Custodio Faria and Edmond Dantès probably never stayed there. During the First World War, Germans and then French draft dodgers were detained there. Classified as a historic monument in 1926, the château was taken over by German troops during the Second World War.
Château d'If Ports Iles du Frioul 13000 Marseille Crossings Embarkation: 1, quai de la Fraternité - Old Port - Marseille Tickets available on the day from the ticket office. Reservations for groups by fax on + 33 (0) 4.42.82.33.48. Opening times 1st May to 31st August, every day from 9 am to 6.30 pm 1st September to 31st March, every day except Monday from 9 am to 5.30 pm 1st to 30th April, every day from 9 am to 5.30 pm Last entry depends on the timetable of the boat Closed: 25th December and 1st January Full (adult) price: 5 € Reduced rate (18 to 25 years old): 3,50 € Group rate (from 20 adults): 4,20 € Free up to and including 17 years old Marseille Tourist Information Office Tel. +33 (0) 4 91 13 89 00 - fax +33 (0)4 91 13 89 20 E-mail: info@marseille-tourisme.com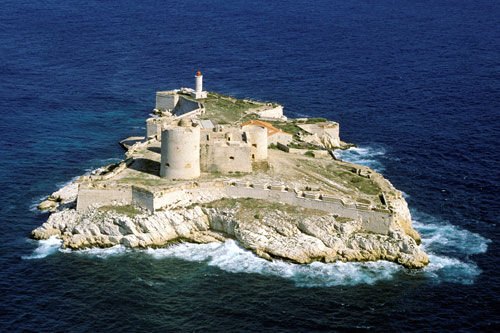 > Return to results
Practical information
Address
13001
Marseille
04 91 13 89 00
Prices
Plein tarif : 5,50 € Tarif réduit : 4 € Groupes adultes (+ de 20 personnes): 4,50 € Groupes scolaires (35 élèves maximum) : 20 € Gratuit : moins de 18 ans (hors groupes scolaires) 18-25 (ressortissants des 27 pays de l'Union Européenne et résidents réguliers non-européens sur le territoire français) Personne handicapée et son accompagnateur Demandeur d'emploi
Weekly opening hours
15 mai au 20 septembre, tous les jours, 9h40 à 17h40. 21 septembre au 14 mai, tous les jours sauf le lundi, 9h30 à 17h30.
Fermetures annuelles
Fermé le 25 décembre et le 1° janvier