Le Linge Memorial Museum
Trench at Le Linge battlefield. Source: "Le mémorial du Linge 1915" Association
Le Linge is a battlefield where a deadly confrontation took place between 20 July and 15 October 1915.
Le Linge ridge is located in the Alsatian Vosges mountains.
At a height of 1,000 metres, it separates the Orbey and Munster valleys, some twenty kilometres west of Colmar.
Designated a historic site by decree on 11 October 1921, it was one of the deadliest battlefields of World War I. During the conflict, the Germans had organised their defences along the crestline of Le Linge ridge to keep the French troops from advancing toward Colmar.
From 20 July to 15 October 1915, the Chasseurs Alpins, often between the ages of 19 and 20, launched an assault against this impregnable bastion. Gas shells and flamethrowers were used.
Some 10,000 Frenchmen and 7,000 Germans died during this period before the troops reached a standoff and remained facing each other until the end of the war in November 1918. The site that is visited today is a large rocky knoll, land with scattered shelters and crisscrossed by a network of fortified trenches, covered with heath and a few trees. The barbed wire of the period has not been removed and the whole is very well preserved.
It is hard to imagine that his superb site, with the northern tip of the knoll forming a rocky outcropping affording a magnificent view, was witness to such a slaughter. And yet hundreds of soldiers from both sides still rest here.
The Memorial Museum exhibits French and German objects found on the site: arms, munitions, relics and personal objects.
The showcases present of French and German fighters, models of the battlefield, period photographs, letters written by soldiers, and maps indicating tactical operations. Visitors can also view a video projection of period photographs.

Le Linge Memorial Association
86, route du général de Gaulle 68370 Orbey
Tel.: +33 (0)3 89 77 29 97
Fax: +33 (0)3 89 71 31 61
Access
The Memorial Museum and the Le Linge battlefield at Orbey are located near the Col du Wettstein "Nécropole Nationale française" on highway D11V1.
Opening hours
From Good Friday to 11 November: 9.00 am to 12.30 pm and 2.00 pm to 6.00 pm
Admission price
Adults: €3
Group (over 10 people): €2.50 / person
Under 16 years of age (accompanied by an adult) and military personnel in uniform: free admission
Primary and middle school students: €20 per class: free for two accompanying adults
High school students: €2.50 / person, free for two accompanying adults
Reservations are required for school groups, and an educational dossier can be downloaded at www.linge1915.com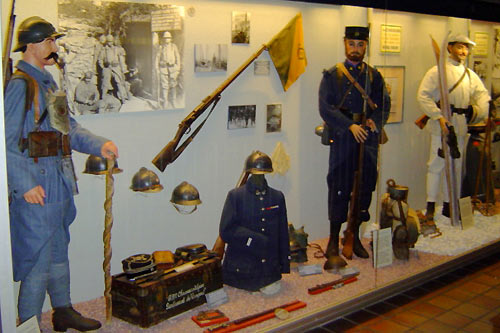 > Return to results
Practical information
Address
86 route du général de Gaulle 68370
Orbey
03 89 77 29 97
Prices
Adults: 3 euros Groups (over 10 people): 2.5 euros / person Under 16 years of age (accompanied by an adult) and military personnel in uniform: free admission
Weekly opening hours
From 6 April to 11 November: 9.00 am to 12.30 pm and 2.00 pm to 6.00 pm
Fermetures annuelles
From 12 November to 5 April
Read more