Saint-Hilaire-le-Grand National Cemetery
La nécropole nationale de Saint-Hilaire-le-Grand. © ECPAD
Pour accéder au panneau d'information de la nécropole, cliquer ici
Saint-Hilaire-le-Grand National Cemetery is home to Russian soldiers enlisted in Champagne. It is a major site in remembrance of the Russian Expeditionary Force.
Established in 1916, this military cemetery contains over one hundred graves. After WWI, it became a collective cemetery for Russian graves. Today, there are 915 bodies buried there, including 426 lie in the ossuary.
In his collection of short stories, Solitude de la pitié ("The Solitude of Compassion"), Jean Giono evokes his friend Yvan Kossiakoff, who lies in this national cemetery (tomb 372). According to him, this fighter was shot in July 1917 at the Chalons camp. But there is no evidence that any Russian soldiers were executed at that time. In all likelihood, Jean Giono imagined this execution with reference to the Russian uprising in La Courtine (Creuse).
On 16 May 1937, the French Front Veteran Officers Association, founded in 1923, together with Veterans of the Moroccan Division, opened a memorial chapel dedicated to the 4,000 Russian soldiers who died in France and Salonika (now Thessaloniki). The chapel, designed in Orthodox style by architect Albert Benoît, was built near the cemetery, which also houses a monument in homage to the Russian infantry of the Second Special Regiment.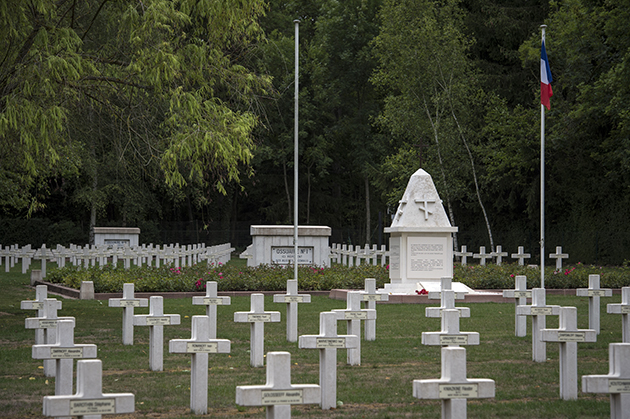 > Return to results
Practical information
Address
51600
Saint-Hilaire-le-Grand

Weekly opening hours
Visites libres toute l'année