Nécropole russe de Saint-Hilaire-le-Grand
Russian cemetery in Saint-Hilaire-le-Grand in 1928. Source: MINDEF/SGA/DMPA
The cemetery in Saint-Hilaire-le-Grand, in Marne, shelters the remains of Russian soldiers who fell on French soil during the First World War.
Set in the locality of L'Espérance in the village of Saint-Hilaire-le-Grand (Marne) and covering 3,412 m2, it contains 915 bodies (489 in graves, 426 in an ossuary). One of these graves holds a Russian sub-lieutenant from the 23rd Regiment of Foreign Volunteers, who died for France on 8 June 1940. Some hundred bodies were buried in 1916, and a further 30 in 1917.
Cette petite nécropole, conservée après la guerre, devint le cimetière de regroupement des sépultures russes.
De 1922 à 1934, environ 750 corps y furent transférés en provenance de Loivre, Hermon-ville, La Neuvillette, Cormicy, Châlons-sur-Vesle, Suippes, Sézanne, etc.
En 1957, 1960 et 1972, une dizaine de corps y furent encore ré-inhumés, dont 6 venant de Forbach (Moselle). En 1988, 35 autres corps exhumés à Charleville (Ardennes) du cimetière communal y furent enterrés.
Le 16 mai 1937, l'association des officiers russes anciens combattants sur le front français, fondée en 1923 et dont le président d'honneur était le général Gouraud, inaugura avec les anciens de la Division marocaine, dans la nécropole, une chapelle commémorative dédiée aux 4 000 soldats russes tombés en France et sur le front de Salonique. Cette oeuvre fut réalisée par l'architecte et peintre Albert Benois dans le style orthodoxe du XVème siècle.
Les cérémonies du souvenir regroupent toujours aujourd'hui les anciens combattants russes et français unis pour honorer les morts. Ils se recueillent dans la nécropole, chaque année, le dimanche de Pentecôte. Les militaires russes inhumés dans nombre de cimetières nationaux français sont des prisonniers de guerre capturés par l'ennemi à l'Est et ramenés en France pour effectuer des travaux forcés à l'arrière de son front. Bagnards soumis souvent à des conditions de vie inhumaines, ces malheureux soldats périrent par milliers.
Les principaux cimetières où ils reposent sont en Moselle, à Metz (1280), Thionville (692), Riche (158); dans le Bas-Rhin à Haguenau (122), Sélestat (38), Strasbourg (149), Wissembourg (221), Plaine (26); la Meuse à Brieulles (123), Montmédy (127) ; la Meurthe-et-Moselle à Labry (358), Pierrepont (493), les Ardennes à Sedan Saint-Charles (379), Rethel (213), Vouziers (124) ; le Nord : Asseyent (260), Cambrai (192), Valenciennes (207) ; l'Aisne : Cerny-en-Laonnois (54), Effry (281), Saint-Quentin (117), etc.

A Saint-Hilaire-le-Grand, près de la nécropole, existe un monument érigé durant la Grande Guerre sur les lieux de leurs premiers combats par les fantassins du 2e régiment spécial, et dédié à leurs morts. Sur l'une de ses faces, on lit : "Enfants de France ! quand l'ennemi sera vaincu et que vous pourrez librement cueillir des fleurs sur ces champs, souvenez-vous de nous, vos amis russes, et apportez-nous des fleurs".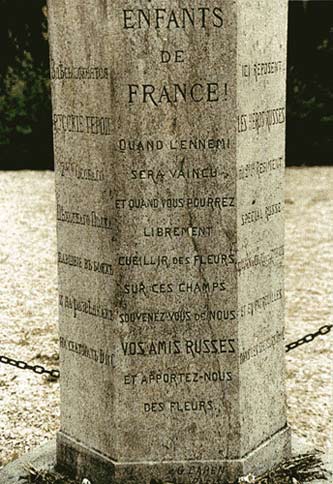 > Return to results
Practical information
Address
51600
Saint-Hilaire-le-Grand
Fax : 03.26.82.07.99
Weekly opening hours
Free admission
Read more