"Souain-Perthes-Les-Hurlus" National Cemetery
The French Foreign Legion Cemetery
La nécropole nationale de Souain-Perthes-Lès-Hurlus _ Cimetière de la Légion Etrangère. © ECPAD
Pour accéder au panneau d'information de la nécropole, cliquer ici
Souain National Cemetery - the French Foreign Legion Cemetery contains an ossuary holding the remains of 128 soldiers who died for France during the offensive that started on 25 September 1915.
Established in 1920, the ossuary-monument was built on the initiative of Mr Farnsworth, an American citizen, for the burial of his son. Having joined as a volunteer in the First Foreign Legion Regiment, he was killed, at the age of 24, on 28 September 1915. His body was buried in two mass graves (mass graves 234 – 235 in Forest U).
Thanks to the commitment and determination of many people, this monument, built of stone from the same quarry as that used to build the Arc de Triomphe in Paris, was erected in just six months and brought here by river and then transported along two completely ruined highways. On 3 November 1920, attended by Mr and Mrs Farnsworth, the ossuary-monument, designed by architect Alexandre Marcel, was consecrated by the Bishop of Chalons, Monsignor Tissier. Two black marble plaques commemorate the sacrifice made by the Legionnaires who enlisted to defend Republican values.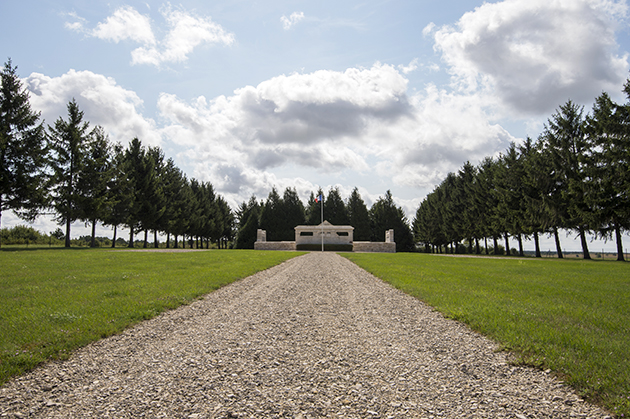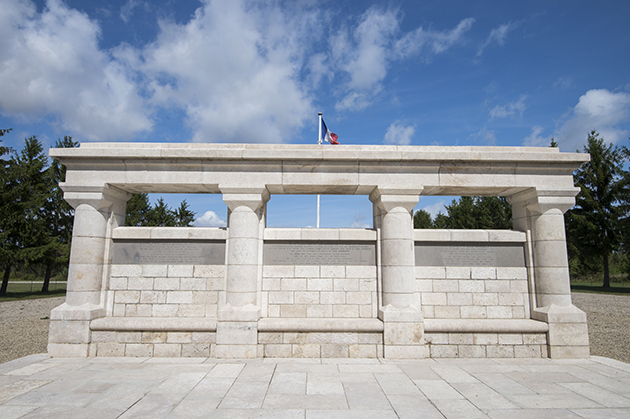 > Return to results
Practical information
Address
51600
Souain-Perthes-lès-Hurlus

Weekly opening hours
Visites libres toute l'année
Bereiten Sie Ihren Aufenthalt vor
Read more