Il y a 40 ans, Kolwezi40 years ago, Kolwezi
Chapeau
"Katangan rebels have taken over Kolwezi, President Mobutu has asked France to send troops. You need to rush over to Kinshasa!" The words my father blurted down the phone when his call woke me up on the morning of Whit Tuesday, 1978. When I arrived at Kinshasa airport on Thursday 18 May, I spotted five Lockheed C 130 Hercules (American transport aircraft) in Zairean Air Force colours parked out of the way, near the hangars. The French troops could arrive at any second.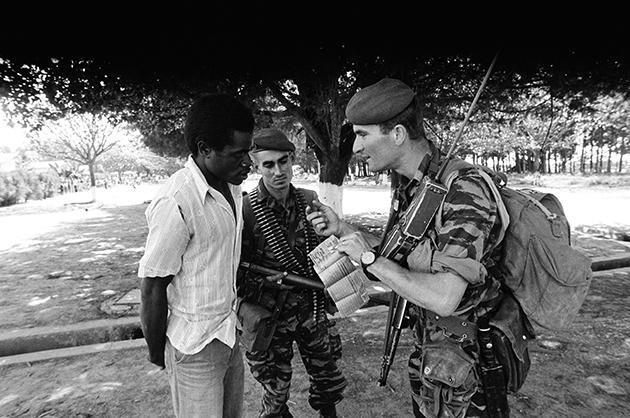 Texte
"GETTING ACCEPTED"
Night fell without warning. It was 26 degrees and the air was muggy. I was chatting with a group of Zairean soldiers. Doling out cigarettes was a way to get more information. It was 11.15 pm when a UTA DC8 landed. I watched a hundred odd French troops disembark. I recognised the French Foreign Legion green beret. It was all I could do not to shout with joy. It would be a real privilege to join a French Foreign Legion operation. I walked over to a legionnaire: "Are you going to storm Kolwezi?". The soldier didn't reply. An officer heard and answered: "Captain Poulet. And you are?" I introduced myself and explained that I wanted to join them on this operation. "Negative!" he replied.
I insisted some more. A hint of a smile on his lips, he turned on his heels and rejoined the other officers. I headed over to them but they all climbed into their jeeps and drove towards a stand-alone shack close to the hangars. A legionnaire walked me back and handed me over to the Zairean soldiers. Two Transalls sporting tricolour cockades landed at the same time. I tried to find out more. They were coming back from Chad with munitions for the Zairean Mirages. I was in the beating heart of the operation being formed; I just had to be accepted. No dice.
But because I was giving out cigarettes, the Zairean soldiers let me stay with them on the runway. Legionnaires carried equipment onto the C-130s. A devious plan formed in my mind: I'd hide in the plane toilet and show myself once we were up in the air. It would be a fait accompli. However, there were two things I hadn't counted on. There are no toilets on board a C-130 and the Foreign Legion was going to storm Kolwezi. The regiment chaplain who flushed me out of the aircraft accompanied me over to the hangar where one of the officers exclaimed: "You again?!". He whispered to Colonel Erulin, who had his eyes on me, and showed him my press card. "Negative!" Back to the Zairean soldiers.
ARRIVAL IN KOLWEZI
On Friday 19 May, at 10.50 am, about 400 legionnaires took off to storm the city where enemy troops were numbered between 2,000 and 3,000 men, equipped with tanks and recoilless rifles. Operation Leopard was high risk. At last, it was by a run-of-the-mill press flight organised by President Mobutu the next day that I made it to Kolwezi. During over four hours of flight, a Zairean press officer explained that we mustn't wander far from the plane as fighting was happening in and around Kolwezi. We'd barely touched down in the airfield when I was able to get away with two other photographers, Henri Bureau and Pascal Pugin. We hightailed it to Kolwezi.
Abandoned vehicles and strewn bodies everywhere. The road that led into the city was threatening. Flanked by tall grass with no visibility on either side, the perfect set-up for an ambush. After walking five kilometres, we were anxious to get there. But it was important to move forward slowly and ensure we were easily identifiable. The risk didn't come from the paras, who were well disciplined when it came to firing, but from the Katangans. A legionnaire emerged from the tall grass. He was a member of the 3rd company. Finally we'd made contact. Later we joined up with legionnaires from the 4th company. In the P2 district, we found the bodies of 39 civilians, men, women and a baby. Shooting erupted here and there. I tried to find the place where there had been skirmishes. It was complicated: parachutists changed the route several times; an encounter with Katangan rebels could totally jeopardise my report.
At 6 pm, night fell like a light switch being turned off and we had to find a place to bed down. At the Impala Hotel, Colonel Erulin summed up the situation. Civilians told us how they'd been terrified through the night and hadn't dared step foot out of the hotel. It seemed that the massacres had stopped when the French arrived. Surprised and disorganised, the Katangan rebels had spent too much effort trying to regroup and lead a counter attack to continue the slaughter.
LEAP TO ACTION
The following day, Captain Coevoet suggested I join the 3rd company who had received orders to enter the commune of Manika where the rebels were still firing. At least I was going to be taking part in the action. We leapfrogged our way there, clearing street by street, house by house, a few gunshots, prisoners, identity checks. Bodies, still more bodies. Civilians staggering out of their hiding places. The legionnaires remained calm and advanced methodically.
After the Foreign Legion had liberated the city from fear, Europeans emerging from the jungle where they'd been hiding told us how they'd seen on Sunday 20 May a car containing four men in uniform, dead, their hands tied behind their backs. Colonel Gras on whom the disappeared soldiers depended decided to launch an operation. A recce by helicopter was planned and Captain Coevoet gave me the honour of accompanying him on this dangerous mission.
At the approximate spot described by the witnesses, we found a blue Ford. The Alouette III landed 300 metres from the target. The two officers, carrying guns, leapt into the jungle, ready to fire. We moved forward prudently towards the vehicle that had stopped right in the middle of the road. Nothing. Just a plastic sheet in the car splattered in fresh blood. No bodies. On the ground, berets and ammunitions belts, left behind. We went back. Lieutenant Bourgain then found a small diary in a room at the Impala, in which one of the missing men, Warrant Officer Jacques Gomila, had kept a personal journal in which the last entry was made on Sunday at 11.30 in the morning: "Wanted to go out. They fired at us. A soldier made us go back in. Comrades, the hotel is surrounded. Go back."
The lieutenant and his five warrant officers would never be found, missing, swallowed up by the vastness of Africa. The determination of the Ambassador for France and Colonel Gras made it possible for the legionnaires and their officers to lead a high-risk commando operation during which they displayed a level of courage and professionalism that saved several thousand lives of Zairean civilians and foreigners. On 7 June, the entire regiment boarded the Starlifters operated by the US Air Force. Back to Solenzara and Calvi.
Auteur
Patrick Chauvel - Correspondant de guerre photographe