Château de Bazoches
Family residence of the Maréchal de Vauban
Château de Bazoches. Photo: Château de Bazoches
Ten kilometres from Vézelay, in the Morvan region, discover the magnificent Château de Bazoches, the family residence of the Maréchal de Vauban.
"Concerning my destination this winter, the King could not make me happier than by allowing me to spend two months' time with my poor family, all the more so in that I have only been there twice in the past three years; and I had to leave a fortnight later, without ever having the time to do more than five sols worth of business. I beg you to be so kind as to arrange leave for me to do so, the season is not very welcoming for a visit to such a lowly land as my own, but I would much rather be there in the heart of the harshest of winters than not to go there at all." Letter from Vauban to Louvois, from Mannheim, 6 November 1688. In. Anne Blanchard, Vauban, chap. XVIII: "Chez moi", p. 458, Paris, Fayard, 1996.
Ten kilometres from Vézelay, on the site of the ancient Roman road running from Sens to Autun, stands the Château de Bazoches, the former family residence of the Maréchal de Vauban, now a private property classified as a historical monument in 1994 and open to the public since 1997.
Built in the 12th century (around 1180) by Jean de Bazoches, the trapezoidal-shaped feudal castle comprises three round towers and a rectangular keep to which a larger tower with a wall-walk and machicolation was added in the 14th century.
Successively owned by the Seigneurs of Bazoches, Chastellux, Montmorillon and La Perrière, Bazoches was acquired by Vauban in 1675 thanks to an 80,000-pound gratification granted to him by King Louis XIV following the victorious siege of Maastricht (1673). The château had formerly been the property of Jacques Ier Le Prestre, the Maréchal's grandfather, following his second marriage to Françoise de la Perrière, the Count de Bazoches' illegitimate daughter whom he had recognised. After a confusing succession, Vauban's father, Albin or Urbain Le Prestre, son of this second marriage, went broke and had to abandon the château to live in Saint-Léger-Foucheret.
When he moved into the château, Vauban made many changes and transformed it into a military barracks. In the recently restored Grand Gallery, Vauban, the father of military engineering, carried out studies and drew up plans for over three hundred constructions and fortresses and developed methods for attacking and defending fortifications, making him the unquestioned master of siege strategy and military architecture.
With a little imagination, it is easy to picture the frenetic activity that went on in this part of the château, from where Vauban's instructions were sent out after completing his studies. Dispatch riders were constantly ready to head out for every corner of the country with the Maréchal's plans and orders in metal cylinders. This required building vast stables that could house some fifty horses. It was also here that he thought out and wrote the twelve illustrated volumes of what he called, not without humour, his "idlenesses", his reflections on a multitude of subjects such as agriculture, forests, coinage, sciences, etc.
We should also mention his many studies on the fiscal, economic and political issues of the times. His writings on the region and the "geographical description of the Election of Vézelay" (1696) bring together a great deal of information on the population and resources of the 55 parishes in the area.
With 14 proposals aimed at reducing the problem of poverty in this region of the Kingdom, the description provides important testimony on the French population and the mentality of the nobility at the beginning of the 18th century. It announces "the project for a Royal tithe" in which Vauban, observing the Kingdom's extreme poverty and the inefficiency of the tax system of the day, proposes to raise a single tax and to unify the collection of the gabelle (salt tax). This novel text was published without legal authorisation in 1707, causing him to fall into semi-disgrace with the King.

The Maréchal actually spent very little time at Bazoches. He only came when he could take an exceptional leave of absence, notably in 1687, 1690, 1696, 1701 and 1704. He came to be with his wife and his two daughters, Jeanne, the younger, born on 28 October 1678, and Charlotte, the elder.
Vauban died at his family residence on 30 March 1707. He was buried on the following 16 April at the church in Bazoches, in Saint Sébastien chapel, which had been built upon his orders.
Today, the current owners, descendants of Charlotte de Vauban, carefully preserve many souvenirs of their illustrious ancestor among the rich furnishings, such as the Maréchal's armour, considered a relic by Military Engineering Officers. Along with the 150-m² gallery which can now be booked to organise lunches or dinners, visitors can notably see Vauban's antechamber and bedroom as well as his office, the yellow salon and the inner courtyard whose 17th-century decorations were recently restored.
Château de Bazoches
58190 BAZOCHES
Tel.: +33 (0)3.86.22.10.22
Fax: +33 (0)3.86.22.12.37
E-mail: chateau.bazoches@wanadoo.fr

You can visit on your own (guided tours are available for groups, upon written request). The visit takes about 1½ hours. The text of the tour is available in French, English, German, Spanish, Italian, Dutch and Japanese. The Château is fully furnished and heated
Opening hours and admission: see the Château de Bazoche website
Official website of the Château de Bazoches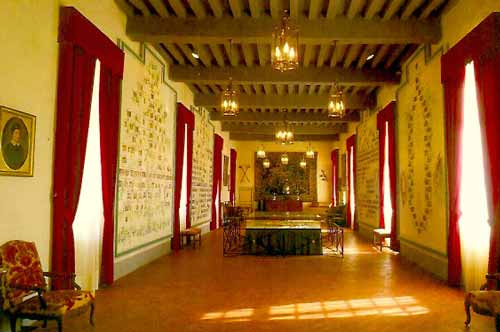 > Return to results
Practical information
Address
Bourg Bassot 58190
Bazoches
Tél : 03.86.22.10.22Fax : 03.86.22.12.37
Prices
Adults: €8.00 Adults (with a 'large family' card): €6.00 Students (with card): €6.00 Children from 7 to 14 years: €4.00 Groups (> 20 people) : Adults: €6.00 Children from 7 to 14 years €4.00 Free for children under 7 and for the disabled.
Weekly opening hours
Open daily from 25 March to 5 November: 9.30 am to 12.00 pm and 2.15 pm to 6.00 pm (5.00 pm from 01/10) Guided tours in winter (6 November to 24 March) upon appointment.