French memorials in Switzerland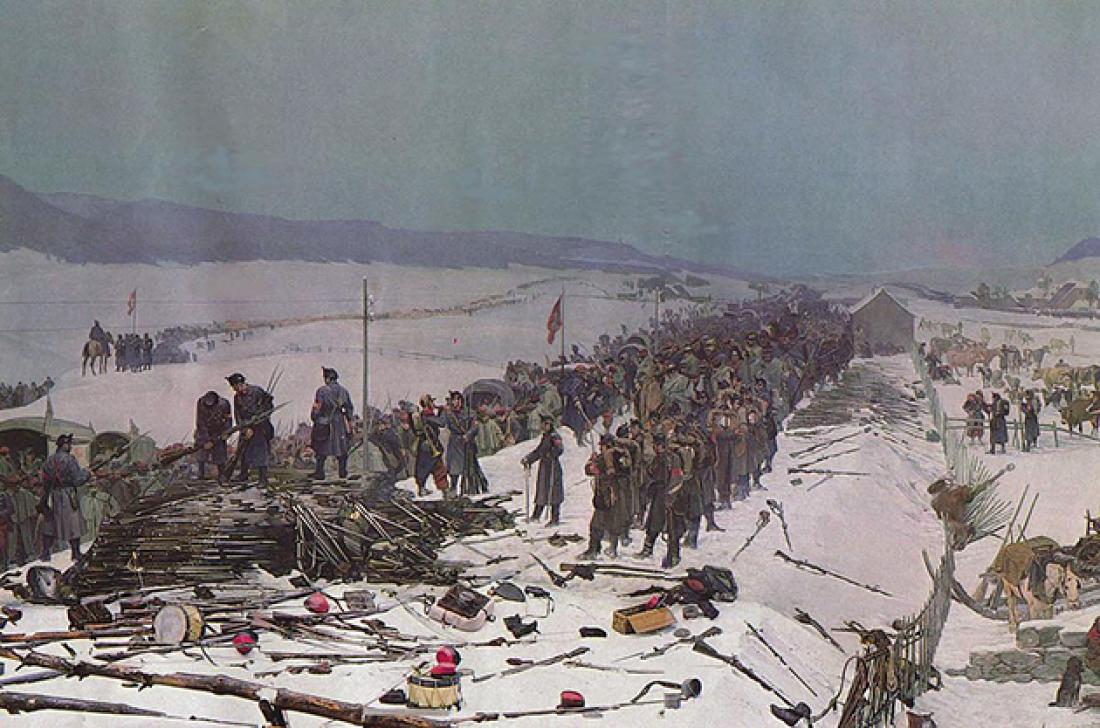 Section of the panoramic painting representing the Bourbaki Army in Switzerland, Édouard Castres, 1881-85. Musée de Lucerne.
France and Switzerland have a long, shared military history, but the two countries forged a particularly close bond in the Franco-Prussian War and the First World War.
Corps 1
In the winter of 1870-71, the Army of the East, commanded by General Bourbaki, marched on Belfort. Its aim was to lift the siege laid by the Prussian Army on the town but, poorly trained and ill-equipped, the French failed and were forced to retreat. Pursued by the Prussians in freezing temperatures, they decided to enter Switzerland, a neutral state, in order to escape the enemy. The Swiss agreed, on condition the French soldiers laid down their weapons at the border. For six weeks, they were taken in and looked after by the Swiss people, before returning to France. This was one of the first large-scale operations of the Red Cross, which had been founded a few years earlier. Despite the warm welcome received and the efforts made on their behalf, many French soldiers died of exhaustion and disease shortly after crossing the border. To pay tribute to these men and recall this tragic episode, memorials were erected at different sites around Switzerland.
During the First World War, Swiss volunteers fought alongside French soldiers in the trenches. In honour of their commitment, they were recognised as having "died for France". In Switzerland, there are many monuments in their memory, including the one currently undergoing restoration in Geneva, which bears 883 names.
A digital inventory catalogues these Swiss war memorials, whether they are in honour of the soldiers who died, the battles fought by the former Confederates or the presence of foreign troops. It presents the variety of remembrance sites and makes them visible and accessible to the general public. It also contributes to preserving this aspect of Switzerland's cultural heritage, while highlighting the regional diversity of memorial practices. Finally, the inventory offers access to a whole series of data that can form the basis for more in-depth research.
Access the inventory on the website of the Swiss Confederation
Still on this theme, students of the École Française Internationale de Berne (EFIB), a member of the Agency for French Education Abroad (AEFE) network, made their own 
video documentary
. The 
project
 tied in with the commemorations to mark the 150th anniversary of the humanitarian asylum given to General Bourbaki's Army of the East, in 1871. The students looked from a historical perspective at the concepts of frontier-landscape and crossed memories, and engaged in literary and artistic experimentation around the landscape. Throughout the 2021-22 academic year, by participating in
Lab'mémoriel
, the students and teachers of EFIB will revisit this project, presenting their working methods, how they approached the theme of "shared memory" and what they learned from it.
Discover Dominique Wacker-Cao's book on the Bourbaki memorials in Switzerland