Fort Penthièvre
Le Fort Penthièvre. Source : ECPAD
The purpose of Fort Penthièvre was to watch over the 15 km of beaches suitable for landing...
Fort Penthièvre is located at the base of the Quiberon peninsula. It was once called the Palice headland and was responsible for controlling access to the peninsula. Most importantly, it overlooks the 15 km or so of the Penthièvre beach, which is suitable for landing. Several forces had indeed landed there over the centuries: the Dutch in 1674 and the English in 1746. It was the pillaging of the peninsula by the latter which raised awareness of the vulnerability of its defences. In 1747 the construction of a fort was approved. This was to take the form of an enormous bastion built on a rocky promontory, blocking the only access to the peninsula. At this point, the lagoon bar was only a few dozen metres wide. During the Revolution, Fort Penthièvre would become a battleground of violent confrontations: 6,500 royalists, landed from the English fleet, seized it in an attack on 27 June 1795. It was recaptured by General Hoche's troops on 20 July. Left more or less abandoned, Fort Penthièvre was modernised and reinforced from 1800 onwards, under the impetus of the engineer General Marescot and on the orders of Bonaparte. In 1917 the fort was used as a prison for German soldiers. They carried out resurfacing work on the road. In 1933, it was entrusted to the navy and then fell into disuse. During the Second World War, it was occupied by the Germans and incorporated into the Atlantic wall. It housed various blockhouses, but was mainly used by the infantry. In July 1944, some resistance fighters were tortured and buried alive there. A pillar mounted on a Cross of Lorraine stands there in memory of them. Nowadays, Fort Penthièvre is a training base for the land army.
This historic monument, property of the Ministry of Defence, was included in a Culture and Defence protocol signed on 17 September 2005. Click here to see the list of other buildings ...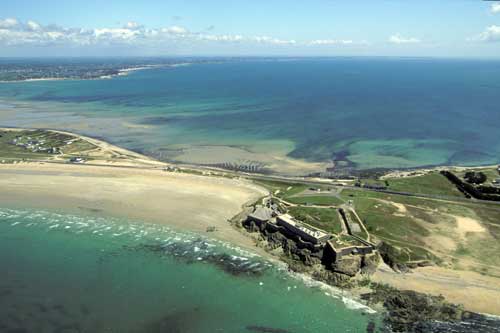 > Return to results
Practical information
Weekly opening hours
Seuls les espaces extérieurs sont accessibles