The place of families
The family of Private Henri Poiget visits his grave in the French military cemetery in Bitola, Macedonia, for the first time. © Stéphanie Trouillard
More and more French people are reconnecting with their family history. The First World War centenary and the 75th anniversary of Liberation put them at the heart of the commemorations. In cemeteries or at ceremonies, these enthusiasts are going in search of their past. That task is made easier by the latest digital resources, enabling them to reconstruct the story of a forebear, and also to break the silence.
Corps 1
"I have come to you." Yann Onraët is deeply moved as he touches the cross of his great-great aunt, Marthe de Goutière. "I wanted to tell you that I'm here and I'm very glad to be near you." The Breton travelled thousands of kilometres to visit the grave of this nurse who died of Spanish flu during the First World War, on the Eastern Front. Until a few months ago, he didn't know she was buried in the French military cemetery in Bitola, Macedonia. Her grave was only recently rediscovered by members of the French Embassy, following an inspection of the avenues. "I had heard of her, and had always been interested. But it really is a special feeling to be the first of my family to come here," explains this genealogy enthusiast.
To fulfil this wish, Onraët joined a trip organised by the Eastern Front and Dardanelles Remembrance Association. Like him, 30 others made the journey from France in search of an ancestor. A few metres away, Michèle Galliot and her aunt Lucienne Connart stand, also for the first time, at the grave of their great-grandfather and grandfather. Henri Poiget, a French infantryman from Loiret, killed in November 1916, is buried at number 4718. Before his tricolour cross, his great-granddaughter reads out a few words: "We are here. You are not completely forgotten."
Until now, his family did not know he had been buried. It was not until they contacted the Eastern Front and Dardanelles Remembrance Association that they learned of the existence of the grave. Indeed, in a few clicks, it is possible to find, online, the death records of French servicemen killed in action, on the Ministry of the Armed Forces' Mémoire des Hommes website, and also cemetery records on the websites of the embassies concerned. "We thought he was in a mass grave. We weren't aware of these sites. Then we were lucky enough to find out where to look. My grandfather was an abstract figure to me; now he is real," explains Lucienne Connart, overjoyed at being able to visit him at last.
The impact of the latest digital resources
Since the beginning of the First World War centenary in November 2013, the digitisation of countless archives has radically transformed remembrance practices. The Ministry of Culture's Grand Mémorial website compiles all the enlistment records of soldiers who fought in the First World War, by department. In a matter of minutes, from the comfort of your own home, it is now possible to access our forebears' stories.
These new resources can even help establish the truth. Anne-Marie Androuin had always thought her grandfather, Charles Moizan, had died at sea off the coast of Greece. One month before the trip, the Eastern Front and Dardanelles Remembrance Association told her that this was not in fact the case. As shown in his "Mémoire des Hommes" record, Charles actually died of Spanish flu in October 1918, and was buried in Salonika Military Cemetery. "It's awful and wonderful at the same time," exclaims his granddaughter upon discovering his grave. Standing before his tomb, Anne-Marie thinks not only of her ancestor, but of others who suffered from his absence. "You see, Dad, I did come to see your father. So now we have closure," she says aloud, remembering a promise she made to her father, Henry, orphaned at the age of 13.
Healing family wounds
I have felt these emotions myself. For five years, I covered the centenary commemorations for news channel France 24. I used this opportunity to research my own family history. Like many, I knew nothing of the history of my forebears in the Great War. The soldiers in my family had been completely forgotten. By telling their stories, it felt like I was bringing them back to life. I did it for them, but also, like Anne-Marie, for those members of my family who didn't have the chance to visit their graves. When I set eyes upon the name of my great-great uncle, Joseph Trouillard, on the Ring of Remembrance, at Notre Dame de Lorette, freshly unveiled in 2014, I imagined above all how moved my grandfather would have been. He had the same first name and would have been happy to see this recognition at last. A hundred years on, remembering can also mean repairing.
Other conflicts have also left their mark. My family lived for 70 years with the tragic memory of the death of my great uncle, André Gondet, a member of the Resistance, in a massacre in Brittany in 1944. Without explanation, that grief was passed on unconsciously from generation to generation. André's memory gradually faded, but a deep scar remained. A few years ago, I was curious to find out who he was and to break the silence over this young member of the French Forces of the Interior who died for France. Through visits to the archives and meetings with the last remaining survivors, I pieced together the puzzle of his short life. That research, which culminated in the book Mon oncle de l'ombre (My uncle of the shadows), not only restored his place in our family history, but also healed certain wounds, by answering questions that were hitherto unanswered. At book signings and conferences, I realised how more and more people want to go down the same path. In most cases, they are grandchildren. The generational gap provides the distance necessary to finally lift this burden. After more than 70 years, with the opening of the Second World War archives, they also have access to a greater number of documents. These descendants just need a bit of guidance through the maze of archives.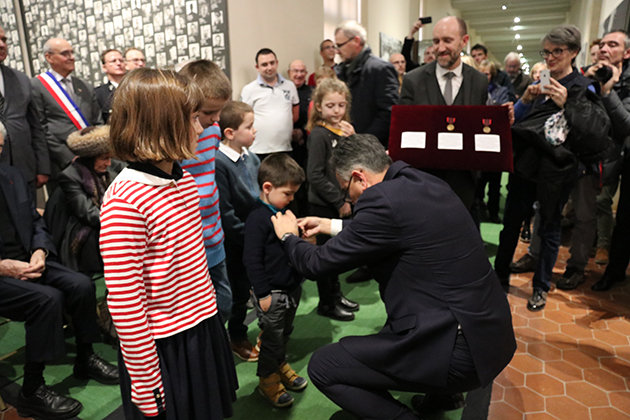 Children, including little Evan, receive the Medal of the Resistance, awarded posthumously to one of their forebears, 9 February 2019, at the Ordre de la Libération.
© Stéphanie Trouillard
Like me, these amateur researchers wanted to learn more about their past, as well as pay tribute to their forebears. Commemorations provide an opportunity to honour their memory in a concrete way. Whether for the centenary or the 75th anniversary of Liberation, many have organised exhibitions, unveiled new plaques, added names to war memorials or received decorations on behalf of a family member. In February 2019, my own research led to the award of the Medal of the Resistance to my great-uncle André. It was symbolically presented to the youngest member of our family, my four-year-old nephew Evan, at a ceremony at the Ordre de la Libération. The event was the culmination of years of research, bringing my family together. Above all, it was a chance to share this story with the younger generation. By celebrating his commitment, André came out of the shadows and the torch of his memory was passed on. Our ghost disappeared.
Stéphanie Trouillard, journalist at France 24, author of Mon oncle de l'ombre, enquête sur un maquisard breton (2018).