Shoah memorial in Drancy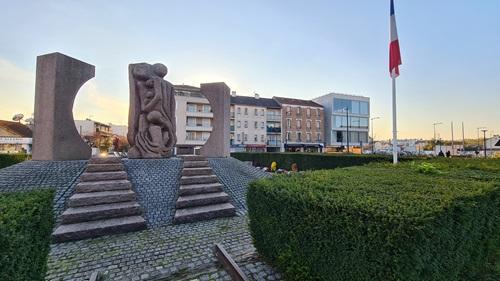 ©Shoah Memorial in Drancy
The purpose of this centre is to present the history of the Drancy camp, 70 years after Jews began to be deported from France to Nazi extermination camps.
A new site for history and education opposite Cité de la Muette.
Cité de la Muette was a collective housing unit built in the 1930s but was never completed. In 1941 it became an internment camp and then, in 1942 a camp to group together Jews of France before deporting them to the extermination camps. Between March 1942 and August 1944, around 63,000 of the 76,000 Jews deported from France passed through Drancy. Cité de la Muette was inhabited again as of 1948 and has gradually become a memorial for Drancy: commemorative plaques, erection of a memorial monument, buildings listed as historical monuments since 2001.
A place of history and education open to everybody, the Drancy Shoah Memorial covers an area of 2,500 m² on five levels. It has a permanent exhibition on the camp's history, several educational rooms, a documentation centre and a conference room. With its large windows facing Cité de la Muette, the dialogue between the two is constant. Just after entering, visitors can see on the wall the faces of 12,000 Jews who were interned at Drancy between 1941 and 1944.
The permanent exhibition uses video testimonials, archive documents and photographs from the period to tell the history of the Drancy camp and the daily life of those interned here from 1941 to 1944, the organisation of the deportations from 1942, and the construction of the camp's memory after the war. Ten documentaries by Patrick Rotman are broadcast. In the middle of the exhibition, the House of Children, designed by Delphine Gleize, allows visitors to learn the fate of children who were interned and deported.

A number of educational activities are possible. For school children there are educational workshops, memory trails, general and themed visits and dedicated areas. In the documentation centre, scanned publications, photographs, films and archives on the history of Drancy can be viewed. School children and the general public can carry out research on the camp and on the people to whom this site is dedicated. A number of testimonials will be collected from the population of Drancy in connection with local associations to improve the collections.

The Drancy Shoah Memorial is complementary to the Paris Shoah Memorial. It is a place of mediation between the site of the former camp and the public, a place of history and transmission. It will allow school children and the general public to be better informed of the history of Cité de la Muette and particularly the central role of the Drancy camp in excluding French Jews in the Second World War and in the implementation of the "Final solution" by the Nazis in France, with collaboration from the Vichy government.
Drancy Shoah Memorial - 110-112, avenue Jean-Jaurès - 93700 Drancy
Tel.: +33 (0)1 77 48 78 20 – Email: contact@memorialdelashoah.org
Article by the Memorial on the inauguration

Reception for groups and school parties:
Tel.: +33 (0)1 53 01 18 01 – Email: education@memorialdelashoah.org


Getting there:
Public transport - RER B to "Le Bourget"
then bus 143 to "Square de la Libération".
Bus 143 and 703, stop at "Square de la Libération"
Bus 151, 251, 684 and 551, stop at "Place du 19 mars 1962"
By car - Market car park.
Autolib terminal: 105, avenue Jean-Jaurès
Paris-Drancy shuttle:
Every Sunday until 31 March 2013 (inclusive).
2pm: leave from Mémorial de la Shoah (17 rue Geoffroy-l'Asnier, 75004 Paris)
arrive at Mémorial de Drancy at 2.45/3pm
5pm: bus returns to Mémorial de Paris

> Return to results
Practical information
Address
110-112, avenue Jean-Jaurès 93700
Drancy
01 77 48 78 20
Prices
Gratuit, dans la limite des places disponibles
Weekly opening hours
Du dimanche au jeudi de 10 h à 18 h Entrée libre Audioguides disponibles en français et anglais.
Read more