The French colonial army, 1914-18
Sous-titre

Overseas troops
Indo-Chinese labourers at Vailly-sur-Aisne, near the Chemin des Dames, 12 June 1917. © ECPAD/Marcel Lorée
The native units serving in the French colonial army (known from 1900 onwards as the "Troupes Coloniales", or just "La Coloniale") were comprised of tirailleurs (sharpshooters) recruited throughout France's overseas empire.
Corps 1
On the eve of the First World War, they were divided up as follows:
Colonial army HQ and high command, Hôtel des Invalides, Paris.
Indo-China group, HQ at Hanoi: Tonkinese and Annamite tirailleurs.
East Africa group, HQ at Antananarivo (Madagascar): Malagasy tirailleurs, Somali Coast native brigade, Djibouti.
Equatorial Africa and West Africa groups, HQ at Saint-Louis (Senegal): Senegalese tirailleurs, native brigades of Guinea, Niger, Casamance, Chad, Gabon, Middle Congo and Ubangi-Shari.
Antilles-Guiana and Pacific groups: companies of Martinique and New Caledonia, formed mainly of metropolitan French (marine infantry, or marsouins).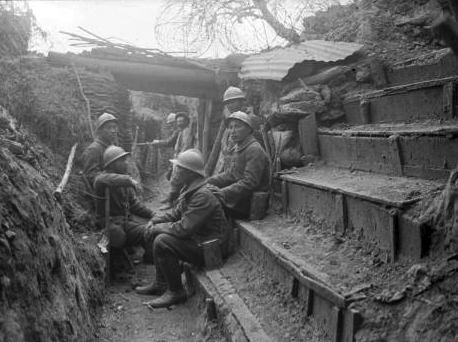 Indo-Chinese soldiers occupy former German trenches at Mont des Sapins, near the Chemin des Dames, April 1917.
© ECPAD/Paul Queste
The flag of the 1st Regiment of Senegalese Tirailleurs was decorated with the Legion of Honour by the French President on 14 July 1913, in Paris. Many units of the Coloniale, notably Senegalese and Indo-Chinese, received their flag that day.
In all of these formations, men of colour comprised the ranks, while the officers were, in the main, whites.
A Senegalese infantry regiment from French West Africa was formed in 1914, and thrown into the Battle of the Yser, in Belgium. One hundred and forty-one Battalions of Senegalese Tirailleurs (BTSs), operational by 1918, would be used, tactically isolated or in groups, across all fronts, including the Dardanelles (Turkey). They were attached to Colonial Infantry Regiments (RICs, comprised of metropolitan soldiers), Mixed Colonial Regiments (RMCs, comprised of Senegalese and marsouins), and so on. The tirailleurs also fought in the theatre of operations of Togo and Cameroon, to conquer those German colonies.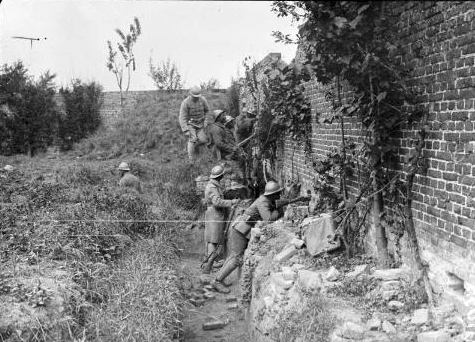 Tirailleurs positioned behind a wall in the Battle of the Somme, July 1917. ©ECPAD/Ribar
A "Native Colonial Army" came into being by the decrees of 9 November and 12 December 1915. Its depots were established in Fréjus Saint-Raphaël (southeastern France), Algeria and Tunisia, where large numbers of Senegalese battalions received their military training. Ten thousand Malagasies and 5 000 Indo-Chinese joined the heavy artillery and transport services.
Ill-suited to the climate, the black troops were systematically withdrawn from the Western Front in winter, from November to March. Thus, the BTSs spent an average of five months of the year in camps in the Landes and the Var, for rest or to make up troop numbers, etc.
Seven decrees of 14 January 1918 stepped up recruitment in sub-Saharan Africa by offering social benefits to new recruits and their families (safeguarded jobs, various exemptions, allowances and support). As a result, the mission of Blaise Diagne, Senegalese member of parliament and high commissioner for African recruitment, provided 72 540 recruits in four months. Diagne used his powers of persuasion with the local chiefs to top up troop numbers, with the aid of the new governor-general of French West Africa, Gabriel Angoulvant. Angoulvant replaced Joost van Vollenhoven, who – opposed to Diagne's methods, which were backed by Clemenceau – resigned from his post to enlist as an officer of the Colonial Infantry Regiment of Morocco (RICM). He was to die on the front line, in the Aisne, in July 1918.
In Madagascar, a total of 41 355 men were enlisted. In Indo-China, intensive recruitment began in 1916. The Asian battalions, unaccustomed to firearms, served instead in communications, camps and law enforcement.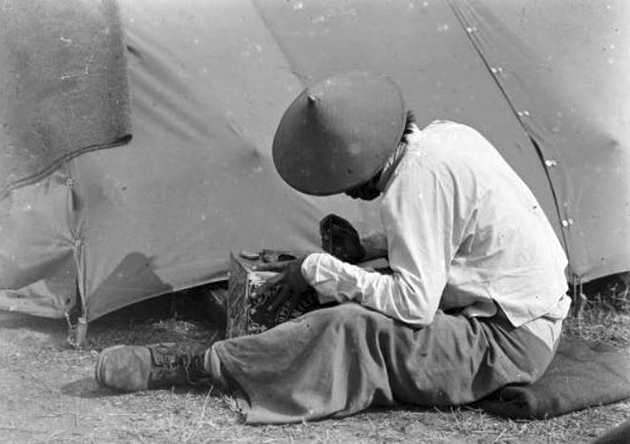 An Annamite tirailleur writing his correspondence, Zeitenlick camp, May 1916.
© ECPAD/Georges Dangereux
Meanwhile, soldiers from the Antilles, French Guiana and Reunion were never included in units of native tirailleurs, their status remaining that of "metropolitan soldiers". Incorrectly referred to as "Creole", their contingent was incorporated into white colonial regiments: marine artillery, RICs, the RICM, RACCs (Colonial Artillery Regiments) and RALCs (Colonial Heavy Artillery Regiments). This applied to 38 220 men: 1 929 French Guianese, 6 936 Reunionese, 11 615 Martiniquans and 9 151 Guadeloupans. Martiniquan losses amounted to 2 037 dead and 120 disappeared. It is worth noting that, in the Antilles, the military recruitment laws were not implemented until 1913. A further 796 natives of French India were incorporated in the metropolitan units of the Coloniale.
Martiniquan artillery, Oise, 1916. © ECPAD/Collection Garros
Along with the other, even more specific recruitments, a Somali battalion was created in Madagascar on 11 May 1916, comprising 1 400 Somalis, 200 Yemeni Arabs, 75 Comorians and 25 Abyssinians, commanded by white officers. The unit fought at Verdun, Chemin des Dames and in the Oise.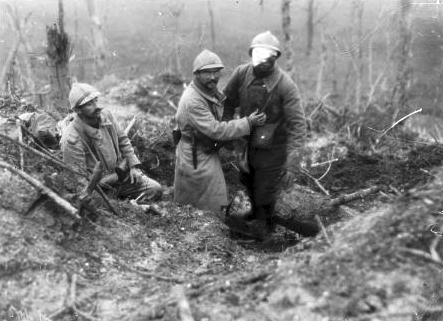 A wounded Senegalese soldier at "Le Balcon", Chemin des Dames, Aisne, 23 October 1917. © ECPAD/Jacques Ridel
At Nouméa, New Caledonia, the 1st Battalion of Pacific Tirailleurs came into being on 4 June 1916. On 16 April 1917, it comprised five officers, 13 NCOs, and 18 corporals and privates; in other words, 36 Europeans to 530 Kanak or Polynesian tirailleurs. The unit fought in the Aisne, in July-August 1918.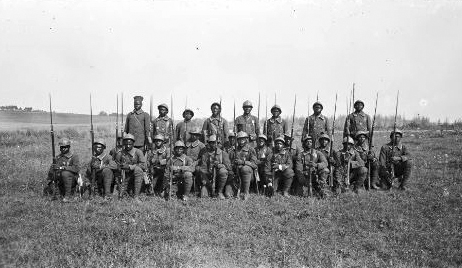 A group of tirailleurs receive the Croix de Guerre and Médaille Militaire, at the Senegalese training camp in Chéry-Chartreuve, 27 July 1917. © ECPAD/Maurice Boulay
All these troops showed great bravery, receiving numerous group citations and decorations for their flags and the left shoulder of their uniforms. The 43rd BTS was awarded the fourragère of the Médaille Militaire, while the 27th, 36th, 43rd, 53rd, 61st, 62nd, 64th, 68th and 69th BTS, the 12th Battalion of Malagasy Tirailleurs and the 1st Battalion of Somali Tirailleurs were all awarded the fourragère of the Croix de Guerre.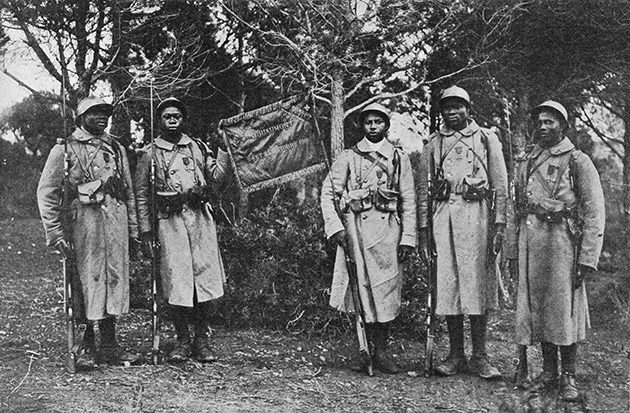 The flag of the 43rd Battalion of Senegalese Tirailleurs, decorated with the fourragère. © L'Illustration, 12 January 1918
The renowned RICM (Colonial Infantry Regiment of Morocco), the most decorated unit in the French Army, is absent from the above list because it was neither native, nor even Moroccan, since it was comprised of metropolitan soldiers of the Colonial Infantry Regiment (RIC) formed at the time of the general mobilisation in Morocco, with battalions that had been fighting since 1912.
Between 1914 and 1918, 181 512 Senegalese, 41 355 Malagasies, 2 434 Somalis, 48 922 Indo-Chinese and 1 067 Kanaks or Polynesians served under the tricolour flag. By 11 November 1918, their total losses were 28 700 dead and 6 500 disappeared.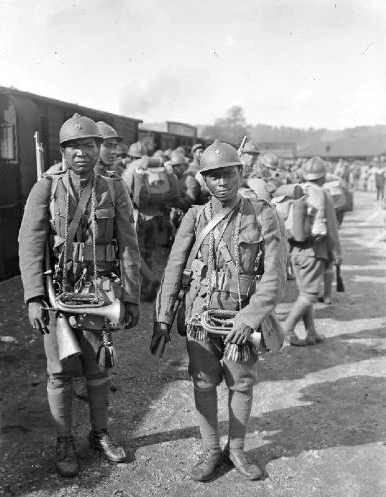 Siamese troops leave for the front, Versailles railway station, Yveline, 20 September 1918.
© ECPAD/Curtat
In the interwar years, monuments were built in honour of the dead and military exploits of colonial troops at Chemin des Dames, Cuts, Verdun, Reims, Nogent, etc. Those who lost their lives for France are laid to rest in national military cemeteries in France and overseas, where their graves, decorated with the distinctive emblems of each religion, will be preserved in perpetuity. Among them are Sillery (Marne), Cuts (Oise), Lihons (Somme), Douaumont (Meuse), La Teste (Gironde), Luynes (Bouches-du-Rhône), Toulon (Var), Zeitenlick (Greece) and Seddülbahir (Turkey).
In 1966, a vast reburial operation was undertaken by the burial service of the veterans department in Marseille. From the military cemeteries of Fréjus (Gallieni, Baume and Robert camps), 5 793 bodies, mostly Senegalese, Malagasies and Indo-Chinese, were transferred to
Luynes national cemetery, near Aix-en-Provence – 2 849 in graves, 2 944 in the ossuary. The bodies of 3 329 soldiers who died between the wars and were not officially recognised as having "died for France" remained in the ossuary of Baume cemetery.
In 1917, Indo-Chinese tirailleurs built the Hông Hiên Tu pagoda in the Fréjus camp; restored and embellished in 1972, it remains a place of worship and remembrance today.
Ministère de la Défense/SGA/DMPA