Vaux-Racine National Cemetery in Saint-Mihiel
La nécropole nationale de Vaux-Racine à Saint-Mihiel. © ECPAD
Pour accéder au panneau d'information de la nécropole, cliquer ici
The Vaux-Racine National Cemetery is the final resting place of 3,417 French soldiers, including 1,877 in three ossuaries, together with 87 unknown American soldiers and one unknown Russian soldier who all died during the battles in the sector of the Saint Mihiel salient, during the 1914-1918 war. In 1920-1921, the cemetery was developed to bring together the remains of other soldiers exhumed from temporary cemeteries in the region, particularly from Chauvoncourt, Bois d'Ailly, the Forêt d'Apremont, Les Paroches and Koeur-la-Grande.
Four soldiers who died for France during the Second World War also lie in this national cemetery.
The American soldiers who were killed in this sector are buried in the World War I St. Mihiel American Cemetery and Memorial located in Thiaucourt-Regniéville (Meurthe-et-Moselle), the first town liberated by the Americans.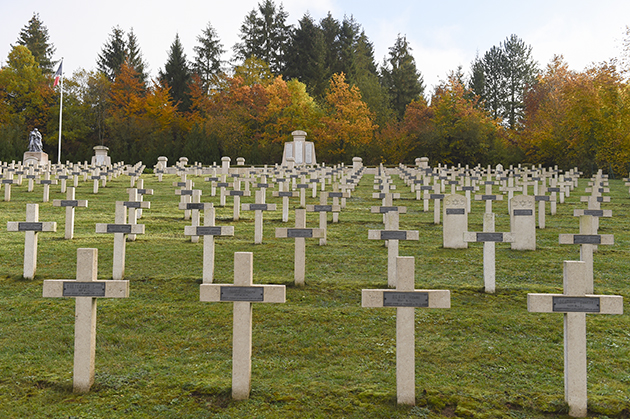 > Return to results
Practical information
Address
Saint-Mihiel
Au sud de Verdun, D 964

Weekly opening hours
Visites libres toute l'année
Eléments remarquables
Monument aux morts 1914-1918
Read more
Read more
Comité départemental du tourisme de la Meuse

33, rue des Grangettes
55012 Bar-le-Duc Cedex
Tél. : 03 29 45 78 40