Fort of Côte-d'Essert
Ouvrage de la Côte-d'Essert. Source : ©Thomas Bresson - License Creative Commons - Libre de droit
This fort, built from 1890 to 1891, named "Batterie Édouard Thiers" in 1895, covered Fort du Salbert and that of Mont Vaudois.
This intermediate fortification, built into the rock, is substantially different to the other intermediate fortifications built at the same time.
Although this fort was essentially built to fight against infantry infiltrations, it was equipped, in addition to four small-calibre canons (90 mm), with four long-range artillery pieces (120 mm) to cover the Route de Lure.
A cross between an intermediate structure and a battery, its original architecture marks a transition between the fort of 1874 and the intermediate structure of 1914, like Meroux.
It is a trapezoid with ditches defended by counterscarp coffers. Access was via the ditch. The rooms, all underground, were designed for more than 250 men.
Concrete was not used much as there is rock on site, which is a better substitute. The only parts in concrete are the counterscarp coffers, the casemates defending the entrance and the shelters on the upper part (in particular the shelters for the 90-mm cannons on the flanks).
Tourist Information Office
2 rue Clemenceau 90000 Belfort
Tel: +33 (0)3 84 55 90 90
Fax: +33 (0)3 84 55 90 70
E-mail: tourisme90@ot-belfort.fr
Quizz : Forts et citadelles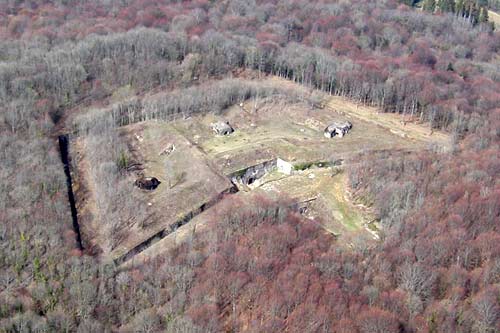 > Return to results
Practical information
Address
90850
Essert
Tel.: 03 84 55 90 90Fax : 03 84 55 90 70
Weekly opening hours
Se renseigner pour l'accessibilité au site
Read more
Related articles
Commemorative sites