Pontavert National Cemetery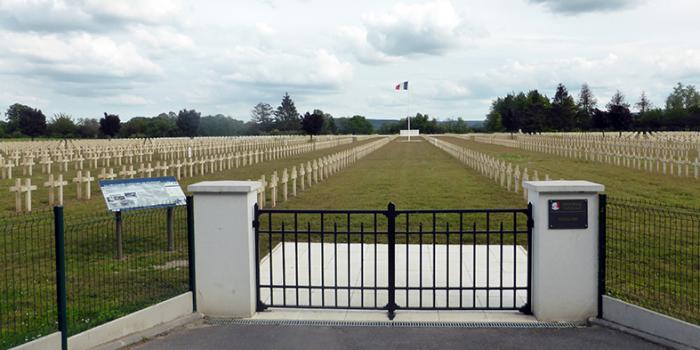 La nécropole nationale de Pontavert. © Guillaume Pichard
Pour accéder au panneau d'information de la nécropole, cliquer ici
Pontavert National Cemetery, also known as 'Beaurepaire', contains the bodies of some 7,000 soldiers killed during the First World War, many of whom are buried in individual graves. 54 Russians are also buried at the cemetery. Built in 1915, the cemetery was further developed between 1920 and 1925 to accommodate bodies initially buried in the areas around Pontavert, those laid to rest in the German cemeteries of Sissonne, Coucy-le-Eppes, Amifontaine, Nizy-le-Comte, and those buried in the French cemeteries of Beaurieux, Samoussy, Guyencourt, Meurival, La-Ville-aux-Bois and Vassogne.
The area was further developed between December 1914 and May 1915 and reinforced with trenches, dugouts and shelters. In Spring 1915, the gunner Roland Dorgelès, author of the novel Croix de Bois, was stationed there, as was Lieutenant Charles de Gaulle.
In March 2016, the Germans took control of the wood. On 10 March, along the River Aisne, the enemy opened artillery fire on the French positions on the Chemin des Dames ridge from the hamlet of Troyon around 10 kilometres west of Craonne through to Berry-au-Bac. On 17 March 1916, during one of these battles, the poet Guillaume Apollinaire received a shrapnel wound to the head and was evacuated and trepanned. Weakened by his injury and the operation, he died of Spanish flu in November 1918.
The soldiers buried at the cemetery include the body of Jules-Gérard Jordens, who died two days before his 31st birthday. Born in Nice in1885, this French poet was called up to the 246th Infantry Regiment (IR) as a stretcher bearer. He was moved to the Aisne and then to Artois and was killed at Bois-de-Buttes in 1916. The name of this man of letters figures in the Pantheon in Paris, along with those of the 560 writers who were officially awarded the 'Died for France' distinction. Moreover, Robert André Michel, a well-known archivist and palaeographer, died on 13 October 1914 at Crouy.
A dedicated square plot contains the graves of 67 British soldiers killed in October 1914 and from May to October 1918. These remains were exhumed from neighbouring French military cemeteries. At the end of the Marne counter-offensive, the British Expeditionary Force engaged between the French 5th Army and the French 6th Army, where it was deployed in the direction of Laon between Soissons and Craonne. However, due to enemy resistance and troop fatigue, the German forces could not be dislodged. At the end of these exhausting battles, the British, at the request of their command, moved to Flanders. In Spring 1918, a few contingents returned to this region.
At the end of the war, the village of Pontavert was in ruins. Commended in the Army Order on 17 October 1920, Pontvaert was aided by the Cantal region to rebuild its village.
In Spring 1940, war once again wreaked havoc on Pontavert.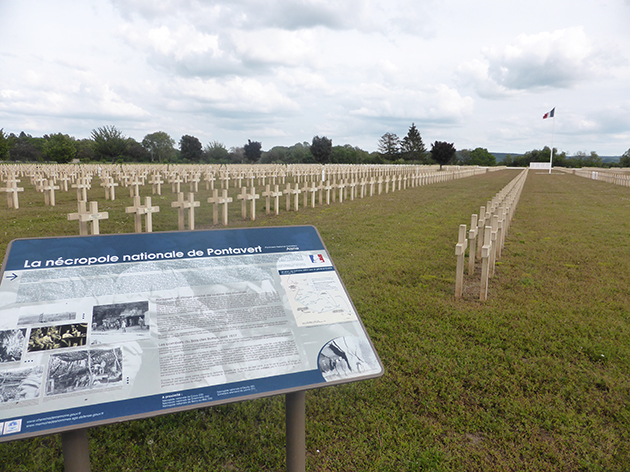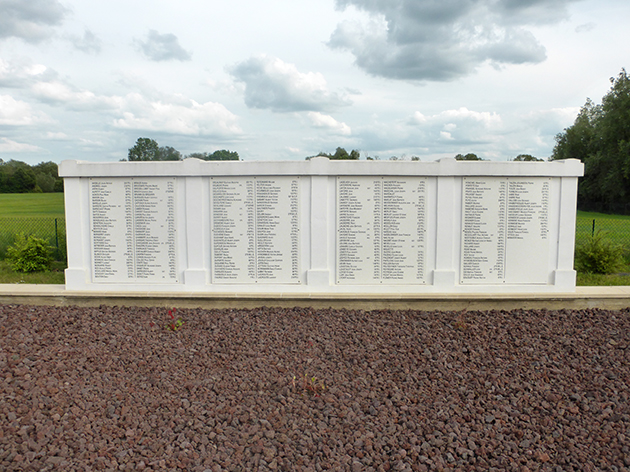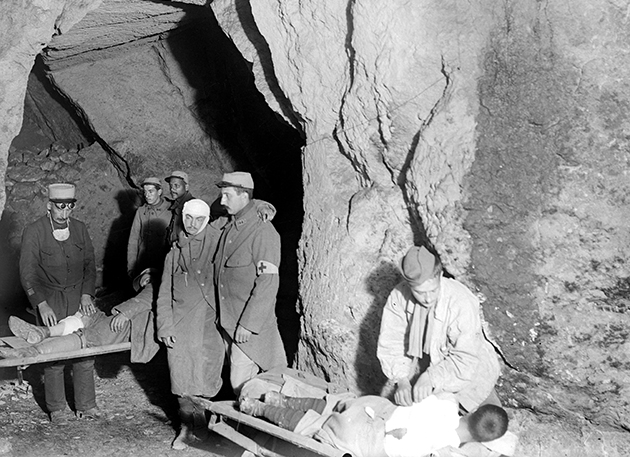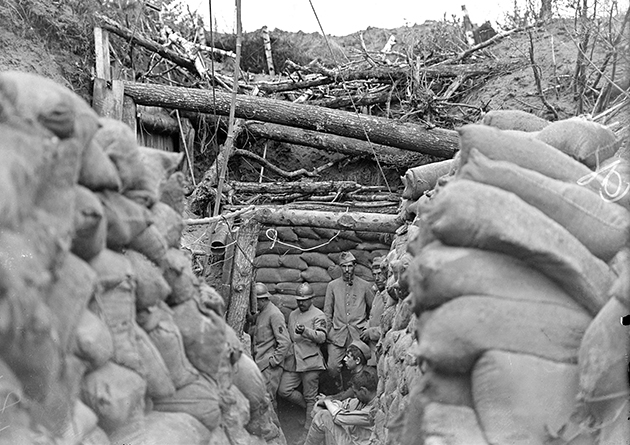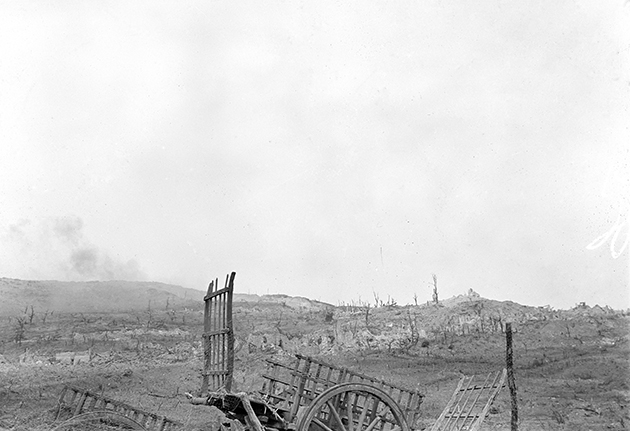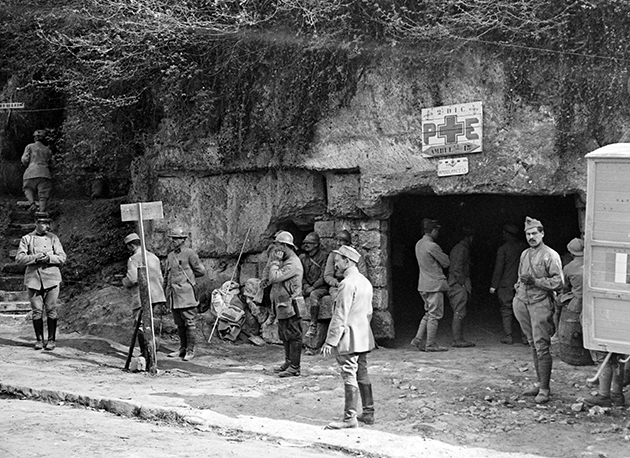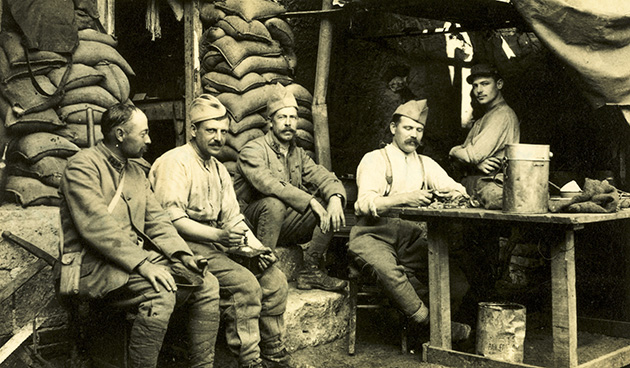 > Return to results
Practical information
Address
Pontavert
Côte sud-est de la route de Soissons, sur la D925

Weekly opening hours
Visites libres toute l'année
Eléments remarquables
Monument aux morts du 31e RI 1914-1918