Craonnelle National Cemetery
La nécropole nationale de Craonnelle. © Guillaume Pichard
Pour accéder au panneau d'information de la nécropole, cliquer ici

The limestone plateau of the Chemin des Dames, overlooking the Aisne valley to the south and the Ailette valley to the north, was bitterly disputed right throughout the conflict. This natural observatory is positioned as a strategic barrier overlooking the plains of Reims and Soissons.
Pursuing the defeated enemy on the Marne, the French and the English crossed the Aisne region on 13 September 1914. However, the Germans got a hold of the Chemin des Dames plateau very quickly. After heavy fighting, the enemy managed to remain the sole master of the plateau in November 1914. This progressively turned into a fortress that was only definitively liberated in October 1918 by French and Italian troops.
The Craonnelle National Cemetery was built during the war near an aid station. It includes the bodies of soldiers who died in battle for France along the Chemin des Dames from 1914 to 1918. After the war, the cemetery was developed to accommodate other soliders buried on the Plateau de Californie and the Plateau des Casemates, or those buried in temporary cemeteries at the aid stations of Flandres à Oulches, Vassogne, Jumigny, Craonne, Moulin Vauclair. This cemetery is home to nearly 4,000 French bodies nearly half of which are in two ossuaries. In addition, 24 British soldiers and two Belgian soldiers are also buried there.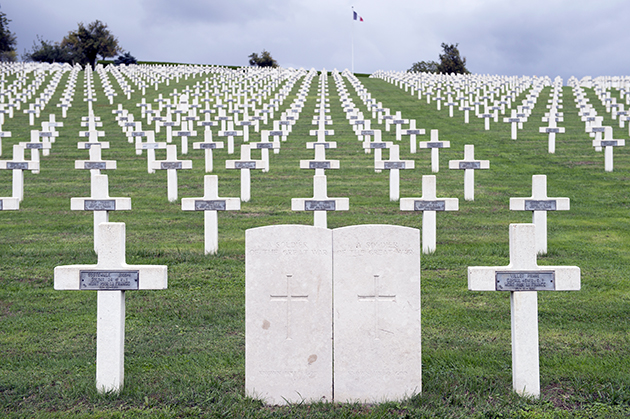 > Return to results
Practical information
Address
Craonnelle 02160
A 24 km au sud-est de Laon, en bordure du CD 18 (Craonne / N2)

Weekly opening hours
Visites libres toute l'année
Read more
Read more
Comité Départemental du Tourisme de l'Aisne
26, avenue Charles de Gaulle
02007 Laon Cedex
Tél. 03 23 27 76 76
Contact : contact@cdt-aisne.com

La direction interdépartementale (D.I.)
Cité administrative Rue de Tournai 59045 Lille Cedex
Tél.: 03.20.62.12.39
Fax : 03.20.62.12.30
Courriel : diracmetz@wanadoo.fr