"Le Trottoir" National Cemetery
Les Éparges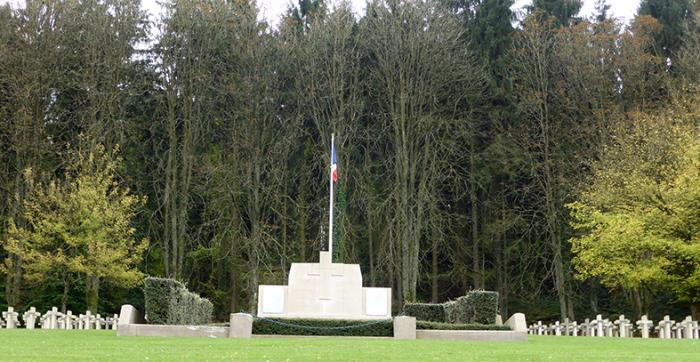 Nécropole nationale "le Trottoir", les Éparges. © Guillaume Pichard
Pour accéder au panneau d'information de la nécropole, cliquer ici
The National Cemetery known as "Le Trottoir" holds the remains of soldiers who died for France during the battles on the Hauts-de-Meuse between 1914 and 1918. Established in 1915, the cemetery was redesigned in 1922, 1924, 1933 and again in 1934 to accommodate the bodies of soldiers killed in this sector and exhumed from the nearby cemeteries in Eparges and Mesnil-sous-les-Côtes. 2,960 French soldiers are buried here, including 852 in the ossuary.
In the first row on the right, as you enter the necropolis, lies Robert Porchon, friend and brother-in-arms of Maurice Genevoix. At the beginning of the war, this man, born in 1894 in the Loiret, was made Second Lieutenant of the 106th Infantry Regiment, where he met up with an old school friend, Maurice Genevoix. He was killed on 19 (or 20) February 1915 after being hit by shrapnel. Immortalised in Maurice Genevoix' novel, Ceux de 14, Robert Porchon, in his letters and in the diary he kept, also gives us the most fascinating insight on the war.
The incredible brutality of the battles that took place in this area and in which both the French and the Germans suffered similar losses (10,000 killed or missing in action) prefigured the violence of the offensives into Verdun and the Somme in 1916 and the supremacy of artillery fire.
Genevoix, who became a novelist, was to write later, in Ceux de 14: "What we did, it was more than should ever be asked of any man, and yet we did it."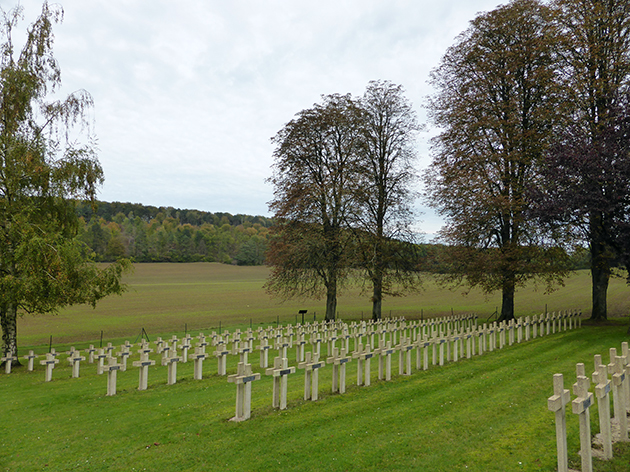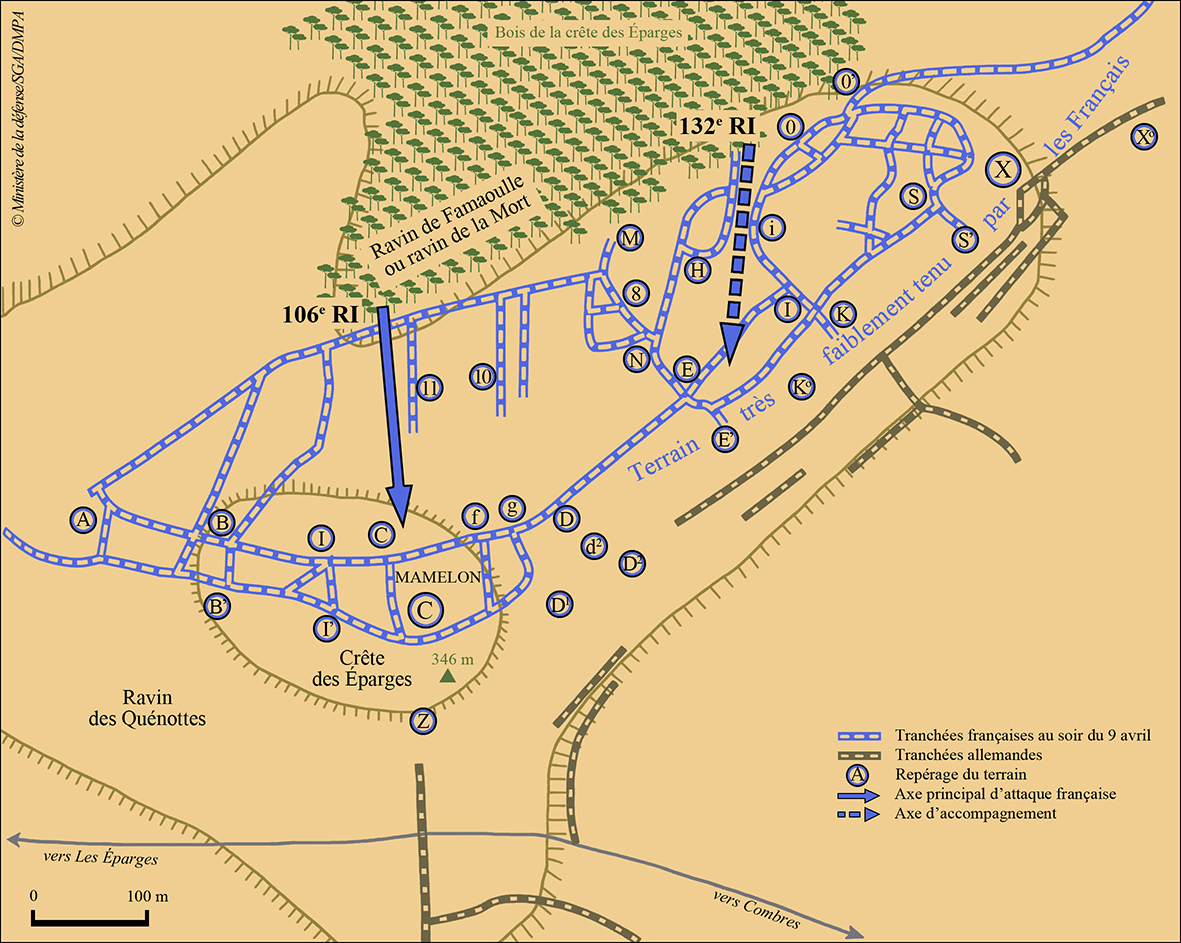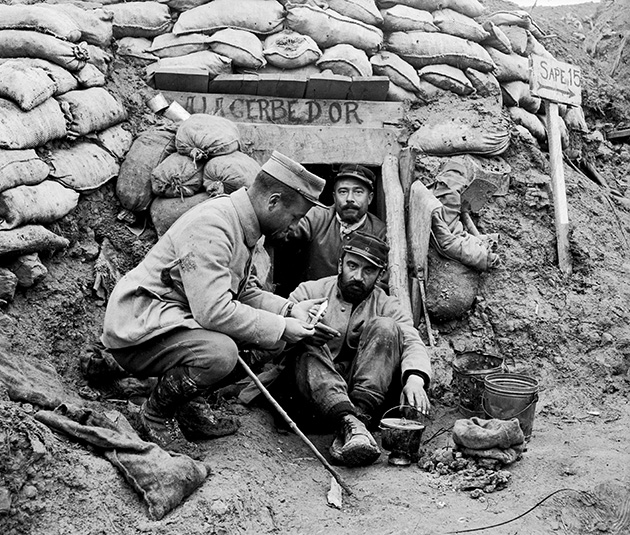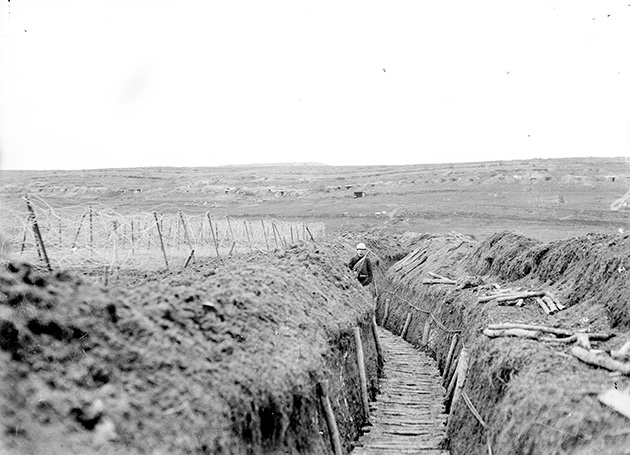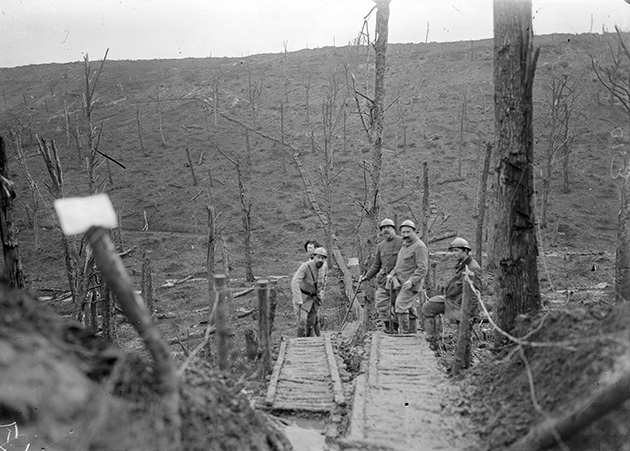 > Return to results
Practical information
Address
55160 Les Eparges
À 25 km au sud-est de Verdun, par la D 903 puis la D 154

Weekly opening hours
Visites libres toute l'année
Read more
Read more

Comité Départemental du Tourisme de la Meuse
33, rue des Grangettes - 55012 Bar-le-Duc Cedex
Tél : 03 29 45 78 40
Contact Pays d'Accueil Touristique des Côtes de Meuse
Place Taylord - 55210 Vigneulles-les-Hattonchatel
Tél-fax : 03 29 90 08 55 Tél-fax : 03 29 90 04 29
Maison du Tourisme
Tél. : 00 33 (0)3 29 86 14 18
Comité Départemental du Tourisme
Tél. : 00 33 (0)3 29 45 78 40
Office du tourisme de la Meuse